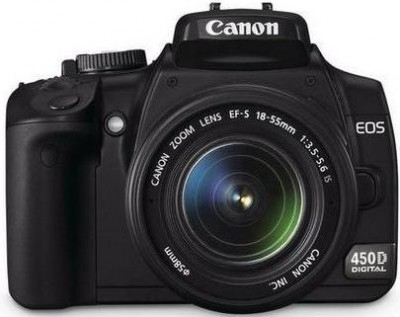 The world of high-quality, technologically advanced photography has beco me increasingly transparent to the wider market in recent years, allowing amateurs, enthusiasts and budding professionals access to the kind of high-end cameras that were, until now, the sole province of established veterans of the business. The Canon EOS 450D exemplifies this, providing exceptional performance for an affordable price. This guide will detail what to think about when buying a Canon EOS 450D on eBay.
Main Features
The Canon EOS has several extremely useful, high-tech features. This section of the guide will list and provide information about each, with the intent to give a sense of what the camera is capable of, what it is best used for and who ought to consider buying one.
12.2 megapixel CMOS Sensor – digital cameras translate light readings into a digital format using sensors. The Canon EOS 450D uses a 12.2 megapixel sensor, meaning it can take incredibly clear and detailed images. Highly advanced CMOS technology results in minimal unwanted "noise" from the atmosphere.
Powerful Image Processor – the powerful processor ensures the smooth operation of the device, as well as high picture quality.
Autofocus – focusing a camera is the process of adjusting the alignment of the lens in order to attain a clear picture. Focusing can be difficult and fiddly; the optional autofocus feature lets photographers concentrate on getting the other elements of the composition right, by focusing itself.
3 inch LCD – a liquid crystal display allows both easy operation of the camera and crystal-clear viewing of captured images; the 3-inch LCD of the EOS 450D is both high-quality and compact, making the perfect choice for a hand-held camera.
100-1600 ISO – ISO is a measure of "film speed", which is found in digital photography; in practical terms, it relates to the level of light which a camera can handle. The Canon EOS has a very wide range of ISO, meaning it can shoot images in both very dim and very brightly-lit environments. This makes it an extremely versatile field camera.
Live View – live view mode is a feature only found on high-performance digital cameras, which allows the LCD screen to be used as a viewfinder itself. This has the advantage of allowing its user to get a more complete sense of what the final product will look like.
Accessories
There are several notable accessories available for the EOS 450D on eBay, each of which adds a different dimension of possibilities for photographers. Some of the most useful are listed below, with brief descriptions of their functionality.
Memory Cards – digital cameras store their images as data. Data takes up digital space, and will soon clog up a digital camera completely unless stored externally, on a memory card. These are widely available, and can be used to store large amounts of images.
Memory Card Readers – in order to connect a memory card to a computer and transfer the captured image into that computer, a memory card reader will be necessary.
Tripods – tripods are three-legged stands for cameras. They provide a steady platform from which a picture can be taken, making them invaluable (particularly for landscape photography). Their main downside is their bulk, making transportation difficult.
Lenses – attachable lenses are used for increasing the range and zooming capabilities of a camera. They come in many sizes, and are widely available.
Cases – it is often a good idea to keep one's camera in a case, in order to prevent damage whilst in storage or transportation.
Straps – straps are useful for holding a camera about the photographer's person, without the annoyance of having to put it down to do other things.
Cleaning Kits – a dirty camera means a reduction in image quality. As such it is a good idea to keep the device clean and in good working order using a cleaning kit.
How to Buy a Canon EOS 450D on eBay
For consumers looking for the widest selection of quality products at bargain prices, eBay is the natural choice. In particular, there are plenty of Canon EOS 450D digital cameras available for perusal, ranging from second hand to brand new, and available with all kinds of accessories and extras.
To find one, type the phrase "Canon EOS 450D" into the search bar and press enter. The search can be narrowed using the categories found at the side of the page, simply follow the links titled Electronics & Technology, Cameras & Photography and Digital Cameras. Other search filters can also be applied, including price, condition and seller's location, allowing users to find exactly what they are looking for.
To view further information about the each product listed, simply follow the link to the item's individual information page. This page lists details, specifications and selling points of the item, as well as user reviews and ratings of the seller, allowing users to make an informed choice about their purchase.
The Deals section of the website has loads of amazing special offers to check out, and the site is updated regularly, so remember to check again if the product you are after isn't listed.
Conclusion
The market for affordable high-end digital cameras is thriving, and Canon has long been a frontrunner, owing to the strength of its products. The EOS 450D is no different; the immense picture quality and performance features make it the perfect choice for any photographer who really knows their medium. The online auctioning platform eBay is the ideal location for anyone seeking to buy an EOS 450D, thanks to its great selection and many helpful features.