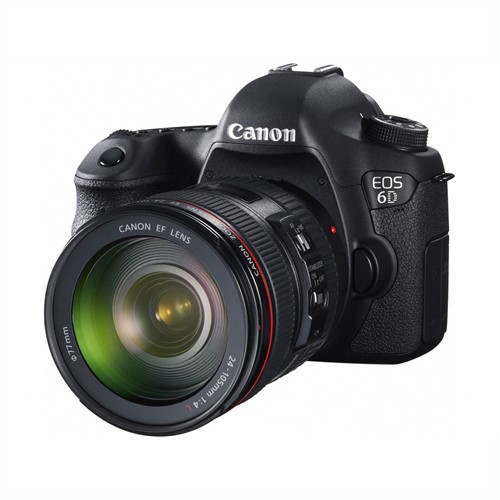 Shortly after Canon EOS 5D digital SLR cameras were released initially in 2005, several of their biggest competitors strived to develop a competitive model that could match its features and capabilities. However, there was not very much that could be done after the revolutionary Canon EOS 6D DSLR was released in 2012. When it comes to finding the best deals on this model, it is imperative to understand the various options and features available.
An Overview of the Features
The Canon EOS 6D DSLR is the very first Canon model that features both built-in Wi-Fi capabilities as well as GPS technology. Consumers' images can automatically receive a geotag and immediately be uploaded to a wide range of different social media platforms and YouTube.
This model only weighs 27 ounces, making it the lightest and smallest full frame Canon DSLR available on the market today.
A major highlight of the Canon EOS 6D is the fact that it comes with a 20.2 megapixel CMOS sensor, an eleven-point autofocus system and a peak burst frame rate of up to 4.5 frames a second. The 3" anti-glare LCD screen improves the deal and phone specifications even further. The actual camera body can easily be identified by the brand logo on the face of the camera and the small name plate that is placed on the same side as the mode dial that contains the model name and number.
The Upgraded Package
As is the case with most Canon DSLR models, the basic package features the camera body along with a set of standard accessories. It is imperative for shoppers to remember that they will not be able to use this camera for very much in this basic condition because it is going to at least need a lens.
Fortunately, there are quite a few different lenses that can be purchased in addition to this camera body at a full-retail price. The best deal to go with upfront when purchasing the Canon EOS 6D, however, is to purchase the upgraded package which includes an EF24-105mm IS lens. By purchasing the camera with this lens upfront within a bundle, consumers will be able to enjoy a discounted rate that they would not receive if they decided to purchase these items separately instead.
A Full Listing of the Accessories
As mentioned earlier, there is a set of standard accessories that are included with the Canon EOS 6D regardless of whether you purchase the basic or upgraded package. It is imperative for a consumer to understand which accessories are included and which ones are not when they are shopping for this specific model so that they will have the time to explore all of the options available in order to meet their specific needs.
| | |
| --- | --- |
| INCLUDED ACCESSORIES | OPTIONAL ACCESSORIES |
| Eyecup EB | Lens |
| Camera Cover | Flash Unit |
| USB Interface & Stereo AV Cables | Wireless file transmitter (WFT-E7A) |
| Wide Neck Strap | Remote controllers (wireless and timer) |
| Digital Solution Disc | |
| Digital Version of Instruction Manual (CD) | Tripods |
| Printed Version of Instruction Manual | Camera bags and upgraded straps |
| Battery Pack & Charger (LP-E6 & LC-E6) | Upgraded battery packs (ex: BG-E13 grip) |
Keep in mind that the upgraded package comes with the EF24-105mm IS lens. If you are interested in purchasing a lens with different specifications and measurements, though, then it might be wise to purchase the basic package of the camera body online and then purchase your preferred lens separately. However, regardless of the package that is purchased, a flash unit is never included as a standard accessory.
Buying the Canon EOS 6D on eBay
There is currently a fairly high availability of the Canon EOS 6D DSLRs on eBay. Exploring this particular website allows you to have the opportunity to purchase this impressive camera brand new for less than the full retail price that you would pay in a traditional store. To access the full listing of options, go the eBay homepage and type relevant keyword and/or phrases in the Search field that is found towards the top of the screen.
For example, you can use such phrasing as " Canon EOS 6D camera" to generate a general listing of these models. You can explore all other Canon EOS models by just searching for " Canon EOS DSLR." Feel free to use the category system for general searches that will allow you to explore more options or the filter system to streamline that listing in order to focus solely on the options that meet your personal or professional preferences.
To maximize your savings on eBay, search for packages and bundles that include a variety of additional accessories that do not come included in standard packages sold in traditional stores. Focus on deals that are posted by the top-rated sellers on eBay to ensure that you will receive a quality product and quality service. Paying for shipping costs in addition to the product pricing can drastically reduce your savings, so search for deals that include free shipping first. Before you know it, you will be able to find the perfect deal that is a perfect fit for you and your photographic needs.
Conclusion
The Canon EOS 6D is all of the proof that a consumer needs to confirm the quality and consistency of this brand within the world of DSLRs. It is specifically designed with innovative features and capabilities that will maintain its relevance within this market even several years from now. Whether you need it for personal or professional purposes, the Canon EOS 6D DSLR is one of the best models available.