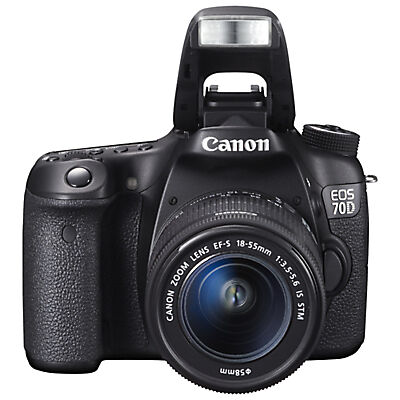 Riding the cutting edge of digital technology, the Canon EOS 7D is one of the most powerful and versatile single-lens reflex cameras on the market today. It is able to shoot stunning HD movies and capture breathtaking images with its 18 megapixel resolution, and sports huge numbers of special features to assist in taking that perfect picture. It is, though, important to understand the possibilities and variables before making a purchase.
Main Features
This section of the guide will list and briefly explain the main features of the Canon EOS 7D.
· 18 megapixel image sensor – an image sensor is the part of the digital camera which translates the optical image captured by the lens into a digital signal, which can then be viewed, transferred and manipulated as a file. The number of megapixels refers to the resolution of the image, and the size to which it can be inflated; 18 is very high, meaning a crystal-clear picture.
· Wide area autofocus – focusing a camera can be a tricky and time-consuming business; the EOS 7D features a sophisticated autofocus system, which automatically brings objects at which the camera is pointed into focus.
· 3-inch LCD – once an image has been captured, it can be viewed on the screen. At 3 inches (7.7cm) across, the liquid-crystal display shows the image clearly, enabling instant and seamless feedback.
· 1080p HD video recording – one of the predominant advantages to using a digital camera is the ability to capture videos as well as images. 1080p is the highest definition widely available video technology today; the images are astoundingly clear.
· 8fps high-speed shooting – in addition to the clear picture that 1080p video recording facilitates, continuous shooting at the incredible rate of eight frames-per-second allows for seamlessly smooth video recording.
· Intelligent viewfinder – the viewfinder is the part of the camera through which the photographer looks. The EOS 7D's viewfinder utilises a sophisticated LCD overlay, and features several distinct and equally useful modes, allowing pin-point accuracy and enabling easy composition.
Popular Accessories
The right accessory can make all the difference. There are all kinds of accessories; some can improve an image, while others simply keep the photographer's camera safe. The following is a list of the most popular and helpful accessories available for the EOS 7D on eBay, alongside short descriptions of their purpose.
· Lenses – cameras, even those as sophisticated as the EOS 7D, are limited in range, unable to capture images from a certain distance. Using a lens attachment, this obstacle can be overcome; the additional lens allows the camera to zoom further than before, and thus pick up objects from a greater distance. Lenses are usually categorised by their magnification strength. Weaker lenses will be able to provide between 3 and 5.9 times magnification, whereas stronger ones may be able to provide between 20 and 30 times. Lenses can be sold both individually and as part of a bundle with the camera itself.
· Memory cards & memory card readers – digital cameras require memory cards on which to store the captured images. Further, a memory card reader may be required in order to transfer the images from the card onto a computer.
Straps – straps are extremely useful for preventing loss of or damage to a camera in the field.
· Lens cleaning kits – dust will accumulate over time in a lens, and this can obstruct an image. A lens cleaning kit allows this dust to be removed quickly and easily.
Carrying case/bag – carrying cases are perfect for safely transporting a camera from one location to the next.
· Tripod – providing that extra stability necessary for a good fixed-location shot, a tripod is a large device used to stand a camera on. It is problematic for mobility, but counterbalances this by allowing superior images to be captured.
How to Buy a Canon EOS 7D Digital SLR Camera on eBay
When seeking to purchase a Canon EOS 7D, there is nowhere better than eBay, the worldwide auctioning phenomenon. There are hundreds of instances of the camera available for purchase, as well as plenty of accessories of all kinds. To begin, simply type a few keywords, such as "Canon EOS 7D Digital SLR" into the search bar, and click "search".
The comprehensive category system can then be used to navigate the website, allowing users to specify their requirements; simply follow the links titled "Electronics & Technology", "Cameras & Photography" and finally " Digital Cameras". Items can be sorted by price, condition, item location and numerous other factors. Clicking on an item's name or thumbnail image takes the user to a page containing more detailed product specifications and information.
Don't forget to use the seller's rating and previous buyer feedback to help determine whether or not to buy a product. It is also advisable to check the Deals section of the website on a regular basis, where all the best special offers and bargain prices can be found. Using the various helpful features of the website in combination can help users get an incredible price on a Canon EOS 7D Digital SLR Camera.
Conclusion
The Canon EOS 7D Digital SLR Camera epitomises the use of modern technology to enhance the art of photography. It is the perfect camera for amateur enthusiasts, budding artists and professionals alike, offering superior quality and sleek aesthetics, in addition to its many cutting-edge features. Many Canon EOS 7D Cameras and accessories can be found on eBay, available at astonishing prices.