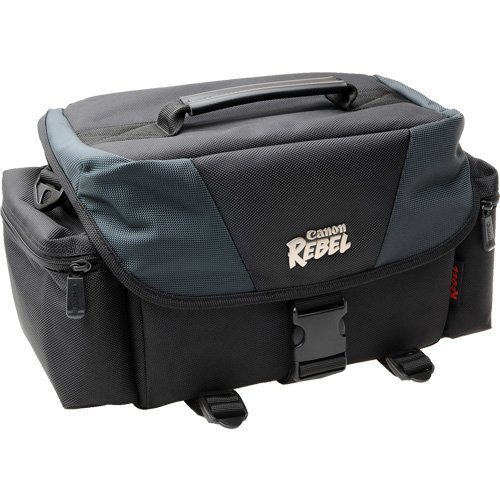 A camera bag is a useful and important accessory. Camera bags can help to ensure that the camera remains safe, clean and undamaged during transportation, as well as making it easy to move the SLR camera and other equipment around. Camera bags can also offer compartments to store other important equipment, including additional lenses, tripods and even a laptop. A wide range of camera bags and other accessories can be found on eBay.
Types of SLR Camera Bag
There are a number of different types of camera bag, which can be suitable for different users and cameras.
| | |
| --- | --- |
| Shoulder Bag | Shoulder bags are one of the most popular kinds of bag. Supported by a single strap over the shoulder, and often including a handle. They offer easy access to equipment, and often include external pockets for smaller items. However, the weight rests on one shoulder, which can become uncomfortable, and may not be suitable for larger cameras, or carrying more equipment. |
| Waist Bag | Waist bags are worn around the waist, and are a good choice for active photographers. They can hold cameras of smaller sizes, so may not be able to hold an SLR camera. They can also often fit a small number of additional accessories, and some may find them more comfortable and easier to quickly access. |
| Messenger Bag | Similar in design to shoulder bags, the messenger bag is designed with a strap that is to be worn across the body, rather than over one shoulder. Messenger bags often lack interior dividers, and can be made of lighter material. Some users find that they distribute weight more effectively, making them more comfortable for longer periods of time. |
| Rucksack | The rucksack camera bag is an ideal choice for those looking to carry a larger SLR camera and a number of additional accessories. The two strap design makes the bag more comfortable to wear for longer periods of time, and frequently feature interior and external compartments. |
| Briefcase | Briefcase camera bags can come in a range of sizes. Often made of hard materials, they can be designed to store a range of cameras and accessories. Held by a handle, they are more suited to storing cameras during transport than being carried for long periods of time. |
Canon Camera Bag Materials
A key consideration when purchasing a camera bag is the material it is made out of. Different materials offer different benefits.
A variety of leather camera bags are available. Leather is a hard wearing and durable material, and is also popular due to its unique appearance and texture. Leather can be harder to clean, however, and bags made with this material are often smaller and feature less padding.
Nylon camera bags are also widely available. This material is strong and durable, and features in a wide range of different sizes and types of bag. These bags also often feature padding and internal dividers. These bags can also be treated to be made waterproof, though they may not be completely waterproof.
· Those who are likely to carry their SLR cameras and other photography equipment outdoors may opt for waterproof materials. Waterproof bags can ensure that important equipment stays dry in the rain.
Features to Look For in a Canon SLR Camera Bag
Camera bags can also offer a variety of additional features.
· Adjustable partitions offer customisability, giving the user the ability to keep their camera and equipment where they find the most easily accessible.
· Zipped pouches are ideal for storing smaller accessories, such as media cards. This can keep them in one place and ensure they don't get lost.
· Exterior mesh pouches, meanwhile, can be great for holding water bottles for longer excursions.
· Wider openings and longer zips, meanwhile, can give easier access to stored cameras and equipment.
How to Buy a Canon SLR Camera Bag on eBay
A wide range of Canon SLR camera bags featuring an array of different features and materials can be found on eBay.
· Camera bags can be arranged by categories such as price, condition and brand.
· Important information about a camera bag, such as the type of material it is made out of and any additional features will often be prominently displayed in the item listings. This makes it easy to quickly see if an item meets any specific requirements.
· For more detailed information about a camera bag, visit the item page. This also includes information about the seller, such as item reviews and feedback ratings, which help to ensure that a purchase can be made with confidence.
· When looking for a particular camera bag, it may be easier to use the search function, which can be found at the top of every page. Searches can be made to return results from across the site, or from within a specified category.
· Don't forget to look out for any deals which may be available on camera bags in the Cameras section.
Conclusion
A wide variety of Canon SLR camera bags are available to suit the needs of different photographers. Waterproof camera bags are ideal for users who frequently take their equipment outdoors, while a waist bag can be great for owners of smaller cameras looking for a bag which offers easy and quick access. A range of Canon camera bags and accessories can be found on eBay.