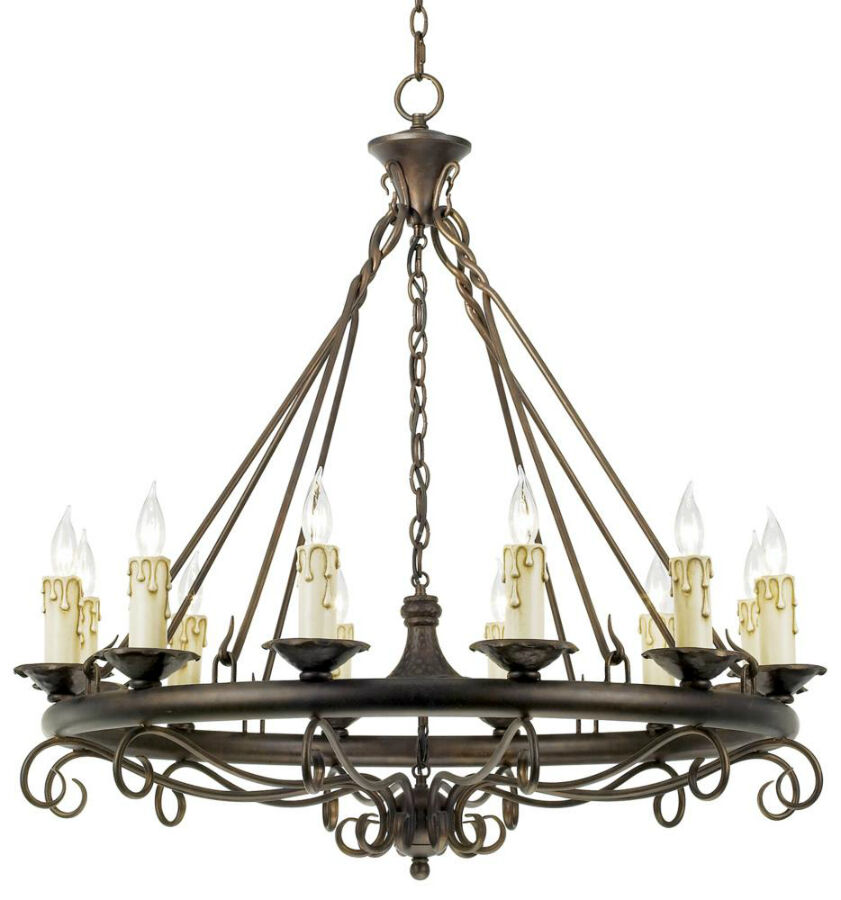 Chandeliers are not just for old stately homes or mansions. There are a huge variety of styles and sizes, from shabby chic to grandiose statements of wealth and power. They are defined as any branched, decorative ceiling light fixture.
This guide will go over the different kinds of chandelier available to buy online. All are usually available on eBay, under the sub-category 'Ceiling Lights & Chandeliers'. It's important to know what to look for when browsing this product online, from size to style to weight, and of course, beauty.
The Different Types of Chandelier
Chandeliers go back to medieval times. There was a time when the only styles people saw were the bare metal fixtures in the baronial hall, and the grand and ornate displays of wealth found in the foyer of an aristocrat's home.
Today, however, there are a vast number of chandelier styles. It has been a field of domestic design that has received just as much artistic creativity and innovation as any other.
In amongst that innovation, there has been a push to bring the chandelier into the living rooms, dining rooms, hallways, and even bedrooms of anyone who wants them, not just the barons and the aristocrats. As well as affordable models, one can also find designs that make allowances for low ceilings.
Flush-Fitting Chandeliers
These are perfect for a lower ceiling. They might be small compact structures that throw out loads of light for their size, or they might be designed to spread a larger number of lights out across the surface of the ceiling, often in a curving nouveau style. However, they look, they are perfect for a ceiling height of around 7 to 9 feet.
Crystal Chandeliers
This style adds elegance and sophistication to any room it graces. The sometimes highly intricate mass of crystal cut glass came about in the ornate homes of the European aristocracy, from the 18th century onwards. The world's largest Bohemian crystal chandelier is located in the Domabhce Palace in Istanbul, given as a gift from Queen Victoria, and boasts 750 lamps and weighs 4.5 tonnes. For average needs, however, there are sizes and prices to suit any room.
A chandelier crystal is now made by specially cut glass that is treated with lead oxide, forming prisms that split light into many colours. Most crystal chandeliers have elongated prisms hanging from brass (or brass-coloured) arms, and imitate candles, with the shape and placement of the light bulbs. Often the term vintage chandelier refers to those with crystal cut glass hangings.
Shabby Chic
For a fixture that speaks of the aristocratic history of chandeliers, while incorporating a touch of the modern, try shabby chic - a style that has roots rooted in French fashion.
Candle Chandeliers
The most popular form of candle for chandeliers is the pillar candle. These often give out a tall flame, and cause virtually no wax drip, as the flame only burns a hole through the centre of these large, hefty candles. When they are half burned, they give off a warm glow from within the centre of the candle, lending a touch of mysticism to a room.
Whether using skinny or pillar candles, however, it is always important for a chandelier designed for candles to include 'cups' under each candle to keep the wax from ever dripping to the floor below. Alternatively, many candle light bulbs are available that are designed to mimic the mood and feel of a flickering candle - without any of the potential mess.
Modern Styles
As with all domestic designs, the chandelier has been pushed to the edge of reason and back again throughout the second half of the 20th century, and continues to be experimented with. One of the strangest innovations that stuck was the capiz shell chandelier, which utilises many circular capiz shells, which usually hang free, so to turn and reflect light off their intriguing surfaces.
The modern chandelier can also be very modest and understated, with fixed arms that curve out to light bulbs held at the end in softening translucent cups. - a fine way to spread light across the room without drawing attention to itself.
From descending spirals of light bulbs, to huge fixtures that look like a flower unfurling upside down, to cute and humble hangings, there are modern forms of chandeliers to suit any taste.
How to Choose the Right Chandelier
With all the choice, choosing the perfect chandelier can be daunting. However, the next few tips will help in one's selection process:
· Start with the following rule of thumb: Choose a length of about 3" for every foot of ceiling height in the room one may wish to place it. So, if a homeowner has a 9 foot high ceiling, choose a chandelier that hangs about 27 inches long. Then adjust for personal taste. If the ceiling is particularly low, say 7 foot high, it might make sense to bend this guideline and choose a chandelier that is less than 21 inches high, to choose a flush-fitting chandelier that may be as little as 10 inches high.
· Next, to choose the appropriate style and form, consider the purpose of the room. Is it a living room, or a dining room, and if so is it intended for daily family meals, or for entertaining trendy guests? Will it be the primary source of light in a room? Would one like it to set a particular mood with the light it throws out? Alternatively, some may like it to be more practical, such as in a home office or study?
· If in a hallway, a chandelier would normally look impressive standing as a centrepiece of design, as well as producing plenty of light. In this instance too, it's worth considering a piece that supports halogen light bulbs as opposed to incandescent, because the hallway is usually a room that demands to be lit most of the time.
Buying Considerations for a Chandelier
Once an appropriate size and general design has been decided on, the next step is to go online to browse through the choices that are available. Auction sites like eBay allow the buyer to get a great deal on designs that other people have already chosen, or it is possible to buy them new.
The price of the piece is generally going to be larger with more arms, bulb-fixtures, and a larger size overall, as well as 'fancy' design flares such as crystal cut glass or beaded jewellery. However, price is always going to be something that correlates most strongly with the manufacturing quality. A more affordable deal, at retail price, can mean paying more for maintenance later on. This is why it can be such a good idea for the buyer to look for a brand that has been reviewed heavily, so one knows that it will be of a high standard when purchasing it on an auction site, where it is possible to get the same quality for a discount.
How to Buy New and Used Chandeliers on eBay
There is a wide variety of chandeliers, new and used, to be found on eBay, including a wide range of potential configurations and features. The full catalogue can be found in the Home & Garden section, under Lighting, Fans. The search results can be easily customised to filter results by the style, the colour, condition, and of course the price. Both the Auction and Buy It Now options are also available, bringing greater flexibility to the purchasing process.
It may be more efficient to utilise the search function available at the head of every page. Searches can be made to return results from specific sections, or the entire site, sweeping all categories and sub-sections. For more information about the search utility see the Search Tips page.
Key facts, as well as information regarding the seller, can be found attached to every listing.
Conclusion
Chandeliers are perfect for making a bold statement that's tailored to a particular style of fashion or taste. They can be used to impart a soft glow to set a sultry mood, or to light up a huge hallway with all the light it needs.
With such a huge selection, a potential buyer is bound to find the perfect chandelier for any lighting purpose through the broad variety available on eBay. It's important to always to ask the seller any questions regarding the product to ensure that it properly meets the buyer's expectations.