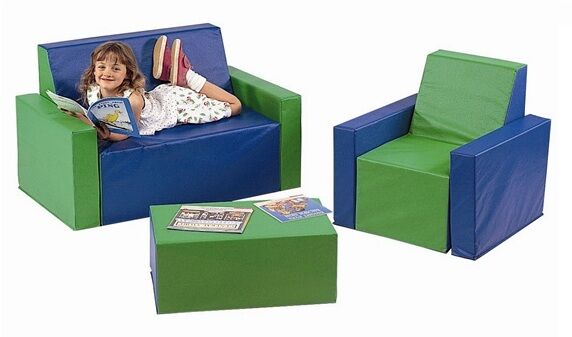 Children are well known for changing their minds, and especially when it comes to something as personal as bedroom furniture. Whatever their age or preferences, children will want nice furniture that suits their needs and likes. Bedroom furniture sets are an inexpensive way to get a themed range of furniture designed especially for children. Furniture sets can come in different combinations and be multifunctional as well as well designed.
Websites like eBay offer the buyers a chance to browse a huge range of furniture sets that will appeal to everyone in the family. The listings offered on eBay will be varied, which ensures the buyer can often find what they are looking for.
Planning the Space for Children's Furniture
It is a modern idea that the bedroom is a private space, and it is even more common these days that young children have their own bedrooms. As people move into bigger houses and enjoy a better income, they can afford to give their children the space and privacy they deserve and need.
One of the first aspects of buying furniture for a child's bedroom is to measure the room and plan around that main factor. It is important to make the most of the space available, but also not to overcrowd the room or have furniture that won't fit properly. Bedroom furniture sets typically include a bedside table, wardrobe and chest of drawers. Furniture sets for other rooms can be small tables and chairs, or small desks and even chairs and sofas.
Take a tape measure and take accurate measurements of the room and the space for the furniture. If there is existing furniture in the room then measure this to have a good idea how the new furniture will fit in the room.
Children's furniture needs to be fun as well as practical for parents, so it is important to ensure that the surfaces can be wiped down easily and that the materials are sturdy enough to withstand heavy use.
What to Look for in Children's Furniture Sets
Purchasing a child's furniture set can be a complicated task when taking into account the varying tastes of children and the needs of the parents. The buyer should consider the following points to help make the buying process easier:
· What is the child's gender and age? Take into account the child's gender and also their age, some furniture can come with juvenile designs painted on, so an older child may not like them for long. The child's age should be an important factor, as the furniture should need to last a few years. A parent should ask himself or herself: is the furniture the type that will be still liked when the child is older?
· Will the furniture last? Children's furniture needs to be durable and be able to withstand everyday use. It is worth getting quality furniture if the furniture set is going to be reused with another child.
· Will it match? The furniture will look better if it matches any other wood in the room. It is suggested to look for similar shades to complement the current décor. There is furniture with popular themes like Disney characters, which will appeal to a range of children and ages.
· Combined function? If space is limited then bunk/cabin beds offer combined storage and extra sleeping space. For those who lack a certain amount of space, furniture that can change from seating into an extra bed is useful for when there are extra guests or the child has a friend stay over.
· Delivery? Some furniture will come flat packed, and therefore it is vital to have the means and tools to be able to put them all together. Depending on the location of the item it may need to be collected, so the cost of transport will need to be taken into account when purchasing the furniture set.
Different Types of Children's Furniture Sets
There are different types of furniture available with different functions, whilst sets may consist of certain items like chairs and tables, some sets will vary. The following table breaks down the different types of furniture sets found on the Internet.
| | |
| --- | --- |
| Bedroom Set | Bedroom sets will vary depending on the brand of the furniture, they can come with just a bedside table and set of drawers, whereas others may be a full set of a bed, wardrobe, and beside table. Boy's bedroom sets will be in themes of blues with cars, etc. Girl's bedroom suite will vary in shades of pink and white and have themes of dolls and cuddly toys. |
| Bunk Bed Set | Bunk bed sets are fantastic options for saving space and combing functions, some sets will come with built in desks and storage space that makes the furniture flexible in use for the child. |
| Table set | Children's table sets are useful for activities such as colouring in or homework, and as separate eating areas from adults. Outdoor table sets are lightweight and useful for outdoor activities too. |
| Playroom Set | Playroom furniture can be both storage and seating for children. Other storage options are popular for organising toys and keeping the floor clear of clutter |
How to Buy Children's Furniture Sets on eBay
The range of children's furniture sets online will be greater and more varied that what can be found in a furniture store. eBay provides the chance to browse a wide range of products side by side, and the buyer can also filter out products by price and delivery charges. The following steps will help the buyer navigate eBay:
· The best way to start looking for furniture sets on eBay is to start with the keyword search. This search is simply entering key words like 'child's bedroom furniture set' into the search bar on the homepage. The buyer can change their search accordingly by entering different combinations of words.
· The buyer can try using words such as 'kids' in place of 'children's' to further extend the search, as some listings may use more casual language. The buyer can also use the word 'suite' in place of 'set' to find different results.
· Going through eBay's 'Categories' tabs is often a good way of refining the search further, as this will prevent listings for doll's house furniture from coming up. The buyer can select the appropriate categories from the Home & Garden portal, then selecting Children's Furniture, and then Bedroom Furniture.
· eBay offers a wide range of deals that are always changing. There will be deals on children's furniture sets, which are discounted at amazing prices. These deals will also include offers of free postage.
· When shopping on eBay, the buyer will need to consider some important aspects like their method of payment. It is advised to use secure payment systems like PayPal, which offers security for the buyer. When looking at listings, the buyer should always read over the description carefully, and if in any doubt they should contact the seller to find out more about the furniture set.
Conclusion
Children's bedroom furniture is important for making a child's room homely and personal. Selecting the right furniture can be a lengthy task, but once the process has been completed, parents and child alike can enjoy functional and long lasting furniture for many years. Children's furniture sets can come in various combinations, such as cabin beds with desks and drawers included. Buying on eBay should be considered due to the reliability and flexibility it offers the buyer when searching for particular furniture sets.