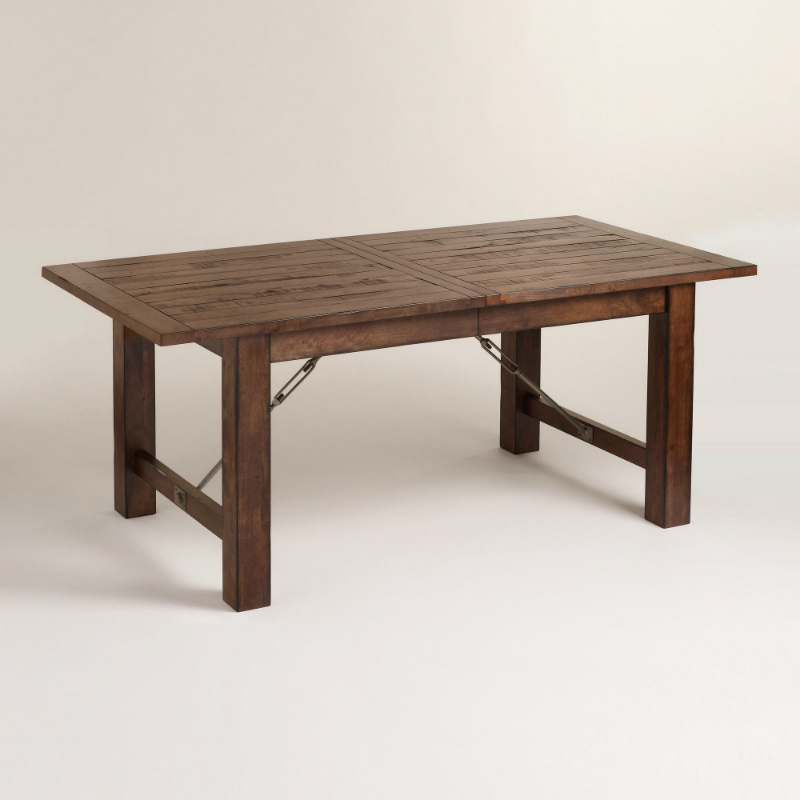 A dining room table is an essential piece of household furniture. It is required to fill many different functions. As a large piece of furniture it is often a centre piece in the home as well as acting as the central eating point (both everyday meals and special dinner party occasions) and, a place for busy households to leave their everyday items.
eBay's extensive range of dining tables make it an excellent location to shop and purchase. The product range extends to both new and used tables meaning that there is an affordable option for all buyers. This guide offers advice on how to purchase a dining room table on eBay.
Getting Started
Before embarking on a shopping expedition, it is important to assess a few questions that are critical to the buying process. This knowledge will aid the search and dramatically narrow down the field of possibilities.
· Type of table? What type of table is being looked for? Is it for casual or formal dining? A formal dining table is designed to make a statement and pull focus in the room. It will often have elaborate design features creating a powerful aesthetic. A casual table is less formal and more relaxed. The focus is on the functionality of the table rather than the aesthetic.
· How many people? How many people does the table need to seat? Ultimately this will decide the size of the table. If a more versatile table is required, i.e. one that sits only a small amount of people on a regular basis, but extends to more on the odd occasion, it is possible to purchase a table with extensions.
· Size of room? Be sure to measure the room where the table will be housed. The dimensions and shape of a room will affect the outcome.
Different Types of Tables
When it comes to buying large pieces of furniture, often it is difficult to know where to start. A great starting point is to look at the different types of designs available on the market. These include:
| | |
| --- | --- |
| Classic Wooden Table | Classic wooden tables are made out of solid hard wood. Often in a rectangular shape, it is possible to get this type of dining table in a number of different sizes and lengths. Classic wood tables are known for their strength and durability. Do take into account the effect of temperature on wood as this may change the appearance over time. Keep away from artificial heat sources like radiators and wall heaters. |
| Extendable Dining Table | An extendable dining table is designed to have a section of the table pull out to make the table bigger then slide back in to return the table to a smaller size. This function allows for the table to fit in small spaces for everyday use but extend when required to accommodate for more guests. |
| Butterfly dining table | A butterfly dining table is shaped like an oval. Available in a range of different sizes. The different sizes can accommodate both large and smaller households. A butterfly dining table is a great piece of feature furniture for any dining room. |
Buying Considerations
Before making a purchase, be sure to address the following buying considerations:
· Dining Room Chairs. Does the table come with matching dining chairs or is that an additional purchase? If an additional purchase, are the chairs practical and do they fit the aesthetic of the table and room? What fabric or materials are the chairs made out of? How easy is this to clean?
· Quality. What is the quality of the table? Often this will be dictated by the material the table is made out of. By assessing the quality it is possible to ascertain if the table is built to last.
· Caring for the Table. How easy is the table to clean and care for? The table's life expectancy will be determined by many different factors including some that are unavoidable like direct sunlight from placement within the room. However by assessing how the table is cared for and following the instructions given, this will extend the table's life expectancy dramatically. Caring for the table will be affected by the finish of the piece.
· Budget. Be sure to set a realistic budget that includes incidentals like delivery to avoid any unexpected costs. With eBay's extensive range of pre-loved products, it is possible to make a budget go further by buying a used or 'as new' table.
How to Buy Dining Tables on eBay
eBay's range of home furniture products is extensive. This range not only includes dining tables, but double beds, couches, dining chairs, chest of drawers, book cases and wardrobes to name a few items. The following section offers advice on how to search and buy products on eBay.
· How to find a dining table. There are 3 main ways to search on eBay:
o Keyword search bar. This is conveniently located at the top of every page on the site. Simply enter a keyword or broad search term to locate the desired items.
o Categories search. Every item added on the site is categorised and sub-categorised by eBay for easy browsing. For dining tables simply follow home & garden, furniture, dining room furniture, dining tables.
o Advance search. It is possible to complete a more detailed search by using the advance search function located to the right of the search bar at the top of every page.
· Is the product right? Be sure to check that the product is right before purchasing. To do this, simply look over the description and photographs provided by the seller and address the size, condition and shipping requirements. It is always possible to reach the seller to ask addition questions if required.
· Exchange and refunds. Even though eBay is a user friendly site, it is important to check the sellers exchange and refund policy. This way there will be no hidden surprises. eBay does offer a buyer protection policy for all buyers on the site.
· Payment for products. To pay on eBay is as easy as using a debit or credit card online. However if wanted, it is also possible to pay via PayPal. PayPal will facilitate the monetary exchange on behalf of the seller and buyer. All options are safe, secure, quick and easy.
· eBay deals. eBay deals also offer deals to eBay customers. Be sure to always check both sites for the latest deals and offers. eBay deals will have deals for dining tables.
· Additional information. If additional information is required to assist with using the site, go to eBay's buyer's tips page. Here information will be provided on how to use the site.
Conclusion
A dining table is a must have piece of furniture in every household. As a centre piece to the home, finding the right dining table to match the aesthetic of the room as well as it having the functionality required can be a daunting undertaking. However eBay's extensive range of new and used products makes this shopping experience an easy one. With the easy to use search functions and the possibility to access the site from the comfort of home, it really is a one-stop-shop for all dining tables and accessories.