We all know and love the look of a man wearing a great dress/formal shirt at any occasion, but few know or speak of how to choose the right shirt to get the look. In this how-to guide we will look at some important terms and points to look out for when deciding on a shirt which will keep you looking sleek and crisp not just when you wear it for the first time but after many washes.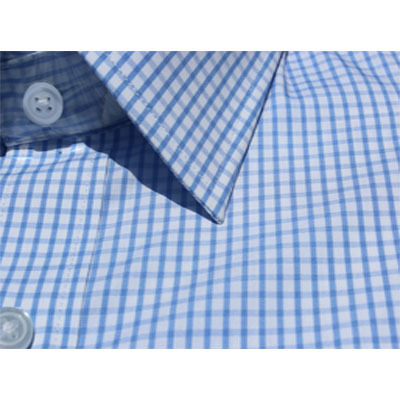 Material
We cannot stress enough how important the material itself of the shirt is. Well, basically it is the cloth that the shirt is made of and the features of this fibre is what will make you feel like you wearing a soft luxurious cloud or an itchy sack. What touches your skin and makes you feel comfortable, we think is of utmost importance and hence we advice always going for natural fibres.

What are natural fibres? These are fibres naturally grown and sewn in to the thread to make the shirt as opposed to synthetic fibres that are factory manufactured. Natural fibres can be cotton, linen or silk. Synthetic fibres can be nylon, polyester or elastane. Natural fibres are softer on skin and make the fabric more breathable for longer wear and tear.
Also look at the mix of the fibres in the material description on the shirt. Some shirts may have a mix of synthetic and natural fibre like 60% polyester and 40% cotton, but any percentage of synthetic fibre on your skin does not feel very comfortable and you will hence hear the preference for 100% natural or organic materials in shirts. Natural fibres also feel less irritable on the skin and are more suitable for sensitive or allergy prone skin types.
Our suggested choice is to go for 100% cotton varieties.
When buying on eBay, you can see the material type in the Product Description, as shown in the image below:

Make sure you get the complete description of the material from the seller, like '100% Egyptian Cotton' rather than 'cotton'; as this tells you how pure the fabric is and you can be rest assured that you are not buying a blended or mixed fabric material.
Egyptian Cotton
As with every product, you will find some more high profile and exclusive and often wonder what sets them apart? In shirt textile, Egyptian Cotton is the most superior cotton fibre that you can wear. It is an extra-long cotton fibre giving it more strength and durability. It has high thread count making it softer than the cheaper variety of cotton.
You can read more about Egyptian Cotton here:
http://stores.ebay.com.au/Cottiza-Shirts/Egyptian-Cotton.html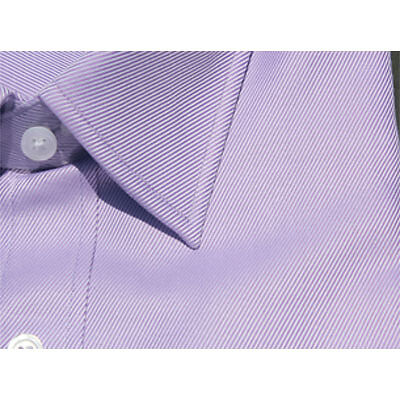 Higher thread count of Egyptian Cotton can also make it more expensive than just 100% cotton shirts, but the vibrancy of colour and the easy iron feature make it more appealing and the preferred choice from us.

You must have heard about Egyptian Cotton as the choice of fabric for luxury and for the feel when buying bed linen. What if you could feel the soft luxury of Egyptian Cotton everyday and not wait till the day ends?
Owning shirts made from 100% Egyptian Cotton will give you this comfort feel all day around especially when wearing it for long hours.

100% Egyptian Cotton shirts can cost upto $250 for a single shirt, depending on the brand you are buying. If you are worried about the costs, there are small business brands on eBay who can give you competitive prices without compromise on quality. Find a selection of shirt choices at the end of this guide to get you started.

Shirt Fit
The next most important aspect of choosing a shirt after the material has to be its fitting. Nothing can spoil the look of any clothing as an ill fitted one.

There are generally two fits most common right now, one is the city fit/slim fit and the other is regular fit/classic fit.
As the name suggests, the city/slim fit is more fitted around the waist, chest and arm areas giving you a more chiseled fit. This is the most in demand fit at the moment with more fashion conscious men.
The regular/classic fit is the more tradition fit in shirts. This falls straight from your shoulders and gives you bit more room for movement. You can check the fitting of your choice in the description section of the product as shown in the image above.
If are not a frequent online buyer and worried about the fitting, you can check your current shirts collection to know which kind of a fit suits your body type before you start bidding or buying on ebay.
Size
Lets see the different types of sizing used when describing shirts.
Numbers like 39, 40, 41, 42, 44 - You may often see sellers stating their size as a 39 or a 42. This number is the centimeters of neck or collar size. You can take a measuring tape and measure around your neck or collar area in centimeters and choose a shirt closest to your size. For e.g. you find that your neck size is 41 but that size is not available from the sellers sizes, what would you do? Not to worry, many sellers may not make a shirt in every 0.5cm or 1cm differences for reasons of cost cutting as you can understand. It will not harm to go for a little larger size, in this case say size 42, which is really only 1cm larger and it will be a negligible difference in fit.
Universal sizes like S, M, L, XL - Some sellers may have a sizing chart in centimeters to explain the dimensions of a 'S' size or so on. Be sure to check the sizing chart and measure at least one aspect of your body to match the size on the chart. If there is no sizing chart available then you can compare as below:
| | |
| --- | --- |
| S (Small) | Size 39 |
| M (Medium) | Size 40 |
| L (Large) | Size 42 |
| XL (Extra Large) | Size 44 |
Please note that the above chart is only an estimate from our cross research of sizing from various sellers. This sizing may vary between sellers especially from countries other than US or Australia.
The good thing about eBay is the Returns policy of up to 30 days that sellers provide. This means you can order a shirt and try the fit at home and if you are unsatisfied, you can return or exchange it for a different size. Read the Delivery and Returns policies from the seller.
Pattern/Design and Colour of the Shirt
Just as with all clothing, the look and pattern of a shirt will define your final look for the day. Gone are the days when White and Blue were the only two colours to choose from when buying a business/formal shirt. Nowadays, shirts come in a range of colours and patterns like checks, stripes or herringbone. Choose shirt colours and designs keeping in mind the occasion you are buying for.

Shirts can be dressed with jeans and casual trousers for a comfy yet sleek look.
Think about bold colours or dual shiny shades for a night out around the town. It is sure to grab attention and make you stand out.
When buying on eBay, bear in mind that flash photography can change the actual colour of the fabric slightly in pictures. Many online buyers get used to understanding the colour difference as they buy more. Look at more images of the shirt in different angles to get an idea what the closest to the real colour may be. Also, images taken under natural sunlight are more reliable for colour and looks as compared to indoor photography.

eBay Buying Choices
eBay provides a wide selection of choices to refine your search to what suits you best. You can decide between:
New or Second Hand Dress Shirts
Shipping from within your country, which is generally faster and more reliable, or shipping from abroad
When looking at costs, consider the additional shipping costs as well. Many sellers may include their shipping price into value of the shirt and provide you Free Shipping. However, do not let this make you disregard sellers who clearly state their shipping cost as an extra but with reliability of express post or next day delivery. After all, you pay for a better service and for better quality so it does not harm to compare costs in total value and time of delivery taken into consideration. You may not want to wait for a month if you have eagerly bought yourself a nice luxurious shirt.
Read the policies about returns and exchanges and ask questions if in doubt.
Last but not the least, Read the Feedback. eBay has a fantastic way of connecting buyers and sellers and reading the feedback score and the comments about a seller can tell you how satisfied their past customers have been. Also, return the favour by promptly leaving feedback to the seller as well after you receive your shipment. A great feedback always boosts seller's confidence in their business and helps them promote more viable deals in future.
We hope, this guide helps you choose the right business, formal or dress shirt from ebay before you 'Commit to Buy'. We are open to your feedback and suggestions to help us improve the guide.

business shirt | dress shirt | formal shirt | egyptian cotton shirts | cotton shirt