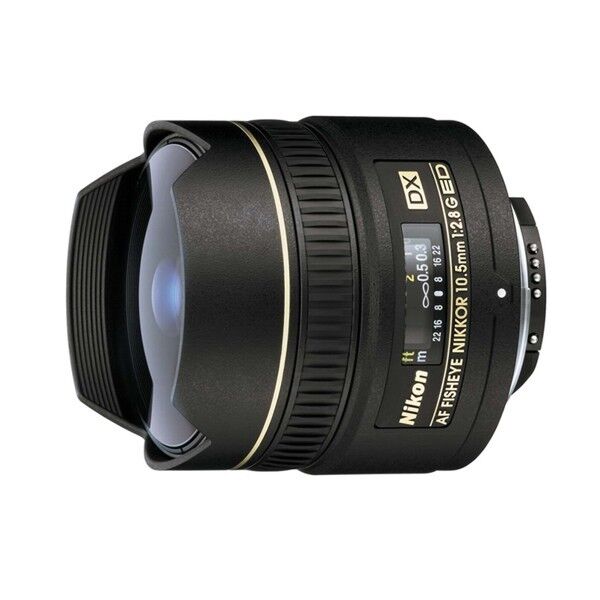 A fisheye lens is a specially designed lens that results in a unique image that mimics the view of a fish's eye, hence the name. Nikon currently produce two different fisheye lenses for use with their digital cameras, and the following guide shall examine the specifications and features of both lenses. This guide will also explain how buyers can find these products for sale on eBay.
Nikon Fisheye Lenses
The following section will highlight some of the main features of a Nikon fisheye lens:
· A fisheye lens is an ultra wide-angle lens that creates a visual distortion in an image. The distortion is employed to create a wide panoramic or hemispherical image.
· Fisheye lenses are used in a variety of styles of photography including skateboard photography and portrait photography.
· Nikon currently produce two different fisheye lenses for use with their digital cameras. These lenses are suitable for use with Nikon digital cameras only.
· Film cameras use different mechanisms and are not compatible with such lenses. Buyers should avoid trying to fit these lenses onto cameras manufactured by other companies as it may seriously damage both the camera and the lens.
· The two lenses available to buy are the Nikon 10.5mm f/2.8G ED fisheye lens and the Nikon 16mm f/2.8D fisheye lens. The difference between the two models is the 10.5mm f/2.8G ED lens is designed for use with full frame bodies like the Nikon D700 camera whereas the 16mm f/2.8D is manufactured for use with bodies with a cropped image sensor like the Nikon D300.
Nikon 10.5mm f/2.8G ED Fisheye Lens
This is a very popular fisheye lens and as the name states it has a focal length of 10.5mm:
· This lens is designed for use specifically with Nikon's DX format cameras, and it delivers excellent images with a 180-degree angle of view.
· The lens is compact and lightweight, and is ideal for use in low-light environments. This camera is also suitable for up-close shots and possesses an excellent detail reproduction and clarity.
· The lens utilises Extra-low Dispersion glass to ensure image sharpness and colour capture, and it is equipped with a Close-Range Correction system to provide excellent quality when taking up-close shots.
· Extra-low Dispersion glass is an optical glass designed by Nikon that uses normal optical glass in telephoto lenses to achieve optimum correction of chromatic aberrations.
· The Close-Range Correction system was created by Nikon and involves a "floating element" design in which the lenses move independent of one another to achieve proper focusing.
· The lens comes with super integrated coating and an autofocus feature. The dimensions of the lens are 63 x 62.5mm and it weighs approximately 305g.
Nikon 16mm f/2.8D Fisheye Lens
The focal length of this lens is 16mm, and as with the Nikon 10.5mm f/2.8G ED fisheye lens this model is also equipped with the Close-Range Correction system. Again, this lens uses super integrated coating, which minimises flare and ghosting and emphasises vibrant colour and balance. The dimensions of the device are 63 x 57mm and it weighs approximately 290g. This lens is very suitable for indoor photography, as well as portraits and wide-angle special effects. It can also be used to shoot landscapes and architecture and will work well in low-light environments.
Buying Used Nikon Fisheye Lenses
Camera lenses are generally quite expensive pieces of equipment to buy, and fisheye lenses are even more so. This may not be a problem for professional photographers but amateurs and beginners looking to buy a Nikon fisheye camera lens may find it to be outside of their budget.
Searching for used models, which are sold for lower prices than those that are brand new, can combat this. To search for used Nikon fisheye lenses buyers need to do the following:
· Click on the Used filter found beneath the Condition heading in the Categories table on the listing page.
· However, buyers need to check that the lens is in good condition and should inspect photographs of the lens for cracks and other signs of physical damage.
· The description box on the item page of a listing generally contains information about the product's condition, and buyers can use the Ask a Question feature to request more photographs or additional details.
Buying Nikon Fisheye Lenses on eBay
eBay is one of the best places to buy camera lenses and other accessories as it has an unmatched selection that are sold for lower prices than those found in stores or on specialist websites.
· On the following page scroll down and click on the Lenses link, and when the listing page has loaded click on the Fisheye filter under the Type heading.
· Type the name of the needed lens into the search bar and press enter.
Buyers should also visit eBay Deals as they may find their desired fisheye lens for sale here at a reduced price. Click on the Deals link followed by the Lenses link under the Camera heading in Electronics tab.
Conclusion
There are currently two different fisheye lenses manufactured by Nikon for use with their digital cameras. Fisheye lenses produce a unique and unusual image, but are often quite expensive to purchase. Buyers can try searching for their desired lens on eBay Deals, or try looking for a used model.