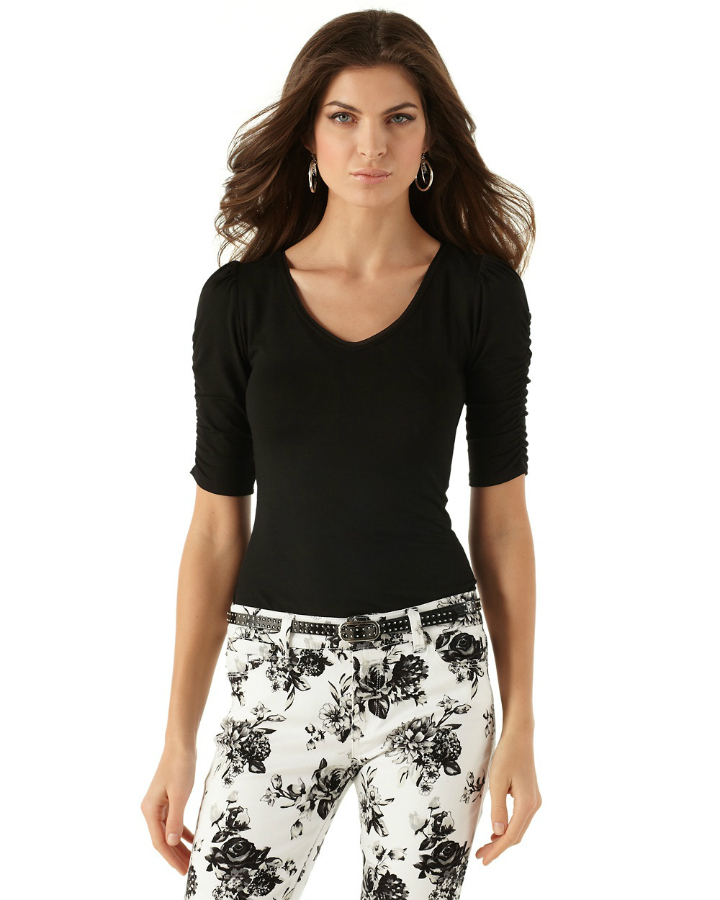 A top that looks great on a runway model or your best friend may not suit your particular body shape. This is because different body shapes require different clothing styles and cuts to look their best. Dressing for your shape makes you feel more confident because you know that what you are wearing is intended for your body. Before thinking about buying a top, lay a good foundation by choosing a bra that fits well, showing off your assets and clothing. Learn about the four most common body shapes before identifying your own. Understand what features to look for, then choose a flattering top. Tops can be bought in a range of styles at clothing and department stores, and online at eBay.
Lay a Good Foundation for a Flattering Top
When it comes to fashion, the importance of good foundation garments is often overlooked. This does not only apply to slimming underwear and shapers; the type of bra you wear and its fit determines how you feel about your body and how you look when clothed. It is worth getting fitted professionally at least once a year. Many lingerie departments offer this service. They have trained staff to measure customers to determine the right size before helping them to find the right style of bra. The following are signs that your bra is not a good fit:
it rides up
breasts spill over the cups
cups are wrinkled or dimpled
band is too loose
band digs into the skin
underwire causes pain
underwire does not sit against the body

A good bra defines you breasts; lifts them, if they need a lift; offers support; and can make the silhouette slimmer. Choose bras that are suitable for the style of clothing you wear most often and always take one or two of your favourite tops along for a fitting. Try one of the tops on with a bra to see the final effect.

Common Body Shapes

Body shape classifications are based on proportions, not size. Very few people are built in perfect proportion, so they need to dress according to their body type. Some are heavier on top, while others carry a little weight in the bottom. The broad categories below are further subdivided into more specific shapes.

Top-Heavy Body Shapes

Those with top-heavy body shapes have large breasts and a wider upper body. In this category are body shapes that consist of big breasts, shoulders that are not particularly wide, short waists, and long slim legs. Another top-heavy type is characterised by a heavy and square top, large breasts, a broad stomach, and a wide back, with slender legs.

Bottom-Heavy Body Shapes

As the name suggests, those that fall into this category are heavier in the bottom half of the body than the top half. Pear shapes are considered bottom heavy. Within this category are those with a long, slim top half, big thighs, and a relatively large bottom, with short legs. The pear shape is characterised by small shoulders and breasts, a small waist, big thighs, and calves and ankles without a lot of definition.

Top and Bottom-Heavy Body Shapes

Some women are top and bottom heavy; the apple and hourglass body shapes fall into this category. Apple shapes have round bodies, with small shoulders, big breasts, generous waists, big hips and bottoms, and little definition in their calves and ankles. The hourglass body type is characterised by big shoulders and breasts, a small short waist, and big hips. The top and bottom half of this shape are equal in size. Variations include the elongated hourglass with a flatter bottom and a shape that consists of large breasts and broad shoulders, and buttocks, hips, and thighs that are larger than the top half of the body.

Athletic Body Shapes

Athletic body shapes feature few curves and are often categorised as columns. This shape can be regarded as quite masculine, with broad shoulders, no waistline, and short, undefined legs. A variation of this shape consists of a triangular body with broad shoulders, small breasts, no waistline, and small buttocks and hips. The column shape applies to those that are tall, with no curves, and equal-sized top and bottom halves.

Choosing a Flattering Top for Your Body Shape

When it comes to choosing a flattering top for your body shape, focus on accenting your best features, drawing the eye away from parts of your body that are out of proportion, and creating balance. Knowing what to look for is as important as knowing what to avoid. The table below lists the four body shapes described and briefly lists what to look for and what to avoid for each of them.

Body Shape

What to Look For

What to Avoid

Top heavy

Tops that are shaped, but not tight

Bring focus to bottom half of body

Wide V-necks

Draped fabrics

Ruffles

Pastel shades

Spaghetti straps

Complicated necklines

Camisoles

High necklines

Bottom heavy

Bring focus to top half of body

Light colours

Big lapels

Colour and detail in the neckline

Tops that pull over the hips or bottom

Top and bottom heavy

Fitted, not tight, to accentuate the curves

V-necks

Scoop necks

Draped fabrics

Pleats around hips and stomach

Athletic

Create curves

Off-the-shoulder tops

Thin, delicate straps

Defined waists

Simple, fitted cuts

Square or straight lines

Bear in mind that darker colours minimise the body's features and light or shiny tops accentuate them. Those that are top-heavy should avoid light colours or shiny fabrics. In addition, consider the weight and feel of the fabric. Choose delicate fabrics for a more feminine look; heavier fabrics tend to add weight to the torso. When accessorising, use necklaces, scarves, and belts to accentuate different parts of the body. For example, the addition of a belt can show off a waist, while an eye-catching necklace emphasises the neckline.

Buying a Flattering Top for Your Body Shape on eBay

eBay is the perfect place to shop for great deals on tops. To find what you need, type a phrase, for example, "silk women ' s top", into the search field, which can be found on every page, to see the items available. Refine your search by choosing the most appropriate category and item features.

Before Buying on eBay

Before buying on eBay, take a moment to learn about the item and the seller. Clicking on an individual top displays the item listing page where you can find information such as the full item description, buying options, accepted payment methods, and postage and handling costs. Read the item description carefully and check the seller's feedback information. Sellers with high ratings are generally reliable.

Conclusion

Since bodies come in all shapes and sizes, it is logical to choose a top that flatters the individual. When shopping for tops, remember that body shape is not about size; it is about proportion. The top and bottom halves of your body should be balanced. Although it is tempting to cover those parts that you do not like by wearing boxy or oversized tops, this can make you look more out of proportion than fitted versions, if that is the nature of your body type. When in doubt, take a few steps back from the mirror, accessorise your outfit, and take how you feel while wearing it into account. If you are comfortable with what you are wearing, that influences your look and confidence.