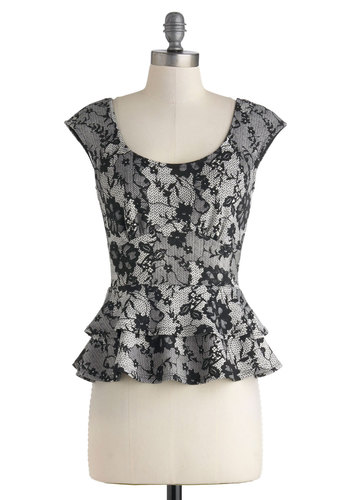 While hourglass figures are often coveted by women, clothing this classic shape can sometimes be a complicated affair. Getting proportions, lengths, and drapes right is crucial when dressing an hourglass body, especially when it comes to finding the most flattering women's tops for this body type. Fortunately, by taking a few basic tips into consideration, virtually any woman can find a flattering top for her hourglass shape.
Along with these tips, women may also wish to weigh the best retail options to leverage during the purchasing process. When looking for flattering styles, consumers want the largest catalogue of options available from which to make a selection, such as the catalogue on an aggregator site like eBay. Local women's clothing shops typically offer a diverse selection of women's tops, as well.
Style Tips for Finding a Flattering Top for an Hourglass Figure
Consumers can leverage several style tips when shopping for tops for hourglass figures. These range from taking length and material into consideration to understanding the styles that work best with this shape.
Finding the Right Length
It is crucial when selecting a top to wear on an hourglass shape that consumers purchase the right length. Accenting the waist is important, and any top that shortens or draws attention away from the waist is not a good idea. In general, tops should either end or taper at the waist, as with a fitted jacket, or continue on to well past the beltline to accentuate the dynamics of the waist transitioning into the hips.
Layering Techniques
There are several layering techniques women with hourglass figures can use with tops. One is to use a contrasting tank top under a wide scoop neck, fitted top. Layering lengths in close fitting cotton tops can be a great way to emphasise the waist. One top can end just at or below the natural waist with the second top underneath extending down over the hips. Another great way to flatter the bustline while controlling the silhouette is to wear a lightweight V-neck sweater with a deep V over a lightweight collared blouse. Consumers can experiment with these layering techniques to find one that best suits their own sense of style.
Flattering Styles for an Hourglass Figure
One of the most important things to know when shopping for hourglass-flattering tops is which styles flatter this body type. Becoming familiar with these styles can help consumers narrow down their search criteria quickly from the start and refine the purchasing process.
Tailored Waists
A nipped waist is the hallmark of an hourglass figure and should always be accentuated. Jackets should not be boxy, but rather tapered at the waist. Likewise, a shirt should have some structure at the waist. A close-fitting top naturally delivers this, but with a looser top, consumers should look for options that draw in toward the waist or can be worn with high-waisted skirts and pants to emphasise the waist. Utilising a belt at the natural waist as an accessory is another choice consumers can make to accentuate this important characteristic.
V-Neck and Scoop Neck Tops
Since dressing an hourglass figure is all about balance, women should keep an eye out for tops that highlight curves without creating an oversized upper half. V-neck shirts are a great tool for revealing a bit of curve while still minimising a bustline to a degree. A V-neck with a wide band at the neck can work particularly well. Scoop necks are another good option, but should not be too deep or revealing. A variation on the scoop neck, the cowl neck, can also work well, especially when the drape of the cowl neck is paired with a fitted waist on the shirt. Any top that has a straight neck, crew neck, or boat neck design can make a bustline look oversized or awkward.
Wrap Styles
Wrap styles are the saving grace of many an hourglass figure. With their curve enhancing drapes, nipped waists, and soft materials, wrap styles are the ultimate flattering choice when it comes to hourglass bodies. Wrap tops can be looser shirts with kimono-style ties or fitted tank tops and long-sleeved shirts with a wrap design and drape at the waist. The best wrap tops are made in jersey cottons, silks, and rayon blends.
Choosing the Right Materials
When looking for tops that suit hourglass figures, consumers should also take the materials used in the garments into consideration. In general, women with hourglass builds are best suited to looser knits and softer materials. A jersey wrap that clings lightly to a woman's form is a good bet. Light cottons or stretch cottons are also good ideas. A silk shirt, or other material with a good deal of drape that hints at the curves underneath, can also be flattering. Typically, heavier and bulkier materials, such as wools and brocades, that add volume to a form can disturb the natural lines of an hourglass figure and accentuate larger body parts to an unnatural degree.
Shopping Techniques for Finding a Flattering Top for an Hourglass Figure
During the purchasing process, consumers can also incorporate a few helpful hints that can streamline this process. These tips can help ensure that a consumer finds an option that directly answers her needs.
Shopping Online
While offline vendors offer a range of selections when it comes to tops for hourglass figures, these retail options are typically limited by seasonal demands and trends. For shoppers looking for the widest array of choices, including both trendy items and classic pieces, shopping online can be a much more productive activity. An online catalogue, such as the one on eBay, allows consumers to select from a variety of styles and colour sets. In this way, consumers can build and experiment with much more diverse looks, layering scenarios, and colour contrasting.
Confirming Size
Sizes vary greatly from one manufacturer to the next. Even tops made within the same brand can vary in size due to style variances and differences in materials. When shopping for tops online, consumers should take the time to confirm the sizes of tops. Shoppers should ask sellers whether or not a particular top runs big or large in their experience, for example. Shoppers should also be familiar with the general size standards for Australian clothing. The following table gives consumers a general outline of the measurements that correspond to Australian sizes in women's tops.
| | | | | | | |
| --- | --- | --- | --- | --- | --- | --- |
| Size | 6 | 8 | 10 | 12 | 14 | 16 |
| Bust (cm) | 80-84 | 85-89 | 90-94 | 95-99 | 100-104 | 105-109 |
| Waist (cm) | 60-64 | 65-69 | 70-74 | 75-79 | 80-84 | 85-89 |
| Hips (cm) | 89-93 | 94-98 | 99-103 | 104-108 | 109-113 | 114-118 |
Proactive communication with a seller can help confirm size during the purchasing process, and it can also open up consumers to other options. Many sellers are well-versed in top styles and may have great recommendations for consumers.
Buying Flattering Tops on eBay
One of the largest catalogues of online options when it comes to clothing is the online aggregator site eBay. This site brings together commercial and private sellers to create a very large collection of tops, from which consumers can make their ideal selections. If you are new to eBay, just look for the search bar on any page on the site, or go directly to the Deals page for your next top. You can use this to run a search for a top through the large catalogue of choices. Use terms that define the styles, colours, or materials of tops that you are interested in buying. When you get your listing results, click on the titles of any listings that look interesting and review the information in detail.
Evaluating Sellers on eBay
This site gives consumers an enormous advantage during the purchasing process. You have the ability to evaluate and communicate with a seller. If you are considering a listing that looks like it might be a good fit, click on the seller's name. This takes you to the seller's page. On the seller's page, you can message a seller and ask any questions you may have about the top. You can also read through customer feedback to get an idea of a seller's experience with selling fashion items.
Conclusion
Buying a flattering top for an hourglass figure never needs to be a complicated process. Consumers on the lookout for tops that flatter this body type need only incorporate a few helpful suggestions into their selection process. Everything from a light, cowl neck sweater with a deep scoop to a tailored jacket that nips at the waist can flatter an hourglass figure. Looking through the right styles and then making the best selections, in terms of materials and length, can allow any consumer to find and purchase a top that brings out the best in her hourglass shape.
By then also leveraging some useful shopping tips, including shopping online at an aggregator site such as eBay, consumers can quickly narrow in on the most flattering options available to them. Shoppers who are nervous about shopping online for clothing can also search local shops for flattering items.