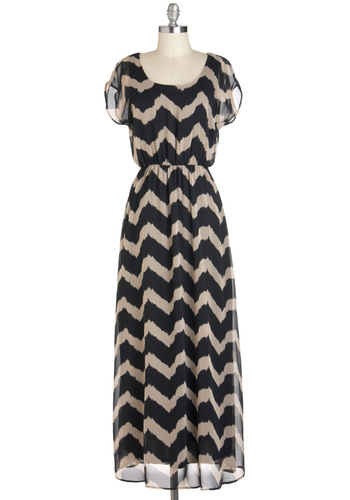 Full length dresses are an essential part of every woman's wardrobe. They can be worn to any number of occasions such as weddings, casual shopping trips, or dinner with friends. Depending on the dress, it can also be more comfortable and flattering than wearing trousers. However, with all of the thousands of clothing designers and manufacturers out there, it is overwhelming choosing which ones to buy. The options feel almost endless.
In addition to this, no two women are alike; meaning that their bodies are shaped differently and a dress that looks great on one, may not be so flattering on the other. Everyone has their own trouble spots that they would like to cover up, as well as their flattering areas that are fun to emphasise. To make the shopping process easier, women can learn about the different dress styles available, and which of those look best on certain body types.
Finding a Dress that is Flattering
As mentioned earlier, there are many kinds of body shapes and all women are different. Rather than going to the shop and trying on every dress available, it is easier to understand which styles look best with the shopper's type of figure. This way the buyer can go straight to the dresses that are most likely to fit. This also gives women more shopping options because those who were once afraid to shop online can now do it if they know what to look for.
Empire Waist Style
Empire waist sits up high just underneath the bust line. The rest of the dress then flows out from the waist in a floating manner and does not hug the lower half of the body. This style has long been admired and is considered to have a classic and sophisticated ladylike look. Since the lower portion of the body is concealed, the dress emphasises the chest and shoulders, while keeping the waist, buttocks, and legs tastefully hidden. This makes the style ideal for women who have wider hips or prefer to keep their torso out of sight. Since the flowing skirt is loosely fitted, it also makes the dress very comfortable to wear.
A-Line Style
The A-line dresses got their name from the shape of the dress. They feature a fitted bodice that starts fanning out at an angle just before it reaches the waistline. This particular full length dress is one of the most universally flattering. It creates the illusion of curves by hugging the bodice and fanning out at the hips. It hides larger hips and makes smaller hips appear fuller. The bodice accentuates both large and petite busts, and they come with or without sleeves.
Column or Sheath Style
Column and sheath gowns are similar, but different in how they fit. Both dresses are completely straight from top to bottom, however the fabric that they are constructed with makes all the difference. Column dresses flow straight down the body and do not hug anybody parts. Sheath gowns are made with stretchy materials so they form to the shape of a woman's figure and reveal everything.
Ball Gown Style
Ball gowns have a fitted bodice, but then fan out into a full skirt at the waist or just below the waistline. These are the gowns seen in fairy tale movies and in a lot of weddings. Although this dress is flattering on most people, it tends to be overbearing on women with a very petite frame. The skirt is so large that it tends to overpower them. The large skirt can also add the appearance of size and weight when bought in the plus sizes.
Mermaid Style
Mermaid style dresses are designed to accentuate the curvy figure of women. They cling to the chest, waist, hips, and thighs, then they flare out at the knees or hem. They can be slightly uncomfortable to wear because they are usually pretty tight around the legs, making it difficult to take wide steps. However these dresses are very feminine and flattering to those that are comfortable with having their full figure shown off.
Goddess Style
Goddess gowns are very forgiving on almost every kind of body type. The description varies from stylist to stylist, but in general, they have a higher waistline and a skirt with a full amount of fabric that hangs loosely. Sometimes the skirts are pleated, but most of the time they are not. These dresses have a very soft, delicate look because the fabrics used are thin, and they drape over the body loosely. Since the goal of the dress is not to be tight, many women look great in them.
Cut-Out Style
Cut-out dresses have recently become the latest style among celebrities and the younger generation. Entire sections of the dress are cut out in shapes to reveal the skin underneath. The cut-outs range from small to large and are located anywhere on the dress. In most cases, the gowns are form-fitted and hug the curves of the body all the way down to the hips. Not many women feel comfortable in these because they are so revealing, but some of the dresses do have a very refined look.
Match Up the Style with the Body Type
The key to looking fabulous in a dress is choosing a style that compliments a woman's body. The kind of fabric, the style, and the shape of the dress make a big difference. The dress should accentuate a woman's features, while still hiding the body blemishes that everyone has in some place. The following chart lists which dress styles best flatter the individual body types.
| | | | | | | |
| --- | --- | --- | --- | --- | --- | --- |
| Style | Hourglass | Thin | Athletic | Pear | Full | Busty |
| Empire Waist | Yes | Yes | Yes | Yes | Yes | Yes |
| A-Line | Yes | Yes | Yes | Yes | Yes | Yes |
| Column or Sheath | Yes | Yes | No | No | No | Yes |
| Ball Gown | Yes | Yes | Yes | Yes | Yes | Yes |
| Mermaid | Yes | Yes | No | No | No | Yes |
| Goddess | Yes | Yes | Yes | Yes | Yes | Yes |
| Cut-Out | Yes | Yes | Yes | No | No | No |
The convenient thing about full length dresses is that they hide the legs so women do not have to be concerned about how the lower portion of their body looks. With longer dresses, ladies only have to pay attention to their torso, waist, and hips.
How to Shop for Full Length Dresses on eBay
Once women know what styles of dresses look best on them, they can start shopping online to find better deals and a larger variety of designs. eBay has thousands of clothing items for women at bargain prices. To start sorting through their products, enter the name of the products into the search bar. It can be as simple as "full length dresses" or as specific as "ball gown dresses". You can do as many searches as you want to and you also have the ability to add the garments you like into your eBay Watch List. Doing this saves it into your My eBay page so that you can access it again later at any time. To find the best deals, click on the "sort" box and then select "price: lowest price first". This re-arranges the products so that you can look at the least expensive options right away.
Conclusion
No matter what time of year it is, many women love to get dolled up and head out in an attractive, flattering dress. With the thousands of styles available, ladies have the ability to create any look that they wish too. However, choosing one that looks as great on them as it does the mannequin may not be quite as easy. All women have their own unique figure which makes it tough for clothing manufacturers to produce apparel that looks universally attractive on everyone. It just simply is not possible. Rather than getting frustrated with shops, ladies can learn how to dress for their body. There are dress shapes available for every kind of women that have the potential to make them look and feel beautiful.