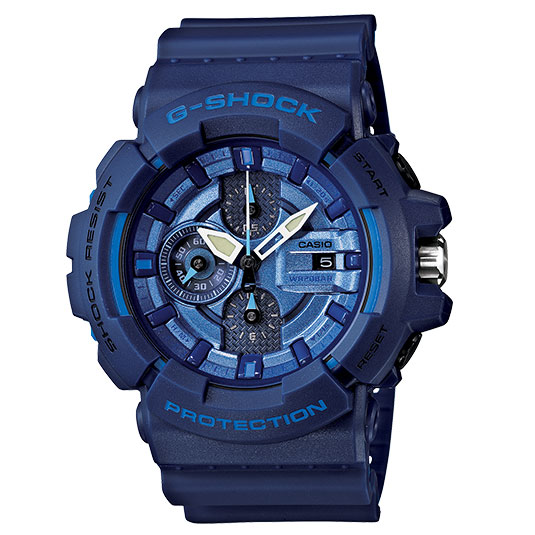 The G-Shock watch enjoys legendary status as the world's toughest watch. It represents the watch of choice for many people who regularly engage in rugged outdoor sports, as well as being popular among police, military, and various special operations groups. Leading international company, Casio, produces multiple versions of the G-Shock to suit a wide range of professional and lifestyle needs.
Although a highly practical wristwatch, some people wear them as a fashion statement. The widening male and female watch market has resulted in manufacturers diversifying watch design to meet demand. Customers wishing to shop for this item should consider if the watch's chunky design suits both their practical needs and personal style.
G-Shock Features
G-Shock watches can withstand the ultimate survival test in punishing conditions. These watches all include waterproof features to 200 meters and demonstrate shock resistance to hard-surface falls from 10 meters. However, the various G-Shock models include a wide range of other extensive features according to their intended market. Examples of these features include bluetooth connectivity and Apple iPhone syncing, weather readings and navigational devices.
Customers wishing to purchase G-Shock watches online should note the specifications of each product line and model to determine the right watch for their needs. As features vary so widely and range from minimal to extensive, this is an important step that helps buyers avoid under or over-purchasing. Product reviews often provide helpful information that arms customers with the knowledge they need to make an informed decision.
Types of G-Shock Watches
Although hard wearing resilience describes all G-Shock watches, they also reflect enormous diversity of style and size. The Casio male line of G-Shock watches consist of the Classic, Trending, Aviation, Limited, and Master of G lines. The female range comprises simply the Baby G. Fans of the G-Shock or Baby G watch may take their pick among any of the different styles and rest assured that their choice of watch is strong and impact resistant. The wide price discrepancies between models reflects feature differences rather than build quality, nevertheless; construction and material variations impacts considerably on pricing.
Master of G
The Master of G watch line is primarily for practical utility, and therefore marketed particularly to special operations units who need the maximum amount of protection from water, mud, ice and other elements. Customers may find watches in this series range from those with full featured computer chips to simple constructions with only basic controls. Outdoor adventurers may prefer this heavy duty series to provide them with the ultimate performance characteristics in tough conditions.
Aviation
G-Shock Aviation watches include features that users may need for a variety of industrial, military, and professional needs. These watches reflect the heavy-duty requirements and high performance characteristics of the Master of G, but with styling that evokes its namesake and its attending relevant features. The feature-rich Aviation watches are heavy duty although slightly less chunky than the Master of G.
Limited
The G-Shock Limited range demonstrates extremely diverse styling from heavy duty to quite sophisticated designs. This breadth of styling makes it possible to find a watch in this category that is suitable for virtually any activity, as strong aesthetic considerations marry with the toughest of watch constructions.
Classic
The Classic line of G-Shock watches also exhibit good design variations. Watches in this category tend towards a stronger emphasis on personal style whilst retaining the same resistance to damage. Models in this range tend towards simpler designs and yet still include some extensive features. They tend to be more affordable than models in the heavy duty G-Shock range.
Trending
Watches in the Trending line represent those with the latest technological features, although not necessarily the most. Watch styling varies enormously in this range, from ultra-modern to digital vintage hip. Along with the Classic line, G-Shock Trending demonstrates an emphasis in giving customers a fashion look.
Baby G
Baby G is the female range of G-Shock wrist watches. The range consists of a wide variety of shock and water resistant watches for women, many of which can make either bold fashion statements or serve purely functional needs. Customers can purchase Baby G watches in styles that mimic their G-Shock equivalent or in feminine colours and designs that clearly set them apart.
In Summary
The below chart illustrates feature differences between some of the various G-Shock models. It does not, however, list all features common among G-Shock watches. This information may help customers determine the right model for their needs.
Type and model

Main features

Moon data and graph

Digital compass

Thermometer; tough solar

Daily alarm and snooze alar

31 time zones

1/1000 second stopwatch

bidirectional calibration

Graphic direction pointer

Magnetic declination correction

12 24 hr formats

Mud and dust resistant

Aviation GWA1000FC-5A

Multi-band atomic timekeeping

Radio signal time calibration; tough solar power

29 time zones and world time swapping

1/20 second chronograph

Six month battery life

Power save option

Solar rechargeable storage battery

Beeper alarm

Classic GDF100-1A

Altimeter

Barometer

Thermometer

World time with 31 time zones

Auto calendar

Countdown range

Five year battery life

Limited GWM5630D-1

Multi-band 6 atomic timekeeping

Dive timers with memory data

Moon and tide graphs

29 time zones

1/100 second stopwatch

Tough solar power

Trending DW5030C-1

Hourly time signal

Flash alert

1/100 second stopwatch

Countdown timer

Auto calendar

Two-year battery life

Baby G BG6900JR-4

Hourly time signal

29 time zones

24-hour countdown range

12 24 hour formats

Five-year battery life

Flash alert

Auto calendar
The feature comparisons in this chart describe those of only a few randomly select models within each previously discussed category. This is just to give customers a basic indication of features that each range specialises in.
How to Buy
When you have undertaken adequate research on a G-Shock watch, enter broad or model-specific searches on eBay, such as G-Shock Aviation GA1000-1A . On locating your preferred model, compare identical listings with a few other sellers to ensure you get the better deal. Also check eBay Deals to further extend your buying options. Thoroughly read all information pertaining to the item, terms of sale, and returns policies. Make sure your seller has a favourable reputation on eBay before you decide to purchase from them. Their positive customer feedback score and top rated seller certificate can give you a good indication of the type of service you can expect.