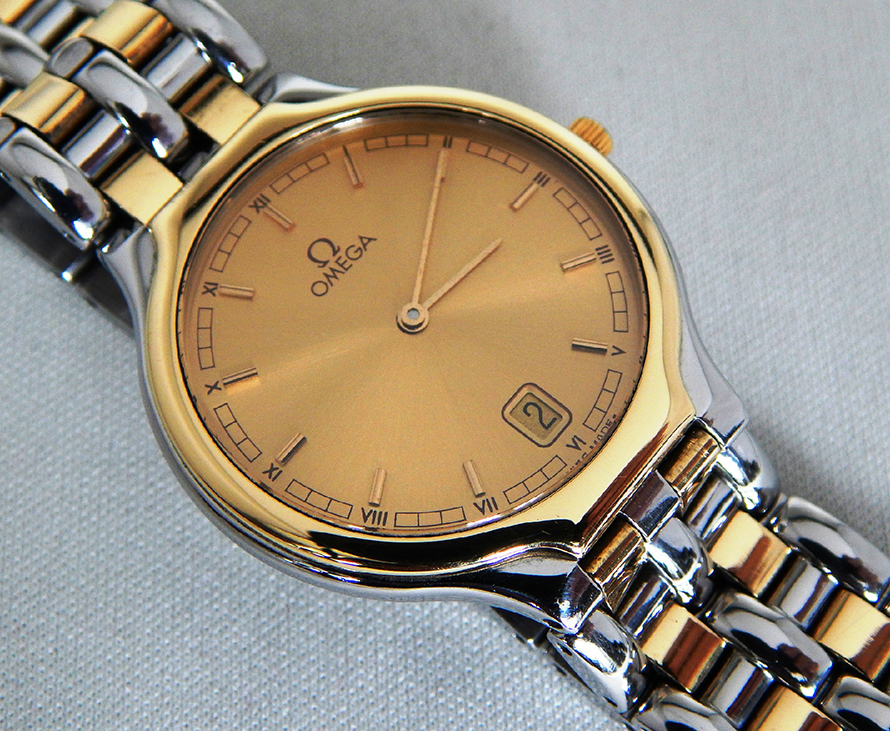 Omega watches are some of the most popular collectors time pieces in the world. Buyers have the ability to shop from a wide selection of men's gold Omega watches, including vintage and modern products. Buyers in the market for a gold Omega watch should bear in mind a few things before buying, including the product's age, condition, authenticity, and the total cost of purchase.
Buyers considering a used watch should determine whether the piece has all original parts. Omega watches are available from retailers in brick and mortar shops as well as online. Marketplaces like eBay have listings for a large number of both new and used items, which lets buyers choose the most attractive gold Omega timepiece that meets their needs.
Omega Products
Omega produces several types of gold watches . In most cases, the company offers a choice of materials. For example, the modernSeamaster Aqua Terra may come with a red gold, yellow gold, or stainless steel case. Other watches in the company's lineup have gold gilding or markers paired with a different case material, such as stainless steel. Although most Omega watches do not use a gold strap, buyers can sometimes find one paired with a gold case. This is true for both vintage and modern lines, including the Deneve, Deville , Century, Constellation, and Seamaster watches.
The Omega website allows buyers to view all of the company's modern products by selecting materials for individual parts of the timepiece. For example, it is possible to browse all items with a white gold case and a black dial.
Watch Condition
Sellers offer Omega watches in several different conditions. In addition to new items, sellers also offer used and refurbished items. Although purchasing pre-owned items saves money, buyers should be aware of some important distinctions that exist between new, used, and refurbished items.
Used vs. Refurbished
Owners sometimes refurbish an Omega watch to increase its attractiveness and restore it working condition. Refurbishing involves the replacement of worn or damaged components with factory new pieces. In many cases, a restorer cleans and reuses old parts that are still in working order.
Although the refurbishing process returns a watch to like new condition, products that have undergone such repairs are typically less desirable, and therefore less valuable than those that still have all original components. The watch face is especially important, and is responsible a significant portion of the watch's value. If buyers are concerned with collectability, they should look for used watches that have not had parts replaced.
Authenticity
Due to the high prices and collectability of gold Omega watches, counterfeit products sometimes make their way onto the market. Fortunately, buyers can take a few steps to avoid paying for a fake.
Buyers should familiarise themselves with authentic products before committing to a purchase. Several online guides offer information on how to identify fakes, and although some methods are quite technical, others involve a simple visual inspection of the watch exterior. For example, vintage watches show signs of wear such as scratches and scuffs. A watch listed as several decades old that looks flawless is likely to be a fake. Similarly, counterfeit watches often list for too-good-to-be true prices. If a seller posts an item for hundreds less than his competitors, he may be dealing in counterfeit merchandise.
In addition, makers of counterfeit watches sometimes build items from scrap pieces of authentic Omega watches. An easy way to spot this is to check the calibre number and case number against one another to see if the two match. The Omega website maintains detailed records of the watch models produced during the company's history.
Ways to Verify a Watch's Authenticity
Vintage watches should show scratches or scuffs
Counterfeit items often sell for "too good to be true" prices
Check calibre number against case number for a match
The table above lists several steps buyers can take to verify the watch they are buying is authentic. If an item appears too good to be true, it probably is.
Counterfeit vs. Homage
It is illegal for counterfeiters to produce a watch that bears any trademarked logos or names. However, there are fewer regulations against the production of watches that bear a close resemblance to particular timepieces. This means that buyers may come across watches that look like a gold Omega watch, but are in fact only an imitation. To stay within the law, sellers cannot label or list these products as an Omega watch. Buyers should therefore take the time to read all fine print in a product listing to determine whether the watch is an authentic piece or an homage.
Buy from Reputable Sellers
The easiest way to avoid purchasing a counterfeit gold Omega watch is to buy from trusted sellers. Look for reviews of local dealers to see if they have a positive history with their customers. When buying online, shop in marketplaces that provide information on a seller's history. Look for comments and ratings from past buyers to determine if a seller deals in authentic merchandise.
How to Buy a Gold Omega Watch on eBay
eBay has listings for a wide variety of different types of gold Omega watches , including vintage and modern items. The easiest way to locate items on the site is to enter appropriate keywords into the search field found on every eBay page. For example, you can enter " omega seamaster gold watch" to see all items tagged with those terms. You may refine listings by adding new terms or by clicking on any of the category links found in search results pages. Some sellers on eBay operate stores that specialise in Omega watches. If you find a seller you enjoy doing business with, check to see if the user operates an eBay store with additional items and deals.