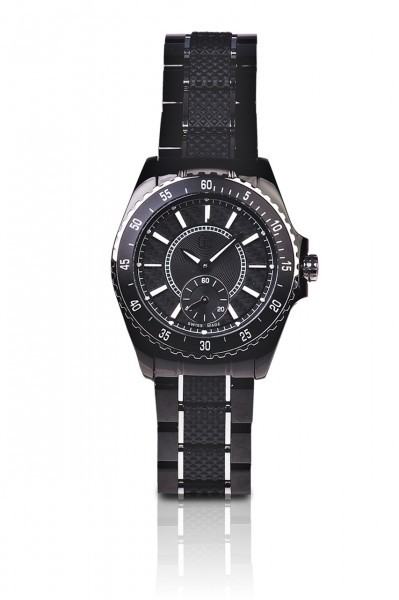 Created with style in mind, a Guess watch combines fashion with function, bringing consumers the best of both worlds. Made with added features such as a light-up face, a chronograph, and interesting band styles such as a bracelet band and a steel band, a Guess watch captures the epitome of style. Though known widely for its jeans, handbags, shoes, and clothing, Guess also creates unforgettable and modern watches with a classic twist.
For a woman wishing to make a statement with her timepiece, a Guess watch is the perfect option. Watches come in many styles and colours including hot pink watches encrusted with rhinestones and silver watches. Pick the perfect watch from a wide array of designs, colours, and price ranges when searching for a Guess watch.
Select a Guess Watch Style
A Guess watch offers a consumer more than simply one style. Options exist for every woman's style, so choose the right watch by comparing the various styles to see which one works best. Many Guess watches are unisex. A casual bracelet watch complements a daytime look, and a crystal embellished silver or gold piece adds an upscale touch to any look. Purchase watch style based on factors such as price, material, practicality, and design.
Bracelet
A bracelet style watch looks like a bracelet with a watch face. Created from leather, a bracelet watch cleverly disguises the timepiece and simply looks like a piece of jewellery. Unobtrusive and chic, a bracelet watch works well for a woman who needs a simple timepiece that is not necessarily a statement piece, but blends well with existing clothing and accessories. Also available in metal bangle styles, a bracelet watch is fun and unique.
Sports
A Guess sports watch adds style to the typical women's athletic watch. Water resistant and multifunction, a sports watch stands the test of time with a stainless steel band coloured in various shades such as white, purple, pink, or blue. Crystals dazzle the watch face for a feminine touch, and a sports watch offers the time, day, and the date.
Classic/Traditional
Guess offers a wide range of classically designed watches. Traditional watches embody the Guess spirit, created in simple styles with metal link bands or leather bands. Many Guess women's watches include sparkling stones and crystals for embellishment, and watch bands and faces vary in size. Created with many unique and interesting face styles, Guess classic watches offer changeable straps for versatility on some models, oversized numbers, and a square, oval, or round face.
Choose a Guess Watch Material
Created from several different high-quality materials, all Guess watches offer sturdiness and durability. Watches range in price mainly due to the material of the bands and added embellishments such as crystals. Pick a watch material according to the design and style of the watch as well as the price and practicality.
Plastic
Affordable and easy to care for, a plastic Guess watch offers the consumer water resistance, a casual look, and multiple functions. Ranging from colours like red, black, aqua, and white to fun animal prints and cool monochromatic designs, a plastic watch gives the consumer versatility and a sturdy timepiece. Created with a sportier feel, a plastic watch is a less expensive yet functional option.
Silver/Gold
A Guess watch created from real silver, yellow gold, or rose gold offers a luxurious option for a chic consumer. A Silver and gold watch increases the price of the watch somewhat. Many watches come with stone accents, a diamond bezel, or other additions like the Guess logo emblazoned on the face in crystals, an oversized face, or gold and silver metals combined together for a versatile watch.
Stainless Steel
The strongest watch material, stainless steel looks sharp and offers the consumer a thick, heavy-duty watch that is water resistant and simple in its elegance. Stainless steel watches come in their natural silver state or are coloured with an overlay, such as pink stainless steel watches.
Leather
A leather watch provides the consumer a variety of styles. Simple leather bands come in colours like white, black, and brown, and brighter and more interesting shades and patterns like animal print, python print, pink, glittery silver leather, and red leather. Some Guess leather watches offer several bands for an interchangeable look. A standout piece like a golden leather strap with a matching golden, shimmering face offers a consumer a watch that is also a lovely piece of jewellery. A leather watch costs less than a silver, gold, or stainless steel model.
Pick Guess Watch Features
Sometimes picking the right watch is frustrating when there are so many choices. One way to narrow the field is to choose a watch by features. For a consumer who frequently swims, a water-resistant watch is important. However, another buyer may wish to have a watch with an alarm or a stopwatch function.
| | |
| --- | --- |
| Feature | Description |
| | Doubles as a stopwatch |
| | Waterproof up to 100 meters |
| Moon phase | Shows current phase of the moon |
| Multiple time zones | Features time zones in other countries |
| Watch light | Press to light up watch face to tell time in the dark |
| Alarm | Doubles as an alarm clock |
Consider watch features along with materials as well as the price of the watch when purchasing a Guess watch. Some features are standard, and some are additional which may or may not increase the price of the watch.
How to Buy a Guess Watch on eBay
It is time to get a bargain on a designer watch created by the legendary Guess brand. Check eBay for great deals on watches made of leather, silver, gold, or plastic in styles ranging from sporty to sophisticated. Key search terms into the bar on any page, such as "Guess watches", and select options from there, such as stainless steel watches, gold watches, or black watches.
A Guess watch is not just a timepiece. It is a style statement. Guess offers both men and women stunning watches that do not merely tell time; they offer a glimpse into their own personal style. Make time to complement your existing style with the perfect Guess watch when you shop eBay for an affordable watch.