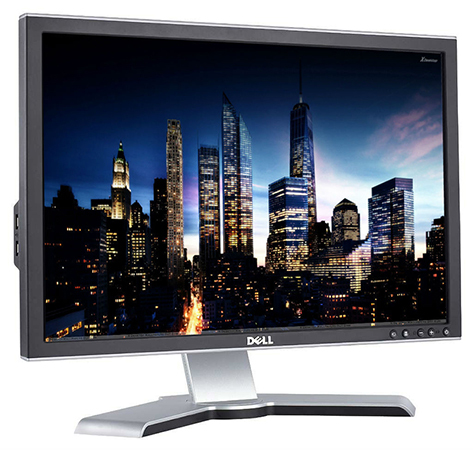 The monitor you select to go along with your PC is arguably one of the most important parts of your purchase. A low-quality monitor can ruin the experience on a high-end PC. Likewise, the right monitor can make a less expensive computer feel like it's high end.
Whether you're in the market for a new monitor for your current computer or are shopping for a monitor to accompany a new PC purchase, there are a few key things to keep in mind when you buy.
Pick a Size
The right size monitor for you will depend a bit on what you plan on doing with your PC and the space where you'll be setting up your computer. If you plan on just using your computer for things like word processing or light web browsing, then a small monitor screen might work just fine. For things like video and photo editing, watching videos or work that requires multiple windows open at the same time, a larger monitor might be a better choice.
Before you start your search decide what size monitor you hope to ultimately buy. Going in with a size in mind will help you narrow down your choices and can make finding the perfect monitor a bit easier.
Resolution
Monitor resolution is typically represented by the number of pixels the monitor is capable of displaying width wise by the number of pixels it displays from top to bottom. Like the megapixel capability of your digital camera, the more pixels you have on your screen the higher its resolution will be. Higher resolution screens mean crisper images, and easier reading. 1920 x 1080 pixels is considered high definition, and has become fairly standard in even baseline models. Some larger monitors are also available in 2,560 x 1440p or even 3,840 x 2160p. 3,840 x 2160p is capable of displaying 4k images and video and is the higher end of monitors on the market today.
Pixel Response Rate
Every monitor has a pixel response rate. The pixel response rate of your monitor is how fast the monitor is able to transition between two colors, typically white and black or two different shades of gray. The timing is measured in milliseconds, so you might not think it would maybe a huge difference, but it does. If you're just doing web work on your computer, then something like a 6 millisecond response rate is sufficient. If you're trying to play games or do graphics work, however, then 6 milliseconds can actually be too slow and cause ghosting and artifacts on your screen.
Connections
Sure, you plan on using your new monitor with your computer, but will you ever want to connect it to anything else? Some monitors offer additional hookups that can come in handy depending on the type of work you plan on doing with it. For instance, and HDMI port might be used to connect the monitor to a video game console or media player.
If you have a lot of accessories that connect to your computer, then a monitor with numerous USB ports can definitely come in handy. If you're connecting the monitor to a tower that's stowed under a desk, then USB ports on your monitor can be a lifesaver when it comes to connecting your keyboard or mouse, or want to quickly read content off a flash drive.
Bells and Whistles
Depending on what you plan on using your new monitor to do, there are a number of unique features available on varying models. Some models include 3D capabilities (either passive or using glasses), and others offer the ability to easily transition between portrait and landscape mode, a useful feature for writers and social media managers.
If you're running a Windows PC you might also want to consider purchasing a touchscreen monitor. Touchscreen monitors work alongside Windows 8 and allow you to tap on icons on the screen much like you would apps on a smartphone in order to launch them.
Buying a monitor doesn't have to be difficult. Decide what's important to you, and then take a look at your options. The right monitor for you and your PC is out there.