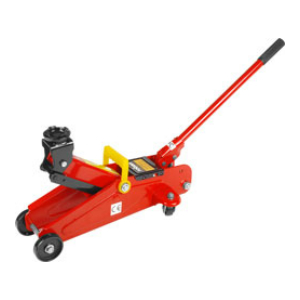 Getting stranded on the side of the road with a flat tyre is not a situation any driver wants to experience. If this scenario does occur, however, drivers are always relieved if they have jacks in their cars. These mechanical devices can help with roadside breakdowns, and they can also help with home repairs in some cases. In addition to standard automotive jacks, there are special jacks available that are designed for motorcycles or heavier vehicles, such as trucks.
All of the various types of jacks are available through the online retailer eBay. Before shopping for jacks, consumers may wish to take a moment to learn about the different types of jacks on the market, how to find the right jacks for their vehicles, and how to go about the purchasing process on eBay.
Buying a Jack on eBay
The retail site eBay offers a large catalogue of choices when it comes to jacks by bringing together multiple sellers from around Australia. It also makes it easy for consumers to search through this catalogue by providing a search bar on every page on the site. You can use this interface to run a search for your ideal jack, but first, you need to understand the types of jacks that are available in the marketplace and know how to match the right jack to your vehicle.
Types of Jacks
There is a good number of jacks in the eBay marketplace. Each type offers its own advantages for certain vehicles or in specific settings.
Trolley Jacks
A trolley jack is a low, flat, hydraulic jack situated on a set of four wheels. This mechanism can slide easily under a vehicle. A hand bar then allows the user to prime the hydraulics and raise the platform that pushes up into the base of the vehicle to lift it. Trolley jacks are rated for different weights, with the average trolley jack capable of lifting anywhere from 1,500 to 2,000 kg.
Bottle Jacks
A bottle jack is a cylindrical jack that sits upright under a vehicle, giving it a bottle-like appearance. This jack is a great option for narrow, tight spaces in which something like a trolley jack could not fit. A bottle jack works with a hand pump and hydraulics, just like a trolley jack. Bottle jacks can be rated anywhere between 4 tonnes and 30 tonnes.
Inflatable Jacks
An inflatable jack is a lightweight, portable jack that is a good option for consumers who are intimidated by mechanical solutions. This type of jack uses air to inflate a plastic, pillow-like sack. When this sack is placed under a car, the inflation raises the car as the sack fills. Most of these options are exhaust jacks that work with a hose attached to the exhaust. The gases expelled from the exhaust, then inflate the jack. These options are also popular with off-roaders who may find themselves on unlevel ground that would not work well with mechanical jacks.
Ratchet Jacks
A ratchet jack leverages gears and a series of notches to raise the vehicle in increments. A pivoting component known as a pawl rises and slips and locks into each notch level as the jack rises. A user powers this mechanism using either a pump lever or a crank. Crank models are typically used to lift smaller cars and weights. The base of a ratchet jack is usually a four-footed pyramid that gives users a stable foundation on road surfaces.
Scissor Jacks
Scissor jacks are diamond-shaped jacks that rest on a rectangular base. A jackscrew is used to prime and raise the jack. This jackscrew runs through the centre of the scissor jack, threading through the two horizontal angles of the diamond. There are also electrical varieties that use an electric motor to turn the jackscrew. Scissor jacks are usually rated around 1 tonne.
Low-Profile Jacks
Some vehicles have a very low profile, meaning that the bottom of the car rides very low and close to the road. For vehicles like this, consumers often use low-profile jacks. These jacks are typically trolley jacks with very thin and svelte designs that allow them to slip easily under the low clearance of these vehicles.
Farm Jacks
A farm jack is an all-purpose jack designed for use on farms more than a century ago. In the decades since, the design of this extremely useful tool has not changed much. This mechanism is designed to not only lift, but also winch, clamp, push, and pull, making it ideal for off-road drivers as well as farmers and repairmen. Its long, thin form factor makes it easy to tote and stow, too.
Choosing the Right Jack
When choosing jacks, consumers need to factor in both the design of their vehicles and their own ability to use a particular type of jack. For those who are uncomfortable with larger, mechanical solutions or who lack the hand and arm strength to prime some types of jacks, an option such as an electrically-driven scissor jack or an inflatable jack may be worth considering. Consumers also need to consider the size of their vehicles and match those sizes with appropriately-rated jacks. They may also need to consider where they drive their vehicles. Off-roaders or other drivers who encounter rocky, slippery, or unstable surfaces may want to invest in exhaust car jacks. Consumers looking to work on vehicles in garages are better served in general by trolley jacks.
Necessary Accessories to Use with Jacks
Lifting a vehicle is obviously a hazardous undertaking, and consumers need to take certain precautions when operating jacks. In general, it is a good idea to use jack stands when working underneath vehicles. These stands hold cars up in a much more permanent and stable way than single jacks. When changing a tyre, it can also be a good idea to use something to block off the wheels on the end of the vehicle that remains on the ground. Wood blocks or metal chocks should be slipped under the outside edges of the tyres to prevent the cars from rolling when jacked.
The Purchasing Process on eBay
Once you have decided which jack and jack accessories you need, you can jump into the purchasing process on eBay and find great deals. After running your search, you are going to see a list of results. Scan the titles of these listings and click on any items that seem like they could be the right fit for you. Review all of the details in the listings, including specifics about the jack and payment and shipping details.
Getting to Know the Sellers on eBay
When reviewing a listing, you can also benefit from taking a moment to evaluate the seller. This process can help you determine whether or not a seller is likely to get you the product you need. Click on the seller's highlighted name in a listing and visit that seller's page. On the seller's page, you can find past listings for your review as well as feedback left by other customers.
Conclusion
No motorist wants to be stranded on the side of the road without a jack on hand to help with a tyre change. These devices can also help with automotive repairs conducted in a consumer's garage when they are used in tandem with jack stands to help ensure safety. When shopping for jacks and their accessories, consumers can leverage the online retailer eBay to find a wide array of choices. By first learning about the various types of jacks, including trolley jacks, ratchet jacks, and exhaust jacks, and then determining which types work best for their vehicles, consumers can use this site and its user-friendly search and seller review features to find and purchase the perfect jacks for their vehicles and their garages.
Automotive Jack|Farm Jack|Ratchet Jacks|Inflatable Jacks|Bottle Jacks