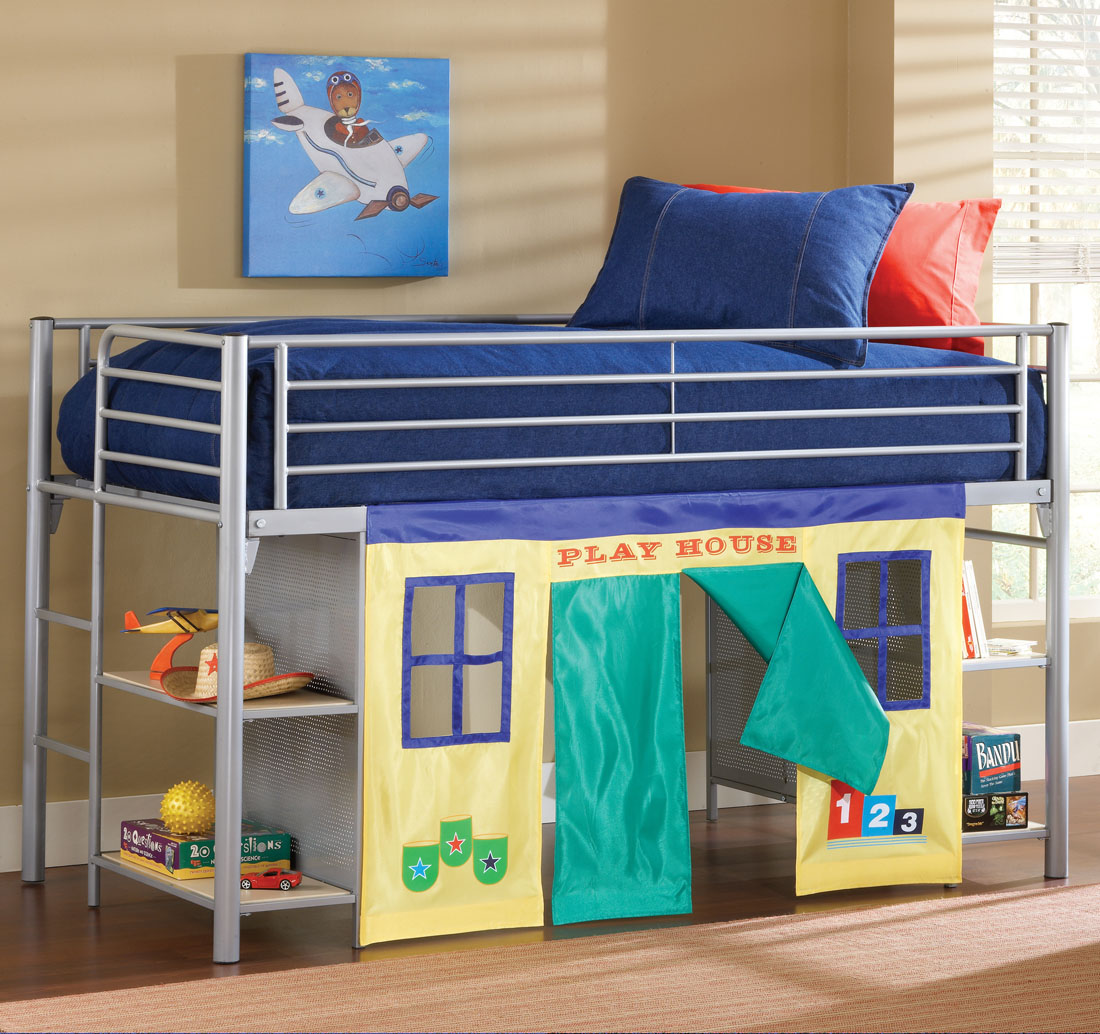 People may assume that it is easy to buy a junior bed on a budget, but that all depends on the junior. While junior beds are relatively small, that does not mean that they have to cost less. Junior beds can be as small as a cot or crib, or as big as a single bed. Before buyers start shopping for a junior bed, they need to consider the actual bed size that is more appropriate for their junior and the type of bed that is suitable. Once they figure that out, they should establish a budget and then find a store with a wide collection from which to choose. They can even shop online at stores like eBay, which have various sellers competing to provide the best possible prices.
Junior Bed Types
A junior bed is usually the bed that parents use to transition a toddler from a cot to a regular bed. Parents have a choice when they are looking for a junior bed; they can opt to buy a toddler bed, or go straight to a single bed.
Toddler Beds
Toddler beds are very similar to cots; their mattress size is the same size as a crib bed, but they are now set on a base like a regular bed. In buying a toddler bed, parents allow their juniors to slowly transition to the feel of their own bed without the confinements of too many railings. Some junior beds still have railings, but their designs implement short railings that do not follow the length of the bed, and seem more stylish than restricting. Toddler beds do not have to be drab cot upgrade as there are many theme beds available for toddlers. These beds have multiple designs where the bed frame looks like their favourite cartoon or movie character or simply has funny design characteristics.
Single Beds
Single beds are generally the choice for parents who do not wish to upgrade to another bed soon. Toddler beds usually need replacing when the child reaches age five or six, but a single bed can last until their teenage years. Depending on the age of the junior, a single bed is not the safest option. But some parents simply add a railing for as long as is necessary, and ensure that the single bed is low to the ground. It is also easy to buy bedding that is suitable for growing toddlers. They should be colourful, but without childish characters, so that they remain appropriate as the child grows older.
Junior Bed Sizes
Available space plays a part in the selection of a junior bed. If the child already has a crib, replacing it with a toddler bed is not an issue, but if the parent chooses a single bed, they may have to rearrange things. The chart below compares the sizes of each bed.
| | | |
| --- | --- | --- |
| Bed Type | Toddler Bed (mm) | Single Bed (mm) |
| Width | 700 | 900 |
| Length | 1400 | 1910 |
Price also plays an integral role in the choice between a toddler bed or single bed. Single beds tend to cost more. However, a single bed also serves longer, so it might actually be more economical over the long run.
Junior Bed Mattress
Regardless of which junior bed type parents choose, they should consider the type of mattress that accompanies it. Parents who plan to buy the mattress separately should make sure it is the correct size. Incorrect sizes leave gaps between the mattress and the frame, which can trap the child or pinch hands and feet. The mattress should also be firm enough to support the child. An overly soft mattress increases the risk that younger kids might suffocate. Do not get pillow top mattresses or waterbeds for toddlers or young children, no matter how cool they think it looks. They are safety hazards.
Junior Bed Base
Junior beds come with one of two basic types of bed bases. The wood slat base is more popular, but buyers can also choose a box spring base.
Wooden Slat Junior Bed Bases
Wooden slat bases consist of flat wooden planks, which lay across the main frame of the base. They lie close together for maximum support and should be 50 mm apart or less. They rise up off the ground to give storage space for shoes or trunks, but they are not too high to let a toddler or young child climb on and off it.
Box Spring Junior Bed Bases
Box spring junior bed bases often cost more than the standard slat base, but they look more stylish and are very durable. The base is usually a fabric-wrapped wooden frame with springs. The springs elevate the mattress and absorb shock. These beds last longer, especially with young children who use their beds as trampolines and lounge chairs.
How to Buy a Junior Bed on eBay
eBay is a good place to start when shopping for a junior bed on a budget. Enter search terms into the search bar on anyeBay page. A search for junior beds, toddler beds , or childrens beds should return nearly identical results. Also, remember that punctuation marks mean nothing in a web search, so you need not enter an apostrophe. When the list populates, browse through the selection for the bed that suits your taste and budget, then contact the seller if there is anything you wish clarified.
Alternately, if you already know that a single bed is what you need, you can use that search term instead of the others above. If the result listing for either search term is too extensive, you can engage the provided filters to narrow down the selection. With the use of eBay's search engine and filters, you can quickly locate the junior bed that suits your budget and the comfort of your little one.