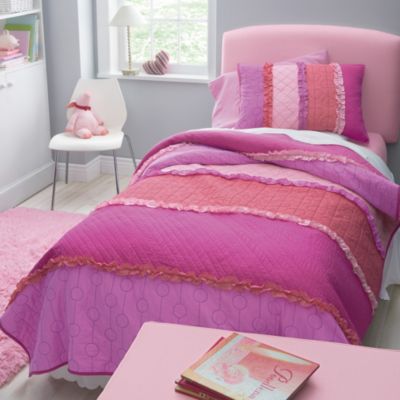 Instances of parents looking for affordable kids' quilt covers are not uncommon, and while there are scores of options from which to choose, this abundance of alternatives can make the buying process a little daunting. After all, what may seem like a seemingly simple task does involve paying attention to various aspects that go into providing not just comfort, but smiles as well.
Turning to eBay is a good way to look for kids' quilt covers on a budget because this platform tends to offer more alternatives than typical brick-and-mortar shops that deal in bedding supplies. In either case, while taking a child's likes and dislikes into account is a good starting point, buyers should also learn about aspects like size, thread count, and fabrics.
Why Use Quilt Covers for Kids?
Children's bedding is prone to attracting more dirt and dust compared to adults' bedding simply because of the lifestyles they lead. The downside of this is that parents have to put in considerable efforts to ensure that their children's bedding is clean. When it comes to cleaning quilts, given their size and volume, cleaning them can be quite a challenge, and some require dry cleaning alone. This is where quilt covers forkids' quilts enter the fray. These covers help keep quilts free from dust, dirt, and stains, and are much easier to wash in comparison to quilts.
Getting the Size Right
Quilt covers , like quilts and bed sheets, come in different sizes, which is why paying attention to size is crucial. The size of a new quilt cover should be the same as that of the quilt in question, and the table below helps to illustrate common quilt sizes.
| | |
| --- | --- |
| Type | Size (cm) |
| | 110 x 125 |
| Single | 140 x 210 |
| King Single | 160 x 210 |
| Double | 180 x 210 |
| Queen | 210 x 210 |
| King | 240 x 210 |
| Super King | 265 x 210 |
When it comes to buying quilt cover sets, and most quilt covers come in the form of sets, buyers should remember that quilt covers for single bed quilts come with one pillowcase. On the other hand, double, queen, and king quilt covers tend to come with two pillowcases.
Thread Count
Thread count is nothing but the actual number of threads present in 1 square inch of any given fabric. Thread count plays a role in how coarse or smooth a fabric feels, with higher thread counts typically translating into fabric that feels smoother and softer. Cotton fabric starts at around the 100 thread count mark and can go up to a thread count of 1,000. When it comes to quilt covers, good quilt covers start at around a thread count of 250, and can even cross the 500 mark. However, high thread count also translates into higher prices, and when it comes to looking for affordable quilt covers , buyers should look for options between thread counts of 250 and 350. Some quilt covers come with different thread counts on the front and reverse, which is also something that buyers must consider.
Materials Used to Make Quilt Covers
Quilt covers for children come in different materials that include different kinds of cotton, like Egyptian cotton and cotton sateen, cotton-polyester blends, cotton-linen blends, as well as velvet and silk. Many quilt manufacturers favour cotton sateen, with its typically soft feel, because of the affordability factor. On the other hand, materials like Egyptian cotton and silk are more upmarket.
Design and Brand Alternatives
When choosing a quilt cover for children, keeping a bedroom's existing decor in mind is a good idea. Taking a child's preferences into account is equally important, and given the number of design alternatives on offer, this is not difficult. Design options that buyers can expect to find include those based on children's fairy tales, superheroes, cartoon characters, sports, and even films. Some of the alternatives on offer rely on characters like Mickey and Minnie Mouse, Hannah Montana, Thomas the Tank Engine, SpongeBob Squarepants, Superman, and Spiderman. In addition, buyers can also find designs that do not contain any popular character, but create their own appeal instead. Examples of such quilt covers comprise of floral and animal prints, geometrical shapes, and a host of other themes. Some kids' quilt covers come with glow-in-the-dark capabilities, and require that lights be on for a little while before darkness prevails.
When it comes to brands, buyers can choose from popular brands like Disney, Kas, Sheridan, Hunter, Gypsy, Laura Ashley, and more.
Do-It-Yourself Kids' Quilt Covers
Many people opt to make their own kids' quilt covers, and although this may seem like a tedious project, the truth is that even beginners can accomplish this with relative ease. The method to make a quilt cover remains the same irrespective of the size and the supplies needed. The materials include fabric, a sewing machine, scissors, tape measure, an iron, and an ironing board. Using cotton helps, given factors like affordability and durability, and washing the fabric before using it is paramount. People who wish to make their own quilt covers should remember that sewing does require some amount of patience.
How to Buy a Kids' Quilt Cover on a Budget on eBay
eBay users can come across a number of bedroom related deals, which include deals surrounding kids' quilt covers as well. When shopping through top-rated sellers on eBay, buyers can find quilt covers for children in different materials, sizes, and designs. Some eBay sellers also offer deals that include free delivery, which can help make a purchase even more affordable.
This platform also gives its users the ability to look for used quilt covers. Buyers can expect to find some top-end kids' quilt covers at rather affordable prices. However, buyers should pay attention to a used quilt cover ' s condition before buying it.