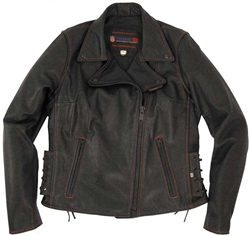 Motorcycle jackets have many purposes outside of just being a standard jacket. Some people just wear their regular jackets to go riding, which is usually okay, but they are missing out on all of the benefits of a using an actual ladies' motorcycle jacket. One of the purposes of the apparel is to be more comfortable when in the riding position. It also offers extra warmth because driving at high speeds can get really cold even if it is fairly warm outside. However, probably the biggest benefit is the protection that a motorcycle jacket offers. Most have extra padding and a durable build to keep a person safer in the event of a crash.
Safety Features to Look For
As mentioned earlier, safety while riding is a big priority. A good motorcycle jacket can act as a piece of protective armour. Look for jackets that have as much padding as possible without being too restrictive. Many of them have padding in the elbows, shoulders, and back.
Also consider looking for a women's jacket that has reinforcements sewn in. These are hard inserts that prevent injury more than the padding does. Jackets with inserts do cost more but a plastic shell can prevent a lot of injuries, especially in high speed crashes. Recently, jackets with with spine protectors have become popular. They have small pieces of armour up and down the spine to help support and protect the back. However, if the jacket doesn't come with the spine protection, shoppers can buy them separately and wear them either under the jacket or over the top.
Other drivers do not always see motorcycles because they are smaller than vehicles. One way to increase visibility as well as safety is to purchase bright outerwear and look for jackets that have reflective materials on them. Looking stylish while riding has always been popular, but being safe with a reflective motorcycle jacket is more important and there are still jackets that are fashionable as well as highly visible.
Ladies' Motorcycle Jacket Fit
Riding a motorcycle is much different than driving a car and it can become uncomfortable after awhile. If the jacket doesn't conform to a person's riding position or fit properly it can add to the discomfort.
Since motorcycle jackets tend to be high priced items, it is important for shoppers to take their time and select one carefully. It is better to borrow a jacket for a while if a perfect one is not found right away than it is to rush into a bad purchase.
The best way to test out a jacket is to put it on and move the arms around. There should be full range of motion without restriction, but the jacket should also fit somewhat snugly. If it is too loose it flaps around in the wind and lets cold air in. Pay close attention to the length of the sleeves as well. They are supposed to be slightly longer so that they still cover the arms when holding onto the handlebars.
| | | | |
| --- | --- | --- | --- |
| Women's Jacket Size | Bust (inches) | Length (inches) | Sleeve Length (inches) |
| | 32 | 26 to 28 | 30 |
| S | 34 | 29 to 30 | 31 |
| M | 36 | 31 to 32 | 32 |
| L | 38 | 33 to 34 | 32.5 |
| XL | 40 | 35 to 36 | 33.5 |
| XXL or 2XL | 42 | 37 to 38 | 34.5 |
Lastly, look for apparel with closures around the wrist, neck, and waist. This stops the wind from getting inside. Some jackets have elastic closures and others have straps to tighten down.
Motorcycle Jacket Features
In addition to the fit and safety of the jacket, there are extra features for shoppers to look for that offer convenience as well as extra comfort.
Motorcycle Jacket Vents
Even in cold weather, it can still get hot wearing a thick jacket. Vented motorcycle jackets help let minimal air in and out so that riders don't overheat. Some vents are permanent while others have zips so that people can determine whether or not they want the extra breeze or not.
Motorcycle Jacket Pockets
One of the biggest problems people run into when riding a motorcycle is where they can put all of their stuff. Some bikes have small storage compartments but they may not hold enough. Look for jackets that have pockets to store small essentials such as a cell phone and wallet. Choose pockets that have some sort of closure method such as a zip or a flap. It is also a good idea to get waterproof pockets.
Motorcycle Jacket Lining
Those who live in climates that change constantly should look for jackets with with a removable liner. Once removing the interior liner, the jacket is more lightweight and better to wear when it is hot outside. The jacket is more insulated from the cold weather when the liner is in.
Waterproof Motorcycle Jacket
Not all ladies' motorcycle jackets are waterproof, especially the ones that are merely intended to be stylish rather than functional. Try to choose waterproof materials such asleather or nylon that keep the rider dry in a downpour. With all of the wind, it gets very cold to ride when wet.
How to Buy
Choosing the motorcycle gear to purchase is almost as important as selecting the motorcycle itself. The gear is what determines how comfortable and protected the rider is while out on the open road. Look for great sales on motorcycle gear on the eBay Deals page or visit the regular homepage. On the homepage you can use the search bar to query "ladies' motorcycle jackets". Compare the materials, style, and features of each. To save on time, sort the listings based on the lowest price first or enter in your price range so that only jackets within your budget are in the list of items.
Before purchasing, look at the seller reviews to see if others were happy with the items as well as the services that they received.