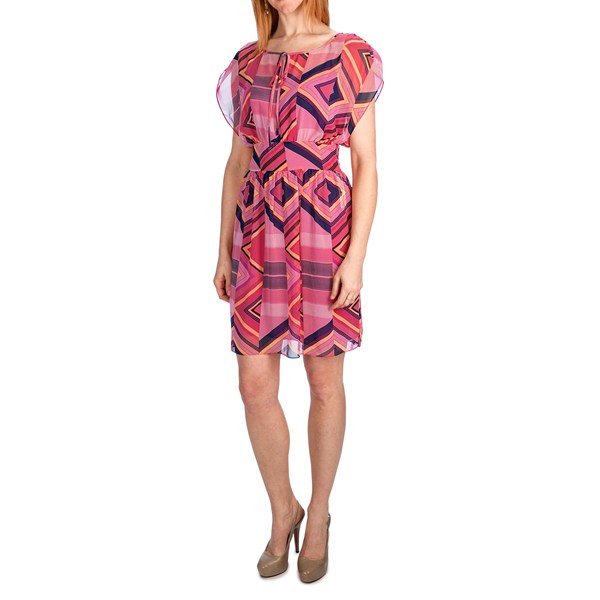 Women love to wear dresses because it makes them feel feminine and beautiful. These dresses come in a range of colours, fabrics, and designs. Laundry by Shelli Segal, one of the well-known designer brands, caters to women looking for sexy, trendy outfits that they can take from day to night. Women who are looking to purchase Laundry by Shelli Segal dresses should be aware of the various styles that are available in the designer collection. Buyers should also be able to figure out the best dress for their body type, skin tone, and occasion. Whether fashionistas buy Laundry dresses on eBay or at specialty retail shops, they all want to look their very best from morning till night.
Know the Laundry Dress Types
Laundry's designs seek to evoke the carefree and laidback vibe of Los Angeles. Women who are thinking about buying designer dresses from Laundry should be aware of the many types that they can choose from. Laundry dresses range fromabove-the-knee to full length. Depending on the type of fabric and design, a dress may be suitable for informal, semiformal, and formal social occasions. When wearing a Laundry dress to work, a night out on the town, or a gala event, women look and feel their best.
Laundry dresses are available in various designs, including necklace, boucle, tiered, double cascade, hi-lo, fit and flare, tunic, A-line, shift,sheath, peplum, cut-out, and cowl dresses, among others. As for the fabric and material of Laundry dresses, it can be linen, lace, rayon, chiffon, sequin, metallic foil, beads, twill, leather, faux fur, metal, and more. Popular colours, on the other hand, vary from season to season, with bright colours in spring and summer and with darker colours in fall and winter.
Dress for One's Body Type
When buying a Laundry dress, the first thing to check is if it looks flattering on the wearer's body. Because designer collections change from season to season, fashionistas often run the risk of buying dresses that are on trend, but unattractive. Those who are thinking about buying a Laundry dress should consider their body shape. There are generally six body shapes: pear, apple, hourglass, petite, slender, and busty.
Pear Figure
Women with pear body shapes have large hips, thighs, and rear ends. Their advantages, on the other hand, are their shoulders and neckline. Highlight the positive qualities by wearing a fitted dress with an A-line skirt.
Apple Figure
Fashionistas with an apple-shaped body have slim arms, broad shoulders, and a large middle area. Flattering dresses should draw attention to the bustline, so women with an apple figure should buy an empire waist dress. If the wearer has great legs, consider going for minis and sleeveless dresses.
Hourglass Figure
Another common body shape is the hourglass figure. These are women who have a narrow waist and a proportionate hip and bustline. Women with an hourglass figure can wear most styles, but ideally, they should choose dresses that hug their figure and highlight their narrow waist.
Busty Figure
Compared to the average woman, busty fashionistas have a larger bustline in proportion to their body. Wearers should go for Laundry dresses that fit properly and give maximum coverage for the bust. Consider drawing attention to either the bust or the hemline.
Slender Figure
Some women, on the other hand, hardly have any curves. Laundry dresses that create the illusion of curves are those with ruffles, tiers, and layers. Fashionistas should also consider wearing belts to draw attention to the waist.
Understand Skin Complexion
Shoppers should also take note of their skin tone in contrast to the dress colour. People with warm undertones should wear colours like brown, orange, red. Those with cool undertones, meaning pink or blue, should wear bright colours. Apart from the undertones, shoppers should also consider their skin colour. Pale-skinned women should wear emerald green, blue, and other jewel tones to play up their skin. People with olive skin should wear light blue, beige, cream, and brown, among others. On the other hand, fashionistas with dark skin are lucky enough to be able to wear anything.
Discover Personal Style
When shopping for a Laundry dress, make sure to consider personal style. Some fashionistas are often quick to jump on just about any trend without considering the current pieces in their wardrobe. At the end of the day, fashion is a means of self-expression. Instead of just blindly following trends, fashionistas who stand out from the crowd inject their own personal style into the equation.
Brand New vs. Pre-Owned Laundry Dresses
Those who cannot afford buying brand new Laundry dresses should consider looking for gently used dresses instead. There are fashionistas who sell dresses that they have used once or twice to make way for other designer purchases. When buying pre-owned Laundry dresses online, be prepared to ask a lot of questions about the condition of the item. If there are too few photos, ask the seller to take more, paying close attention to the seams, underarms, zippers, and other places that are easily damaged.
How to Buy a Laundry Dress on eBay
Whether buying brand new or pre-owned dresses, shopping for Laundry by Shelli Segal on eBay is a breeze. Look for the search field found on any eBay page and enter the name of the dress that you wish to purchase. You can write in 'Laundry lace dress', for example. Narrow down the search results through eBay's filters for price, location, and condition. Lastly, check the seller feedback. You can also go for eBay Top-Rated Sellers. If buying pre-owned Laundry dresses is not your style, then take a look at eBay deals on women's clothing; with a bit of luck, you might find a special deal on Laundry dresses.