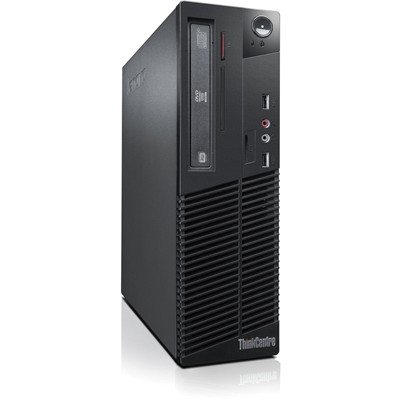 This Lenovo M72e SFF Desktop PC Core i5 comes with a genuine Windows 7 Professional operating system and 3rd generation Intel Core i series processors. It is centred on power and speed and the latest integrated Intel DH graphics card is also included. This model also sports 4GB of RAM coupled with a 500GB (7200 RPM) SATA Hard Drive. eBay stocks the Lenovo M72e SFF Desktop PC Core i5 and is a great place to begin searching.
Key Features
CPU Speed : 7200 RPM3.20GHz
Memory (RAM) : 4GB
Graphics Card : Intel HD 2500 Graphic
Audio : Integrated High Definition Audio Stereo
Operating System : Genuine Windows 7 Professional, 64 Bit
Optical Drive Type : DVD-RAM/±R/±RW
Memory Type : DDR3 SDRAM
Network Cards : RJ-45
Processor Model : 3rd Gen Intel Quad-Core i5-3470
Hard Drive : SATA/300
Buying Considerations for a Lenovo M72e SFF Desktop PC Core i5:
It is important for the user to address whether the 4GB of RAM and 500GB (7200 RPM) hard drive provides enough power and storage to be effective. These, in addition to the operating system (Windows 7 in this case) make up the three most important technical components of selecting a PC.
For many who are less technically minded the price often plays the most important role when considering what PC to purchase. eBay can offer the user an option of purchasing a pre-owned device if budgetary constraints are an issue. In addition to the features above, the graphics card used, number of USB ports, physical appearance, audio quality and pre installed software are factors for the user to consider.
Additional Features:
3rd gen Intel Quad-Core i5-3470 3.20GHz 6MB cache processor with HD2500 graphics
4GB PC3-12800 DDR3-1600 SDRAM memory, expandable to 16GB
Form factor: Small; Business black
Software included: ThinkVantage Product Recovery, ThinkVantage Power Manager, ThinkVantage Communication Utility, Lenovo Message Center Plus, Lenovo SimpleTap, Adobe Reader, Microsoft Windows Live Essentials, Corel Burn.Now, Corel DVD MovieFactory
Total number of USB ports: 8
Direct media interface: 5 GT/s
Number of memory slots: 2
Ethernet technology: Gigabit Ethernet
Chipset model: H61 express
Power and Productivity
The 3rd Generation Intel Core processors increase the CPU speed by 10% paired with 164% graphics performance improvement. Furthermore, Lenovo Enhanced Experience 3 makes the start-up time much faster due to the RapidBoot HDD Accelerator. This device also supports Wi-Fi and Bluetooth for high performance connectivity.


Lenovo Solution Center
This provides a dashboard that reflects the total system health. The hardware diagnostic tool enables the user to access regularly the user system management tools, backup and restore, antivirus and firewall settings, system/software updates, internet connections, and service and support. The ThinkVantage system speeds up the process for users when searching for drivers and software updates. In addition to this, the Migration System helps to increase the speed of migration.
Industrial-Class Security
The M72e SFF desktop is fitted with high quality security tools including Client Security Solution. It is becoming increasingly important to password protect PC's and these tools enable the user to centrally manage hardware, alert users if their tower has been opened without authorization, the ability to disable USB's as well as help to locate lost or stolen PC's.
Energy Saving
The Cisco EnergyWise certification allows power level monitoring and Lenovo's exclusive Desktop Power Manager provides the user with the opportunity to control the cost of the PC's power use. Moreover this device has a STAR 5.2 and EPEAT Gold rating, it is an environmentally friendly device.
How to Buy a Lenovo M72e SFF Desktop PC Core i5 on eBay
eBay is the ideal place to search for a Lenovo M72e SFF and can provide the user with both used and brand new devices. To begin, simply type in the key phrase "Lenovo M72e SFF Desktop PC Core i5" into the search bar.
eBay will then generate a results page and from this, the user is advised to make use of the category system in order to filter the results. Options such as price and condition can provide the user with the most relevant results page. Moreover the rating system can help the user decide what seller to purchase from. eBay offers the Lenovo M72e SFF Desktop PC Core i5 and can provide the user with an ideal solution.
Conclusion
When deciding whether to purchase a Lenovo M72e SFF Desktop PC Core i5, the user must take into account many factors. The memory, price, graphics capability and operating system are just some of the things that must be accounted for.
eBay offers a wide variety of both used and new devices and upon completing their research can provide the user with a great product.