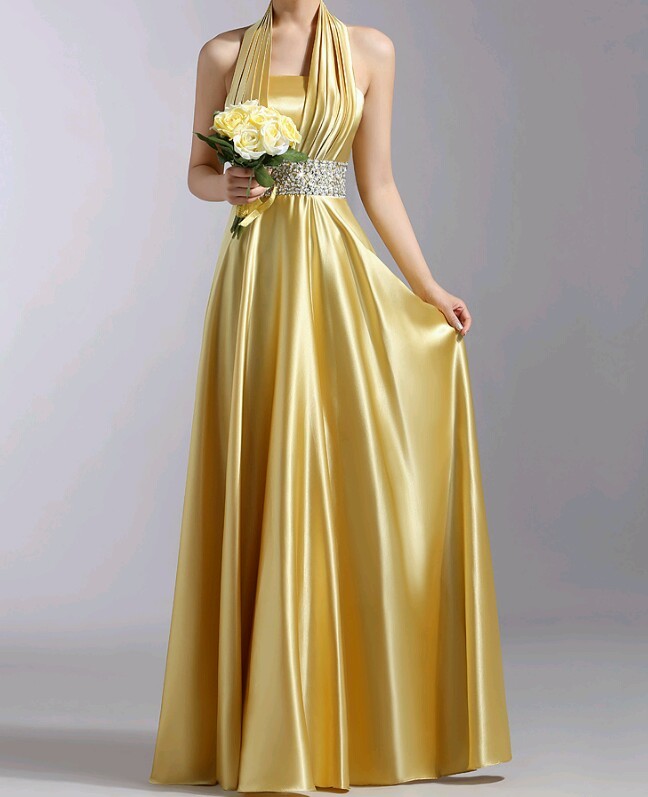 Shoppers buy a long formal dress for a variety of occasions. These can include for a dance, such as a prom or debutante ball, as well as for weddings, and any other formal occasions. A long formal dress extends all the way to the floor, or at least to the ankle, and comes in a wide variety of dress styles. Some even have embellishments to make the dress even more special, including bead and sequin additions. When comparing dresses, shoppers should understand how to buy a long formal dress and what to look for when buying one. Dress buyers can find a large selection of long formal dresses at department stores and on eBay.
How to Buy a Long Formal Dress
Before buying a long formal dress, shoppers need to perform a few steps including measuring for size, choosing a dress appropriate to a woman's body type, and deciding upon which materials and embellishments they desire. The following sections detail the different factors shoppers should keep in mind while making a purchase.
Measuring for Dress Size
When buying any dress, shoppers need to ensure that they measure for the correct size. This includes measuring the bust and waist, as well as measuring the proper dress length. To properly measure a dress, shoppers need a cloth tape measure, as well as a notepad and pencil to write down the proper measurements. It also helps if they have someone to measure for them.
Bust Size
To get the proper bust size, women should stand with their arms relaxed by their sides. Encircle the fullest part of the bust with the tape measure, going underneath the arms. Place two fingers between the tape and the body to give some extra breathing room while wearing the dress. The two ends where the tape measure meets determine the proper size.
Waist
Measuring the waist first requires women to determine exactly where their natural waist lies. They can do this by bending to the side. The natural waist lies where the body creases. Using a cloth tape measure, encircle the natural waist. Where the tape measure meets determines the waist size.
Sleeve Length
Shoppers need to measure the sleeve length when the dress they want to buy has full-length sleeves. They can accomplish this by measuring from the top of the shoulder at the shoulder bone to where the hemline of the sleeve falls, typically at the wrist.
Length
Starting from the shoulder, at the fullest part of the chest, shoppers should measure all the way to the hemline, which typically falls around the ankle. Hollow to hem represents another length measurement. Shoppers should measure from the hollow in the front of the neck to the bottom of the hemline.
Shopping According to Body Type
Body type represents another factor that shoppers need to keep in mind while comparing dresses. Those who have a slender figure should choose dresses that give the illusion of them having curves, while those with small busts should buy bodices that have pleats for volume. Women with an hourglass figure find that almost every style flatters their figure. Apple body shapes look best with an empire waistline, which helps draw attention to their middle. Pear-shaped bodies look best in form-fitting outfits, while floor length gowns could overwhelm petite bodies, so a delicate, feminine dress proves better. Finally, for busty women, a gorgeous neckline may prove best; just make sure that any dress provides adequate support.
Dress Sleeve Type
Dress sleeve type is another factor that shoppers need to keep in mind when comparing long formal dresses. These include long , 3/4, short, and cap sleeve dresses, as well as halter , one shoulder, and strapless varieties, among others. When choosing a sleeve type, shoppers should keep in mind the event to which they plan on wearing the dress, and buy accordingly.
Dress Material
When comparing long formal dresses, shoppers need to keep the material in mind. Long formal dress materials range from cotton , silk, chiffon, and lace . The dress material relies, in part, on the type of event a woman plans to attend, as well as the time of year, with heavier materials best for the winter and autumn, and lighter materials best during the spring and summer.
What to Look for When Buying a Long Formal Dress
In addition to the above criteria, shoppers need to keep some other factors in mind while buying long formal dresses. This includes dress condition and cost.
Dress Condition
Shoppers need to keep the condition of any dress in mind. They need to carefully inspect any photos provided by sellers when buying online, and inspect dresses for torn seams or other damage. They should also look for any worn areas or holes in the material.
Dress Cost
Dress cost provides another important consideration when buying a long formal dress. Shoppers can save money by buying pre-owned items, in addition to new with defects, and new without tags items that generally cost less than items that are new with tags .
eBay Deals
eBay Deals provides another outlet for shoppers to save money on the items they purchase, which includes women's clothing. Shoppers should check back regularly to see which new deals are available.
Buying a Long Formal Dress on eBay
Shoppers can find a large selection of long formal dresses for sale on eBay. To find the right dress for them, shoppers can enter keywords into the search bar. Once entered, a series of listings populate, allowing shoppers to further refine their search. You can refine search results according to dress sleeve type, material, cost, and other details. Shoppers should look for long formal dresses sold by top sellers. This can help to ensure that they have the best shopping experience while on eBay. Shoppers can find both used and new long formal dresses on eBay, and should purchase dresses according to their needs and budget.