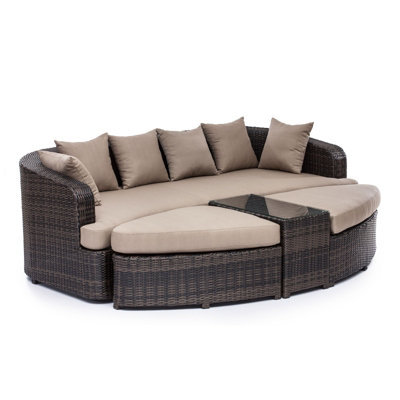 There is nothing more relaxing than sitting outside in a comfortable lounge set. Consumers enjoy the sunshine and the warm weather when they purchase furniture meant for outdoor use. There are many types of outdoor lounge sets made of various materials such as wicker and they offer multiple seating arrangements whether consumers are just lounging poolside or enjoying lunch al fresco.
A lounge set created to withstand the weather changes makes it perfect for outside use. Lounge sets offer multiple types of seating arrangements for patios, yards, and the pool area. Purchase the right lounge set for any budget, patio or yard size, and personal preference from eBay or from a retail shop.
Choose a Lounge Set Type
Before choosing a lounge set, it is best to narrow down the options in order to set a budget. Clearly, a set with fewer pieces is cheaper than a more elaborate set, but consumers should choose the right set based on the space allotted for the furniture, the number of people using the set, and the preferred material of the lounge set.
Chair Set
A chair set comes with two or more chairs for lounging. Some lounge chairs recline flat for sunbathing and relaxing, and some are more traditional upright chairs. Round chairs are another popular type of lounge chair and they have cushions to create a more comfortable experience. Some chair sets offer a couple of reclining chairs and several upright chairs that match. Further, some chair sets come with a small end table for drinks or food. Choose a chair set if the set fits the needs of the planned sitting arrangements.
Sectional or Couch Set
A sectional or sofa lounge set offers a sofa or sectional along with matching chairs. These sets seat more people than a standard chair set, but they are also more expensive. A sectional set is sometimes convertible and creates a daybed or pulls apart to make other types of seating or pieces that are useful as an ottoman instead. A sofa set includes an outdoor sofa and one or more lounge chairs of the same style and material. If buyers plan to entertain often, a sectional or couch set is a good purchasing option.
Table and Chairs
A table and chairs lounge set is perfect for poolside cocktails or outdoor meals on a nice day. A table set includes a table which seats two or more people along with matching chairs. Table sets seat up to 10 people and are available in many designs and materials including metal, glass, or wicker. When shopping on a budget, this option is ideal, since the number of chairs purchased varies.
Select the Right Lounge Set Material
Lounge sets offer a variety of choices when it comes to material. Material must be resistant to the weather and durable to withstand rain and weather changes. Some common options for lounge sets include rattan wicker, which is lightweight and easy to clean. Add cushions to the seats for comfort. Rattan wicker comes in colours such as brown, white, and black.
Another common lounge set material is aluminium , which is a good option but also costly due to its hardy construction and weatherproof finish. For budget buyers, lounge sets made of plastic cost less than other materials, but they may not last as long as wicker or aluminium, though, plastic is lightweight and easy to clean.
Assess the Space and Budget
To find the best lounge set for a specified budget, it is a good idea to assess the space where the lounge set goes, as well as how many people use the lounge set. For parties or family gatherings, a sectional and chairs set is the best bet, and a wicker set is cost effective. For consumers who simply want a set for poolside and do not need much seating space, two chairs and a small end table made of wicker or plastic is perfect.
If consumers want a lounge set that doubles as a dining set, a table and chairs set made of wicker or a glass topped table with chairs that are sturdy, stylish, and affordable is the way to go. Consumers should only purchase a set that fits in the allotted space in the yard or on the patio, and seats the number of people required. Use a tape measure to assess the space and ensure the set purchased fits that area. Purchasing a set that is too large is a waste of money for buyers who do not need the additional seating space.
Choose a Budget-Friendly Lounge Set
Purchase a budget-friendly lounge set by picking a set made of lightweight but quality materials that offer the minimum seating space necessary. Select pieces that do double duty, such as a sectional that pulls out into an extra chair or ottoman space to get more for the money. Fewer pieces cost less, so for buyers who only need a small seating set, purchasing two chairs and a table is more budget friendly than an entire sofa and chairs set.
Another way to buy budget outdoor furniture is to purchase a used lounge set . Before purchasing used items, buyers should ensure the set is in good condition and has no damage. This is a good way to get a high-end lounge set for a lower cost and within a specified budget.
How to Buy a Lounge Set on eBay
Look for a great deal when you purchase an outdoor lounge set on eBay. Key in your search terms, such as "lounge set", and then filter the results by material, such as aluminium and the colour of the lounge set, such as black or brown. Stick to your budget by purchasing a lounge set that offers the number of pieces and seating space that you need, and pick a local seller to do a personalised pickup to skip shipping costs.
A lounge set is a great way to enjoy the weather, entertain guests on the patio, lounge poolside, or eat a meal in the sunshine. Lounge sets vary in price according to how many pieces they are made of and what materials they include. As long as a lounge set is cared for properly and weather resistant, it should provide many summers of enjoyment.