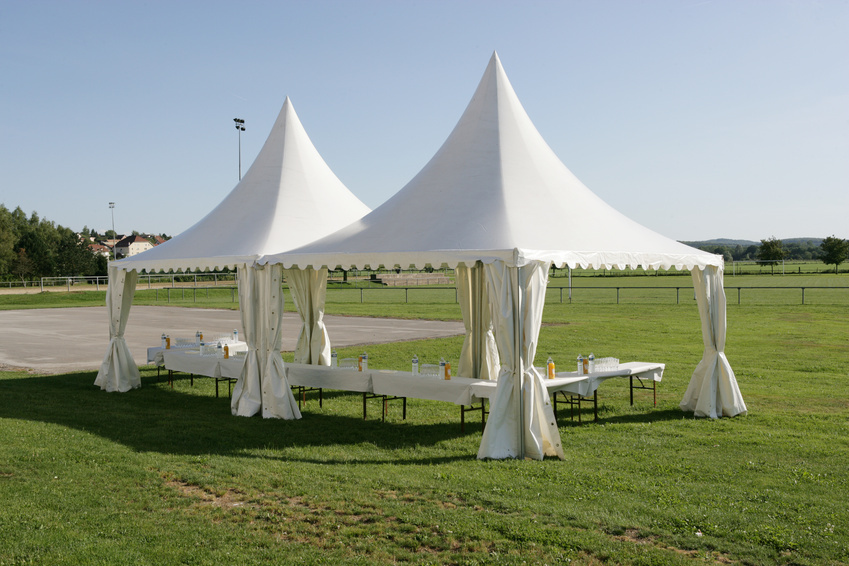 If having a social gathering in the garden or an outside space, there is more than likely to be a marquee there. Marquees are great for providing shelter from the sun, rain and brilliant for keeping food and drinks under during parties and gatherings. Marquees are generally very light structures that can be built with ease out of the box. This guide will outline exactly what a marquee is, the considerations that need to be made when buying a marquee, the various types of marquee available and how to buy on eBay. Take a look at the Home and Garden section on eBay to buy and bid on marquees.
What is a Marquee?
A marquee is essentially a large tent with some or all of the sides being open and is mostly used for outdoor entertainment. Marquees are normally flat packed and will have to be built before use. As with a tent, the marquee will come with pegs, metal poles which hold the structure and the material which is used to shelter you from the sun and rain.
Marquees are brilliant for a large number of events. Some uses of a marquee tent are:
· Protecting you from the sun- Marquees offer brilliant protection from the sun on hot days and offer shade for a number of people.
· Getting away from the rain- Marquee tents are waterproof and offer some relief from a sudden shower during an event.
· Keeping food and drink undercover- Keep food out of the sun and protected from insects by having a small table under the marquee.
· Relaxing- Simply relax under the cool shade provided by the marquee.
What to Consider When Buying a Marquee on eBay
When buying a marquee it is important to consider the following points:
· Size: Be sure to measure the size of the area the marquee will be used before searching for a marquee on eBay. Most listings on eBay should tell you the dimensions of the marquee in question so it is easy to find out which ones will fit in your garden.
· Use: What will the marquee be used for? If it is to be used for a small family to just keep the sun away then you might want to go for something smaller, whereas it might be wise to find something a bit larger and sturdier if it will be used for large social events.
· Colour: Marquees can come in all sorts of colours and this will be purely down to personal taste and it might be a good idea to buy a marquee that matches the colours in the garden or the colour of the house.
· How many people will need to be under it at any one time? The size of the marquee needed will largely depend on how many people will need to be underneath it at any one time.
· Type: Choose from a few different styles that vary in terms of shape, size and sturdiness.
· Price: Make sure that you set aside a budget for the marquee and factor in the shipping costs. The larger the marquee is, the more it tends to cost but there are some great bargains to be had on eBay.
The Different Type of Marquee Available on eBay
There are three main types of marquee available on eBay which all have their own pros and cons:
· Frame Marquee- Frame Marquees have an aluminium frame and have no centre pole or guy ropes. They can be erected on all surfaces including grass and concrete. They are very stable and can span over wide areas.
· Canvas Pole Marquee- Canvas Pole Marquees use canvas under tension to keep the marquee stable and upright. The poles and guy ropes need to be attached to ground stakes which are normally hammered into soft surfaces like grass. The canvas is normally handmade and looks fantastic but it might be a little more versatile and practical than a frame marquee.
· Chinese Hat Pagoda Marquee- Chinese Hat Pagoda Marquees are normally small in size but can be attached to more marquees to create a longer marquee. They have a pointed ceiling which helps to create a great effect when lots of Pagoda marquees are attached together. These marquees are ideal for small gatherings on their own but can be used for larger events when attached to each other. They are generally quite sturdy and are mostly used on lawns and fields.
Now that you know the main factors to consider when buying a marquee and the different types available, all that you need to do is take a look on eBay and bid on or buy your chosen product.
How to Buy a Marquee on eBay
All of the marquees outlined in this guide are available to buy on eBay. By simply searching for 'marquee' in the search bar on any eBay page, buyers will be faced with pages full of products.
However if from reading the above a specific product has now been chosen, more specific searches can be done; for example a search of 'blue marquee' will produce a more specific search.
There are two ways to buy products on eBay and this is through bidding or the buy it now function.
· Bidding – Buyers can bid on a marquee like a normal auction. The seller can put a reserve price on the product in case the auction does not reach their minimum requirement. Buyers will enter bids and will be notified via email whether you are the highest bidder or not.
· 'Buy It Now' – If the buyer does not want to wait for the auction to finish and the seller has opted for the 'Buy It Now' function there will be the option to buy the marquee at a set price which will be advertised and the buyer can buy the product there and then. This is good because the buyer is guaranteed to definitely get the product and to receive it quicker unlike using the bidding route.
Once the perfect marquee has been found it is advisable to check out the seller before purchasing from them. There are two main ways that buyers can check that they are buying from a reputable seller on eBay through reviews and ratings. Other buyers who have bought from this seller are entitled to give feedback on their experience and they can also rate them with a star rating out of five. These reviews and ratingsare impartial and are crucial to making sure the eBay buying experience runs as smooth as possible.
You can search for the best deals on Marquee's by checking in the Home and Lifestyle section. Some additional fantastic discounts are to be found, along with free postage costs.
Conclusion
Buying the right marquee for your needs can be quite tough but hopefully by following this guide, the task will be made much easier. It is important to consider all of the points made in this guide and also be fully aware of what the marquee will be used for, what size is needed and how much you are willing to spend. A massive range of marquees are available in the Home and Garden category on eBay.