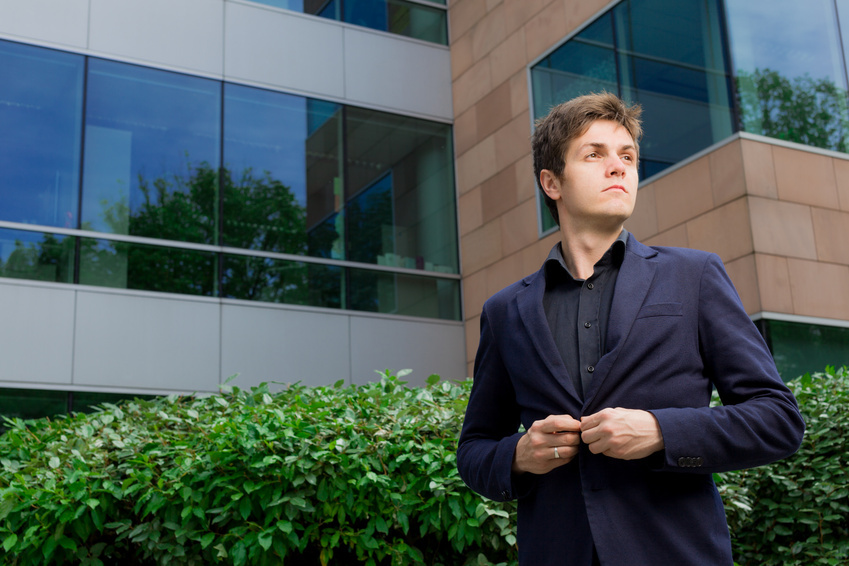 Wearing a blazer is a surefire way to add a touch of class to any outfit. Men's blazers are versatile and worth their place in any man's wardrobe. A blazer pairs well with shirts for a casual yet polished look or it can be paired with suits for a professional and formal look.
With so many choices available today, it is important that men buy one that suits them well. When it comes to choosing the right blazer, the buyer needs to consider the style of the blazer, the occasion, the fabrics, and sizing.
What Type of Blazer?
Depending on the occasion, there are different types of blazer that can achieve different style and looks. Shoppers should decide what type of blazer suits their need and preference for the occasion.
| Types of Blazer | Description |
| --- | --- |
| | Also known as the "American Style", this type of blazer is one of the most common. It consists of fronts that are fastened using buttons and eyelets. Single-breasted blazers can be used as a casual and formal wear. |
| Double Breasted | Also known as the "British Style", this type of blazer is considerably more formal than the American Style. It consists of fronts that overlap each other. This also features a more structured shoulder and may use shoulder pads. |
| | This style is by far the most formal type of blazer. It is often worn for special events. The most distinctive part of a tuxedo style blazer is its lapel, which may feature a contrasting or shiny look. |
| Italian Style | This style is the least formal of all blazers and generally made of lighter materials. It features an unstructured form and typically follows the contours of the wearer's body. |
Getting the Right Size
Getting the right fit is one of the imperatives to making sure that a blazer looks good on its wearer. Most often this spells the difference between looking good and being a fashion failure. To get the right fit, shoppers should keep these tips in mind:
First, shoppers should measure the broadest part of their shoulders and arms, while the arms are at their side.

Measure the chest area. To do this, men need to extend their shoulder blades while wrapping a measuring tape around the fullest part of their chest, just under the armpits.

The sleeve's length is another important measurement. To measure the length of the arm, make sure that the blazer's cuff rests at the wrist bone so that half an inch of the shirt's sleeve would show beneath the blazer.
The length of the blazer will depend on the height of the wearer. Blazers with the right fit and length will drape perfectly over the wearer and help accomplish a nice, overall look. Here's a chart to help shoppers determine the perfect length.
| Height | Blazer Size |
| --- | --- |
| 170 cm and below | Short |
| 173-183 cm | Regular |
| 183-191 cm | Long |
| Above 191 cm | Extra Long |
Blazer Fabric Options
Men's blazers are made from diverse materials. Here are the most popular materials that blazer manufacturers use.
| Materials | Description |
| --- | --- |
| Linen | This is a light material so it's best used during warm seasons. Linen blazers can be used for casual and formal occasions. |
| | Cotton blazers absorb moisture really well and can be cleaned using a washing machine. This material is more suitable for warm climates. |
| Polyester | One of the most affordable materials, this is a good option for those hunting for men's blazers without the high price tag. |
| | Tweeds are good options for shoppers who want thicker fabric for their blazers. This is suitable for cold climates. |
| Wool | This is one of the most versatile. This material breathes well so it works in both cold or warm climates. |
How to Shop for Blazers on eBay
Men who are looking for a well-fitting blazer will find lots of options on eBay. To have a look at the different forms and types of blazers, shoppers can simply head over to eBay's Fashion category, click on Men's Clothing, and go to the Suits section. They can refine and filter their search based on the specific brand, style, colour, material, or size that they're looking for.
To hunt for blazers at great prices, shoppers can also visit eBay Deals for the latest bargains. Likewise, they can opt to go for pre-owned blazers. They just have to make sure that they're getting value out of the purchase.
Having extensive choices and resources in one platform helps shoppers make sound decisions when shopping for the right blazer. They can easily compare sizes, styles, prices, and brands at the click of the mouse. All of which are necessary to ensure buyer's satisfaction.