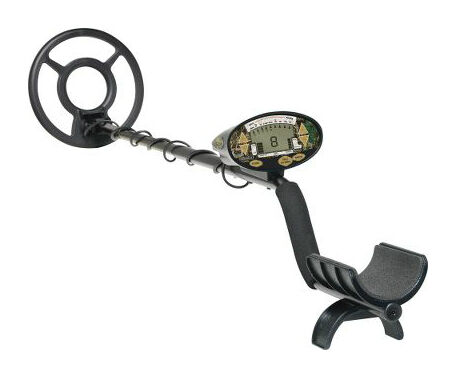 As implied by the name, metal detectors detect metal, but they are more specifically used for the detection of metal that isn't readily apparent. Metal detectors are used in a number of ways. Whether searching for coins along a sandy beach, screening passengers at an airport, or sifting through natural materials in an attempt to find valuable metal, eBay offers a wide range of metal detectors that suit a variety of requirements.
Metal detectors have undergone many changes since their original invention, and now operate using a number of designs. This guide will highlight uses of metal detectors, provide information on a number of designs, and inform users how they can buy suitable metal detectors on eBay at affordable prices.
How Metal Detectors Work
The largest change in detectors over the date of their invention, towards the end of the nineteenth century, was the introduction-balance system, known as discriminators. This involved two coils that were electrically balanced. When metals were detected, they would become unbalanced. Detectors were able to discriminate between different metals by their phase response being exposed to an alternating current. Discriminators still provided a challenge for avoiding undesirable metals, due to some of them having similar phase responses.
Newer coil designs involved two coils in a D shape, mounted back-to-back to form a circle, as opposed to the original two coils places on top of one another.
Later was the invention of detectors that were able to cancel out the effect of mineralisation in the ground. This design worked best with lower frequencies than those used before. Many of the early detectors had a switch that enabled users to switch between 'non-discriminate mode' and 'discriminate mode'. Later, metal detectors were introduced that were able to switch electronically between both modes.
The introduction of a pulse induction allowed machines to fire a high-voltage pulse of signal into the ground. If metal was present, a small current would flow into the metal and increase the time the voltage dropped to zero.
The simplest form of metal detectors consists of an oscillator producing an alternating current that passes through a coil and produces an alternating magnetic field. Currents are introduced in the metal when electricity conductive metals are close. This then produces its own magnetic field.
Uses of Metal Detectors
Metal detectors are used for a number of reasons by a number of different kinds of people. This section will explain both some of the kinds of people and some of the reasons.
Archaeology
This simply involves archeologists using metal detectors to search for artifacts. For this purpose, it is best to research legal issues surrounding specific areas.
Hobbies
Many hobbies involve the use of metal detectors. Below is a list of some of the most common types:
· Beach Combing: This is where people search for coins, jewellery, and any other valuable metals. Some people search the beach using specific techniques. Others simply walk around searching in no particular pattern.
· Coin Shooting: This involves looking for coins after an event attended by a lot of people, such as a sports game. Some coin shooters search for coins in potential sites with historical and collectable coins.
· Prospecting: This is where people search for valuable metals in their natural forms, like flakes.
Security Screening
Security screening is commonly used in airports to screen passengers' luggage before they board an aircraft. Smaller, handheld metal detectors are also used to screen passengers themselves. Security screening is also used in venues that occupy large numbers of people, such as concert halls and clubs.
Industrial
Industrial metal detectors are used a number of industries, such as food and drink, pharmaceutical, and textile industries; this is to detect metal shards that may find their way into product packages from broken processing machinery.
Problems Surrounding the Use of Metal Detectors
Many issues occur relating to metal detecting in community and professional archeology, and the recovery of historical finds and locations. Legislation regarding artifact collection is also an issue. Archeologists and hobbyists have a number of disagreements. Hobbyists often complain that Archeologists cause loss or damage of many artifacts. Many Archeologists claim that hobbyists take an artifact-centric approach, which results in loss of historical information. Efforts have been made for the two to cooperate, including working together with common goals, and hobbyists using efficient record keeping.
Some members of the public have personal issues surrounding the use of metal detectors to scan them and their property. Not everyone welcomes the changes that have been made to safety and security regulations, and feel as though it is somewhat of a violation.
When using metal detectors in any capacity it is worth researching the area and the metals desiring to detect. There may be specific legislations of relevancy.
How to Buy a Metal Detector on eBay
This section will advise users on how to use eBay to find the most suitable metal detectors and give them tips, and guidelines how to purchase metal detectors securely at affordable prices.
· Research: Be sure to bring as much information as possible to an eBay search. Use other Internet sources to discover information surrounding brands and types, so to ensure the purchase of a metal detector that adheres to all individual requirements. The Internet can also be used to research areas to find out about potential laws and legislations.
· Searching: eBay offers simple, clear, and easy to use search categories and filters. In the case of buying metal detectors, start by selecting Electronics, situated in the list, which is provided on eBay's home page. Secondly, select the Gadgets category. Finally, select Metal Detectors - every related item that eBay has to offer will be listed within this category.
· Buying Options: Additional filters are provided relating to the buying of a metal detector. For example, the condition of a metal detector, whether it is brand new or used. eBay also gives buyer the option to choose a maximum price of purchase, suitable for those on a budget.
· Sellers: Sellers provide information about metal detectors in their item descriptions. However, for buyers who require additional information regarding the purchase of a metal detector are able to message sellers. Don't be afraid to make direct contact. Also, check out the feedback statistics of sellers before committing to buying a metal detector. This is a good way to determine their reliability.
· Payment: Once committed to a buy, use PayPal for a swift and secure financial transaction. PayPal will keep a record of the transaction on the account, as well as sending a digital receipt to buyers.
· eBay Deals: Don't forget to check out the eBay deals page for addition money saving. For metal detectors, simply select Electronics and look at the fantastic offers.
Conclusion
No matter what a buyer is looking for in a metal detector, eBay had a huge selection that is sure to cater for all needs. Bring as much information to a search as possible, and then use eBay's simple categories and filters to find the most suitable item. Utilise buying options such as Buy it Now and sold Worldwide, and be confident in a seller, as well as their product.
Once committed to the purchase of a suitable metal detector, use PayPal to make the payment. Once the metal detector has arrived, leave feedback to help other users with their buying decisions. Become familiar with legislation around the desired metal detection and keep fingers crossed for a few good finds.