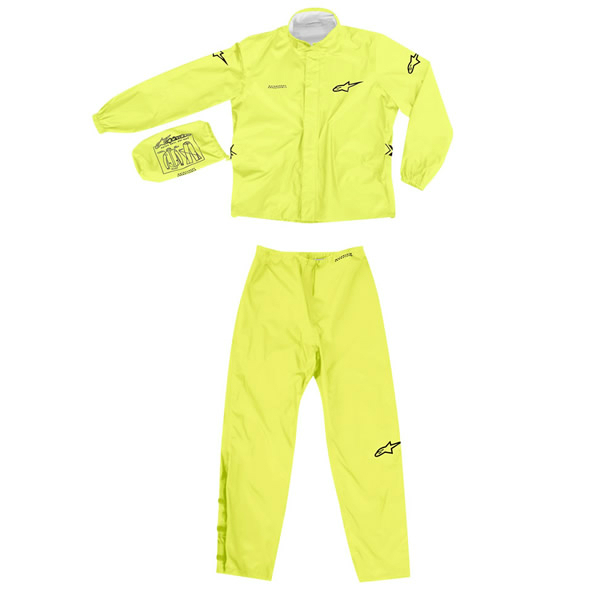 Riding a motorcycle in the rain ranks as a worst case scenario for many motorcycle owners. For this reason, many riders turn to motorcycle rainsuits to provide comprehensive protection and warmth during inclement weather. Buying a motorcycle rainsuit may confuse some first-time shoppers. Understanding the ins and outs of these useful accessories and learning how to identify the most suitable options gives buyers confidence before they dive into the purchasing process. Consumers may want to consider various retail options. Traditional, brick-and-mortar motorcycle vendors usually offer some options, but online retailers like eBay sometimes offer a more diverse catalogue to help facilitate the purchasing process.
Understanding Rainsuits
As a first step, consumers should begin by ensuring they have a thorough understanding of the materials and design elements that go into motorcycle rainsuits. Becoming familiar with these details streamlines the purchasing process and makes it easier for consumers to find the right options.
Materials Used in Motorcycle Rainsuits
Manufacturers of motorcycle rainsuits typically use one of three waterproof materials when constructing these suits. The first material, PVC, is a very affordable waterproof material with an impermeable surface. Although this impermeability means that a rider stays dry, it also means that a rider's skin has no opportunity to breathe. This makes PVC rainsuits very functional but uncomfortable for some riders. Motorcycle rainsuits are also made from coated or laminated fabrics. Both techniques use an outer shell that creates a sturdy exterior and an inner shell that creates a moisture barrier against rain. Coated fabrics use a micro-porous layer over this inner shell, while laminated options create the inner shell from a micro-porous membrane. These techniques provide a waterproof layer that still allows a rider's skin to breathe.
Design Features of Motorcycle Rainsuits
When looking for motorcycle rain gear, consumers should keep an eye out for specific design features that can make rainsuits more comfortable and safer. Rainsuits typically come in either single-piece jumpsuit designs or two-piece designs. With a two-piece design consisting of arain jacket and rain pants, consumers should make sure the jacket features a long tail that protects the back when the rider leans forward over a bike's handlebars. With both one-piece and two-piece options, the design of a suit's closures plays an important part, as well. Collar and wrist openings are perfect spots for rain to sneak in, and a good rainsuit features gatherings at these openings to block water. Collars may also feature fleece linings so that a rider's neck does not become chafed from movement. Consumers should also look for easy-to-use pockets on rainsuits with waterproof designs. Anti-slip padding on the back of rainsuit pants can also keep a rider on the seat without slipping in wet conditions.
Finally, a good motorcycle rainsuit should feature reflective design elements that make a rider visible on the road in wet and dim conditions. These rainsuits may come in bright, bold colours, or they may feature reflective strips integrated into the designs. These strips typically run along the shoulders, torsos, and legs of the rainsuits to ensure that other drivers can make out the entire form of a motorcycle rider.
Choosing Between One-Piece and Two-Piece Rainsuits
When choosing between one-piece jumpsuit designs and two-piece rainsuits, consumers should consider their own comfort and the ease of wear of both options. Putting on and taking off a jumpsuit-style rainsuit requires an annoying amount of effort for some riders, but many others prefer the sleek styling of a one-piece motorcycle rainsuit . A two-piece rainsuit may be easier to put on and take off, but it also offers additional opportunities for water to get inside the suit because the jacket and the pants are not connected. Two-piece suits sometimes offer an additional advantage to those who wear large boots because they often feature wide-leg designs that make pulling a pair of pants over boots an easy task.
Finding the Right Size Rainsuit
Two-piece motorcycle rainsuits are relatively easy to size for most builds because they fit loosely over a rider's frame. A one-piece suit, on the other hand, typically fits much more snugly. All riders need to prioritise the length of a suit more than anything else. A suit that fits well when standing may creep up at the wrists and the ankles when in riding position. Motorcycle rainsuits are usually sized in men's clothing sizes or in unisex standards of Small, Medium, Large, and X-Large. Rainsuits that specifically fit women can also be found in various sizes. Sizes for both sexes vary slightly from manufacturer to manufacturer, but they typically fall within common ranges for standard clothing.
How to Buy a Motorcycle Rainsuit on eBay
Buying a motorcycle rainsuit can be simple on an aggregator site like eBay. To search through the wide catalogue of options, you can utilise the search bar that is available on every page of the site. Enter a keyword term that describes the rainsuit you want and then review the resulting listings by clicking on the titles. You can communicate with a seller to ask questions about the sizing of a suit by clicking on a seller's highlighted name and visiting his or her page. By running a quick search, you can find the right rainsuit for riding comfortably in wet conditions. Be sure to check out the deals page for special offers on a range of motorcycle accessories, as well.