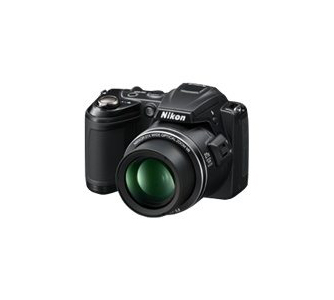 The modern world advances at a frantic pace, with new technologies emerging with increasing regularity. Where years ago, digital cameras were either too expensive or insufficient in terms of quality for amateur photography enthusiasts, performance devices can now be attained affordably. The Nikon Coolpix L120 is one such example, allowing great images to be captured for a reasonable price. This guide will cover the L120's main features, and how to purchase one on eBay.
Main Features
The Nikon Coolpix has loads of great features; a few of the most notable are listed below.
21x Optical Zoom – many digital cameras require additional lenses in order to be able to pick up images from any great distance. This is not an issue with the Coolpix L120, which features a built-in optical zoom capability, allowing images to be amplified by up to 21 times; a feat unheard of for a consumer market camera.
HD video Recording – the Coolpix L120, like most modern digital cameras, features a HD recording facility, enabling footage to be shot at an impressive resolution (720p) and frame rate (30fps).
Digital Display – the 3" LCD display on the L120 is capable of displaying 921,000 dots, allowing captured images to be viewed in high quality.
14 Megapixel Sensor – the sensor (the component which enables the digitalisation of the captured image) on the Coolpix L120 is capable of attaining a considerable resolution of 14 megapixels, ensuring a crisp, sharp image.
ISO range of 80-3200 – the ISO range of a digital camera determines how well it can cope with differing lighting conditions. A range of 80-3200 ensures the Coolpix L120 is versatile, able to get the right image in a wide array of environments.
Accessories
Every photographer should have a decent set of accessories and tools to help with their art. A few of the most important accessories available for the Coolpix L120 are listed below, along with brief descriptions of their function.
Tripods – a tripod is a three-legged stand, which acts as a steady platform for photographers to take pictures from, at the cost of reduced mobility.
Cases – a case encloses a camera, keeping it safe from harm during transit.
Straps – with straps, photographers can stop worrying about what to do with the camera between shots. The risk of dropping the camera is also reduced.
Memory Cards & Readers – a digital camera requires a memory card on which to store the digital images it captures. In order to transfer these images to a computer, a memory card reader is also required.
Cleaning Kits – when a camera gets dirty, the quality of the image is proportionally affected. Using a cleaning kit is imperative in order to prevent this loss in quality.
Batteries & Chargers – digital cameras require batteries and chargers. These things are included with the camera, but can become lost or damaged. As such, it is recommended to own a spare of each.
How to Buy a Nikon Coolpix L120 on eBay
In order to purchase a Nikon Coolpix L120 on eBay, a few simple steps must be taken. The first of these is to type "Nikon Coolpix L120" into the search bar and click "search". The result is a list of all the items on the site which match the stated parameters. Next, select " Cameras & Photography" from the list of categories in the page's left margin, followed by " Digital Cameras". The list can be refined and customised further using the filtering options, amongst which are included such factors as price, condition and seller's location. In addition, users can elect either to "Buy it now", which allows on-the-spot purchases, or to bid on the item.
Any item in the list can be clicked on in order to bring up its individual information page. On this page, the seller's rating and previous user feedback are clearly visible, along with information about the item(s) in question. The purpose of this page is to allow consumers to make the most well-informed decision possible.
It is a good idea to visit the Deals section of the site, in which amazing special offers can be found in plenty. These deals are kept up to date, so be sure to check every few days for new bargains.
Conclusion
The Nikon Coolpix L120 combines a tremendous zoom, high image quality and an attractive price tag, perfectly finding the delicate balance between class and cost. The end result is a great camera that won't put the buyer out financially. The popular auctioning website eBay is highly recommended as a means of purchasing a Nikon Coolpix L120, owing largely to its great selection and numerous helpful and intuitive design features.