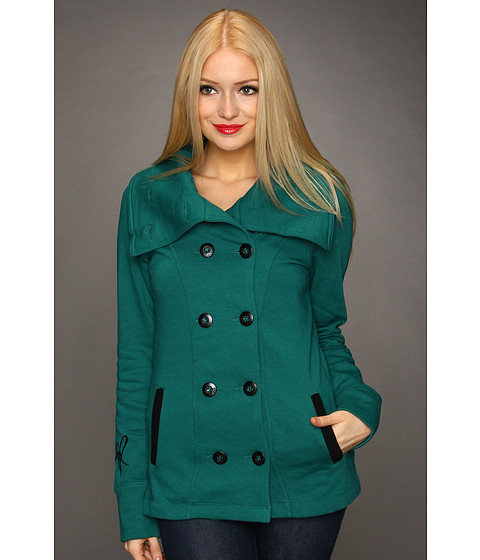 eBay is the leading auction website in the world with thousands of different items listed every day by a variety of sellers. Products can be found not only from Australian locations but from all over the world too, enhancing the options buyers have when coming to search out a product.
Although women often buy and wear them, this guide will focus on how to buy a peacoat jacket for men. It will look at some of their different styles and aspects to consider before making a purchase. Safety considerations that arise with buying online are also looked at in respect to using eBay.
What Are Peacoat Jackets?
Peacoat jackets are larger coats predominantly made of wool, fleece or polyester. They are usually made from darker colours, such as blacks, navy blues, dark browns and charcoal greys. The vast majority can be characterised by their double-breasted front and prominent wooden or metal buttons.
The peacoat we know today emerged from jackets used by the British Navy during the 18th century. They were made with thick wool, which made them tight fitting around the chest and waist due to the higher positions of the buttons. The lower end of the jacket did not have buttons, which caused it to flare out, providing more freedom needed for moving on ships.
With large pockets incorporated into the jacket and high collars to protect the neck area from strong winds, the peacoat jacket was adopted by many other navies, because of their practicality. Over time, they became recognisable all over the world.
As with many items of clothing on the current market, the retro styles of some older garments have found their way into modern consciousness and been redeveloped with a contemporary design. Different styles of peacoat jacket have been created to suit both casual wear and formal occasions.
Buying Considerations for Peacoat Jackets
When searching on eBay for peacoat jackets don't simply delve in and commit to buying the first jacket that springs out. Take into consideration the following aspects before performing a search:
Size
The size of the jacket is imperative to get right, especially when buying online. Sellers on eBay will list the peacoat in simple terms, from extra small up to extra, extra large, so selecting one of these can help to home in on the jackets available in the appropriate size. Also consider the fact that peacoats usually have additional length at the bottom.
When reading the description of the item, look for any specific size dimensions that can further safeguard the purchase. Look at any information given in centimetres or inches about the bust, shoulder, collar and length sizes. Use a tape measure if unsure about any measurements.
Material
Peacoats traditionally had a substantial woollen appearance, although more modern versions can be made from fleece, polyester and even denim. Evaluate which type will be most preferable in terms of their appearance and characteristics. Denim jackets may be more restrictive than wool versions, for example.
Style
Consider any style features that can either enhance the appearance of the jacket or make it more practical to use. For example, some peacoats come with hoods that can be useful in wet weather conditions. The number of pockets is also something to consider also.
Slim peacoat jackets are also popular with men looking for that skinny and refined look; they cling around the waist and provide a slick, streamlined effect. The layout of the buttons can differ on certain jackets too, and some can be fastened together with toggles.
Brand
Various manufacturers produce peacoat jackets which eBay allows users can choose between. Some world famous male designers such as Calvin Klein, Ralph Lauren, and Tommy Hillfiger all have peacoat ranges, whilst Kenneth Cole, Andrew Marc, and INC are also popular.
Buying from a top brand can guarantee a sense of quality, and give those who buy one confidence in knowing they are wearing a fashionable item.
Price
Some peacoats at the top end of the market can cost over $1000; these will be exclusive jackets made from high-quality materials or vintage navy garments with historical association. For the average buyer, however, peacoats can be found for much less.
Some can be found out for around $30 and lower, whilst anything up to $150 will need to be paid in order to secure a decent purchase. However, consider buying via an auction of eBay, as this can sometimes present a perfectly first-rate peacoat for less than the market average. Pre-owned items will also generally be less expensive than newer ones.
Deals
A section of eBay that can offer the chance of finding further bargains is the eBay Deals page. Here, additional items can be found at a reduced rate that will also come with free postage and packaging costs. For peacoat, look through the 'Jackets & Coats' section inside the 'Men's Clothing' section of the site.
How to Use eBay to Buy a Peacoat Jacket
Shopping on eBay is easy even for beginners to the site. If not already a member it is recommended to register and also look into using PayPal as a way to transfer money online.
Bringing up relevant results on the site is made simple by using the keyword bar at the top of any eBay page. In this instance, enter 'men's peacoat jacket' and then review the listings that appear. These should be listed within the 'Men's Clothing' section of the site, in the 'Coats, Jackets' category.
Certain sellers may have listed their jackets differently in relation to the spelling, so it is a good idea to type in both 'peacoat' and 'pea coat' to reveal a larger selection of items to browse between.
If there are too many results, the menu of the left-hand side can help reduce them in line with personal preference. These include the size, brand, main colour and material of the jacket. Selecting these will make the search process much easier. Selecting a desired price range is also a useful way to ensure overspending doesn't become an issue.
Rearranging the jackets is also possible by sorting the items in line with those priced lowest, priced highest and the ones nearest the current location. If worried about postage costs from abroad amplifying the overall price then it is also possible to bring up peacoats that are being sold from Australia only.
Look at the profile picture of the peacoats and click on specific one to bring up further information on it. Read the description provided by the seller closely, in particular the size measurements. Also take more care if buying a second-hand item, looking out for any blemishes or deterioration in the quality.
A good seller on eBay should have provided sufficient pictures of the jacket from different angles and some from close-up if possible. They should have a high feedback rating too, and positive comments left on their profile. Any response should also be swift and accurate if asking them a question.
Conclusion
If looking to buy a peacoat jacket then review the market fully, finding out a better idea of their various styles and how much they cost. When buying online then consider the size needed and how the peacoat will look when worn.
Buying on eBay is recommended in order to find a good deal; more care will be needed with an online purchase, however, and any seller should be checked out closely to be sure of their authenticity.