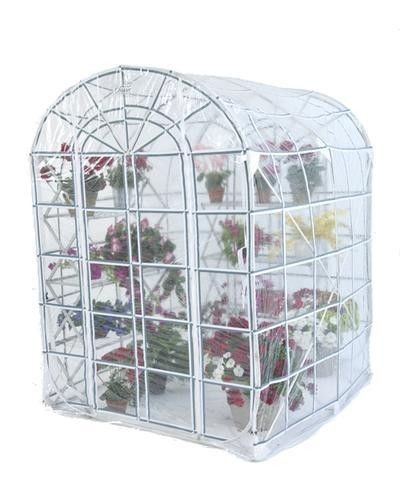 There are all sorts of garden ideas which will make your space more attractive while promoting healthy growth, but few are better than a greenhouse. These are not just places for nurturing young seedlings, but havens for creating an architectural design feature in your home. However, in some settings, a full greenhouse can be too much. They either take up too much space in your outdoor area, or they are unwarranted because the garden needs to be shared with young children. Furthermore, some city gardens are just not large enough, especially when the desire is to get plants growing in spring before they are transferred to pots and window boxes. In such cases, a pop up greenhouse is the perfect solution. These features can be erected temporarily in just a few minutes and taken down when they are not wanted. They are also cheaper than glass greenhouses. Unlike the larger variety, a pop up greenhouse can be moved around easily to either catch more sun, or to protect the growing contents from it.
What To Look For In A Pop Up Greenhouse
There are several factors to take into consideration when buying a pop up greenhouse, including the dimensions, materials, shape, and air control desired.
Dimensions
One of the most important purchasing factors for a pop up greenhouse is the amount of space that it will take up. This is easy to check when buying in store, but is often overlooked in online marketplaces. Keep in mind that images of the greenhouse do not usually give an accurate impression of its size. Make sure that your greenhouse will not take up too much space in your outdoor area, but also that it will be large enough for fast growing plants to spread out.
Along with the depth and width, always check the height of a pop up greenhouse. The height is important, since this will limit how far plants can grow upwards before they need to be removed. In addition, taller models trap more hot air inside, which can be a factor in the growth rate of certain plants.
Materials
Whether you want to grow flowers, herbs or vegetables, the material that the pop up greenhouse is made from needs to allow ultra violet light to get in. Many greenhouses are made from a transparent polyethylene which does the job well, but take a look at the joints where the various panels meet, to make sure they don't create excessive shade. Some of these joints have internal supports sewn in which pop into place, but others simply sit over a frame that you need to construct. For speed, the pop up variety is usually preferable.
Shape
If you want to protect potted plants in winter, a round pop up greenhouse is the ideal product. These can be slipped over the top of a round pot and collapsed down when the time is right. Other pop up greenhouses have a more cube-like shape; these are better for propagating, because gardeners can stack their seedlings up on racks within the protective film.
Air Control
Overheating is just as much of an issue in pop up greenhouses as it is in normal ones. Therefore, select a model that has the ability to allow more or less airflow inside, depending on the prevailing weather conditions. Some products have a simple flap which can be tied back, while others have more sophisticated fully-adjustable windows.
Using A Pop Up Greenhouse
Once a pop up greenhouse model has been chosen, unpackage it carefully. Because some products are spring loaded, they can pop up into a rigid state as they are removed from the packaging. Secondly, be careful removing packaging with scissors or a knife, since the plastic material that makes up the greenhouse panels can become damaged.
When in use, weigh down a pop up greenhouse with a plant pot or a brick in order that it does not blow away in the wind. These items are usually very lightweight, so they are susceptible to windy conditions. Once a pop up greenhouse is no longer required, perhaps during high summer, fold it down carefully and put it into storage ready to use next year.