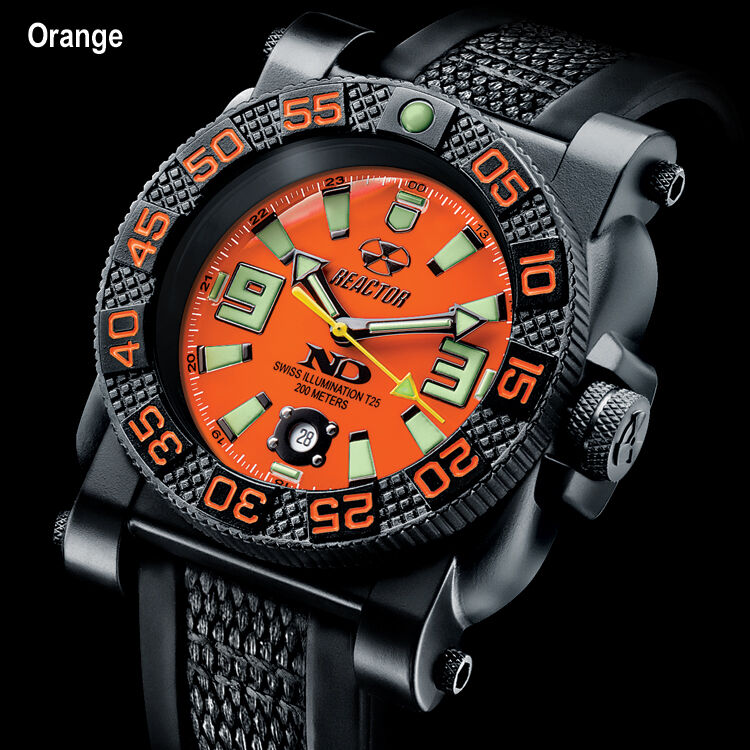 While some people want a watch primarily as a fashion accessory, others have more demanding needs. They want a watch that stands up to the most extreme conditions, whether in the desert, or diving off the Great Barrier Reef. Reactor watches are a good choice for people who live an active lifestyle. Designed to stand up to the harshest conditions, they can take whatever punishment a wearer throws at them and keep working. They are durable, handsome watches, with bands that stay connected to the case no matter what happens. Anyone who needs a performance or sports watch for all conditions should look at a Reactor watch before looking anywhere else.
Benefits of a Reactor Watch
Reactor watches marry an unconventional style with uncompromising performance. They offer the combination of long battery life, superb timekeeping, multiple o-ring seals, and solid screwbars to ensure it stays on the wearer's wrist and keeps working no matter the situation. A person wearing a Reactor watch makes the statement that he or she is a person who does not compromise. Some models of Reactor watches can withstand depths of up to 1000 metres, and the same seals that keep the water out also protect it against anything else that might try to get inside and cause damage.
Reactor Watch Never Dark
One benefit unique to Reactor watches is the company's Never Dark watch face. This proprietary technology ensures that the watch face remains completely readable in the dark for up to 25 years, even without exposure to light. To accomplish this remarkable feat, Reactor uses a combination of Superluminova, a phosphorescent material, and tritium-filled luminescent tubes. The way it works is that the Superluminova absorbs light, and then emits it once in darkness, while the tritium provides a constant low-level illumination. This provides brighter illumination at first, while the wearer's eyes adjust to the darkness. Then the even illumination of the tritium takes over, once the Superluminova is exhausted. By using these two technologies together, Reactor ensures readability. Never Dark is available on selected models.
Choosing a Reactor Watch
The first thing to do when choosing a Reactor watch is to determine the needs of the wearer. Some people may wear Reactors for the combination of style and strength, while others need the durability of a Reactor timepiece. In addition to elite and stylish watches, Reactor also makes sport and dive watches. Therefore, buyers can find a Reactor for almost any wrist.
Reactor Dive Watches
While all Reactor watches provide water resistance, some take it further than others. The jewel in the crown is the Poseidon Ti, made from solid titanium and featuring Reactor's Never Dark technology to ensure it remains readable at even the lowest depths. All Poseidon watches, whether titanium or stainless steel, are good for 1000 metres. Another option is the Trident, which was the first to introduce Never Dark in limited edition models. It can handle depths of up to 200 metres, which is more than enough for most divers. Other Reactor dive watches include the Gamma, the Meltdown, and the Critical Mass.
Reactor Elite Watches
Reactor's elite watches are a good choice for people who wish to make a fashion statement with their watch. As with all Reactor watches, Reactor Elites are water resistant to at least 100 metres. From the top of the range Ion, to the Nucleus and Flux, these watches all combine the rugged performance of Reactor with a classic style that goes everywhere.
Reactor Performance Watches
All Reactor watches from the original Fallout onwards come with Reactor's performance design. Designers create these watches with strength and ruggedness in mind. The Fallout offers everything the wearer needs to make sure the watch stays on their wrist and keeps working no matter what the conditions. The Reactor Valkyrie brings the line's performance heritage to a pilot's watch, complete with a slide-rule bezel. The Neutron adds the strength of stainless steel to one of the toughest performance watches in the world.
Reactor Watch Checklist
Buyers should consider several factors when looking for a Reactor watch, with a focus on the needs of the wearer. Divers have different needs than pilots, so the Poseidon offers different features than the Valkyrie. The choice of watch depends on the relative importance of each feature.
| | |
| --- | --- |
| Feature | Watches |
| | Poseidon |
| Never Dark Technology | Poseidon, Gamma, Gryphon, Trident, Atom |
| Reactor DNA | All models |
| Titanium Cases | Poseidon Ti, Gamma Ti |
| Slide Rule Bezel | Valkyrie |
Regardless of which features a buyer desires, Reactor makes a watch to meet them. All models are rugged, but some are more suited to the seas, while others are suited to the skies. Choosing the right one is simply a matter of prioritising features.
How to Buy a Reactor Watch on eBay
eBay is an excellent place to find deals on timepieces, including a quality Reactor watch. The site leverages the best features of a large market with the personal touch you can only get by dealing with individual sellers. All you need to do is to input appropriate search terms into the search box on every eBay page. Hit enter, and watch the results come up. You can use eBay's filters to narrow the results down to just the watches that fit your budget, as well as sort them to make it easier to find one that meets your needs. Whether you are a pilot or a diver, or whether you just need a rugged watch, you should turn to Reactor for your next chronograph.