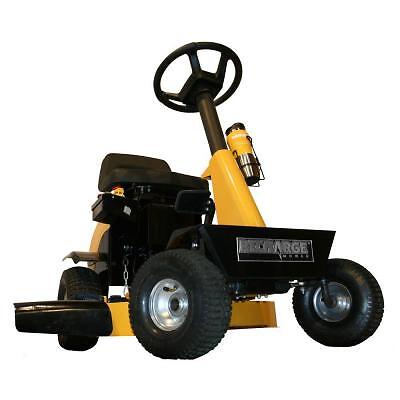 When buying a house, one of the selling points for almost everyone is the amount of outdoor space that is included, and a decent sized garden is a box that most want to tick. Upkeep of a garden is key to making a place look good and larger gardens can easily be maintained with the use of a lawnmower – specifically a riding mower.
Choosing a riding mower is an important decision to make, as a good one will last for decades. The following guide outlines the characteristics of a riding mower, the most appropriate one for your circumstances, and how to buy one safely and securely using eBay.
Riding Mower Types
Riding mowers come in a number of different configurations, with the first decision that needs to be made is the type of riding mower that best suits the garden in question. The table below outlines the different types of mower and explains them in some more detail:
Mower Type

Description

Power in Horse Power

Standard

· Smallest style of riding mower and therefore the most affordable.

· Designed to simply mow the lawn and can pull some lightweight attachments at the same time.

· Standard mowers are ample for smaller yards or gardens.

· Sometimes referred to as Rear Engine Rider.

11.5 to 17.5 HP

Lawn/Garden Tractor

· Slightly larger than a standard mower.

· More power can be packed under the bonnet because of the larger size.

· Power means that larger things can be pulled along.

· Size increase also means that more grass can be cut and stored.

· Larger areas of grass can be catered for.

17.5 to 27 HP

Zero-Turn

· Similarly sized to the lawn tractor, but can turn more quickly.

· Faster at getting across a lawn due to a turning system that allows 360 degree movement at will.

· Can maneuver around obstacles a lot more easily.

· Not suitable for use on heavily sloped gardens or hills.

13.5 to 30 HP
Deck Size
When purchasing a riding mower for the first time it's important to work out the deck size that's required. The correct deck size makes sure the whole yard can be mowed as quickly and economically as possible. The table below explains the type of deck size that is needed for each size yard:
| | |
| --- | --- |
| Garden Size | Deck Measurements |
| 0.5 to 1 Acre | 42" |
| 1 to 2 Acres | 42" or 46" |
| 2 to 3 Acres | 46", 50" or 54" deck |
Transmission Type
Choosing the correct transmission type is as much down to personal preference as it is the terrain. The following bullet points examine the different transmission types and the characteristics that mark out each one:
- Manual: Gears that are controlled manually by the driver and make it simple to change speed. Most mowers have a 6-speed transmission, and lower gears can be used to give the vehicle extra power. A mower has to be stationary to be reversed and to change speed.
- Shift on the Go: Has 7 preset speeds, as opposed to 6, with the added benefit that the mower doesn't have to stop in order to change speed. This is the only real difference when compared to manual transmission.
- Automatic: Good for any garden or lawn that is mostly flat and doesn't have any obstructions. There is no limit to the amount of different speeds, and no stopping is needed to change from one to another. Similar to a car in that pedals control the speed of the mower.
- Hydrostatic Automatic: Popular, as it can be used on any type of terrain. No stopping needed to change speed and is smoother than any other riding mower on the market. Can be controlled by pedals or fender-mounted system.
Buying Considerations for Riding Mowers
When starting to search for riding mowers it's essential to have certain things clear in your mind to make sure the right lawnmower is bought. The list below identifies the main considerations to take when starting a search for a mower:
Garden or Yard Size: This is the most important thing to work out as it has the greatest influence of all on the type of mower being bought.
Budget: There is a vast difference in price from one model to another and setting a budget before starting a search is an important thing to do.
Storage Space: Riding Mowers are large, and the amount of space one takes up is a key consideration to take in. The product description will tell buyers the dimensions. If they aren't present, simply Ask the Seller.
Hilly Terrain: If the yard or garden to be mowed is hilly, a different type of mower will be required and this must be taken into consideration.
Safety: When searching for an appropriate mower it's essential to consider safety. Most riding mowers come with extensive safety features, but at the same time, buyers should take plenty of precautions to prevent injury.
Buying a Riding Mower on eBay
Trying to find a riding mower online is easy, and the selection up against those in retail locations is incomparable. Online shops make it easy to compare mowers side by side, and eBay is one of the best places to make this happen anywhere online.
The site's sellers are an extremely knowledgeable group, and are there to help buyers at every step of the way. The following is a set of guidelines that will assist buyers in finding the appropriate mower.
Category: The best way to search for any item on eBay is by the item's category. For riding mowers, first go to the categories tab on the home page and click on it. From there, scroll down until you find 'Home & Garden' and click on it. Once inside this category, it's simply a case of choosing 'Gardening' from the list down the left hand side and clicking on it. A number of options will then come up on the same side of the page with 'Lawnmowers' one of these options. Click on this and on the following page choose 'Riding Mowers' from the list at the head of the page, and all of the riding mowers available to buy on eBay will come up.
Search: Some buyers that already have a clear idea in their mind of an item may find eBay's extensive search feature is an easier way to find an item. Buyers can type search terms into the box at the top of any eBay page and narrow down the results by using the drop down list to the right of the search box.
Condition: Every item sold on eBay is categorised as being in a certain condition, and it's one of the utmost things to consider when purchasing a product. Riding mowers are no exception, and the site allows buyers to search using the following condition types: Brand New, New: Never Used, Seller Refurbished, Used, and For parts or not working.
Safety Considerations: eBay keeps an extensive database of all transactions to make sure buying from the site is a safe process. Each seller will have a record of feedback and this should be examined before making any bid or purchase.
eBay Deal: eBay is home to a variety of different deals on gardening equipment. If an item is listed in the deals section of the site, it also has free postage and is something all buyers should consider.
Conclusion
Riding mowers are a useful solution for the upkeep of a garden that is larger than an average one, and do a job that a push mower simply cannot perform. They come in a number of configurations, and buying the right one depends on the size and shape of the garden that is to be mowed.
eBay has one of the best collections of lawnmowers anywhere online, and buying from the site is a safe and informative process. Before completing a purchase, remember to use PayPal to make sure the transaction goes through as safely and securely as possible.