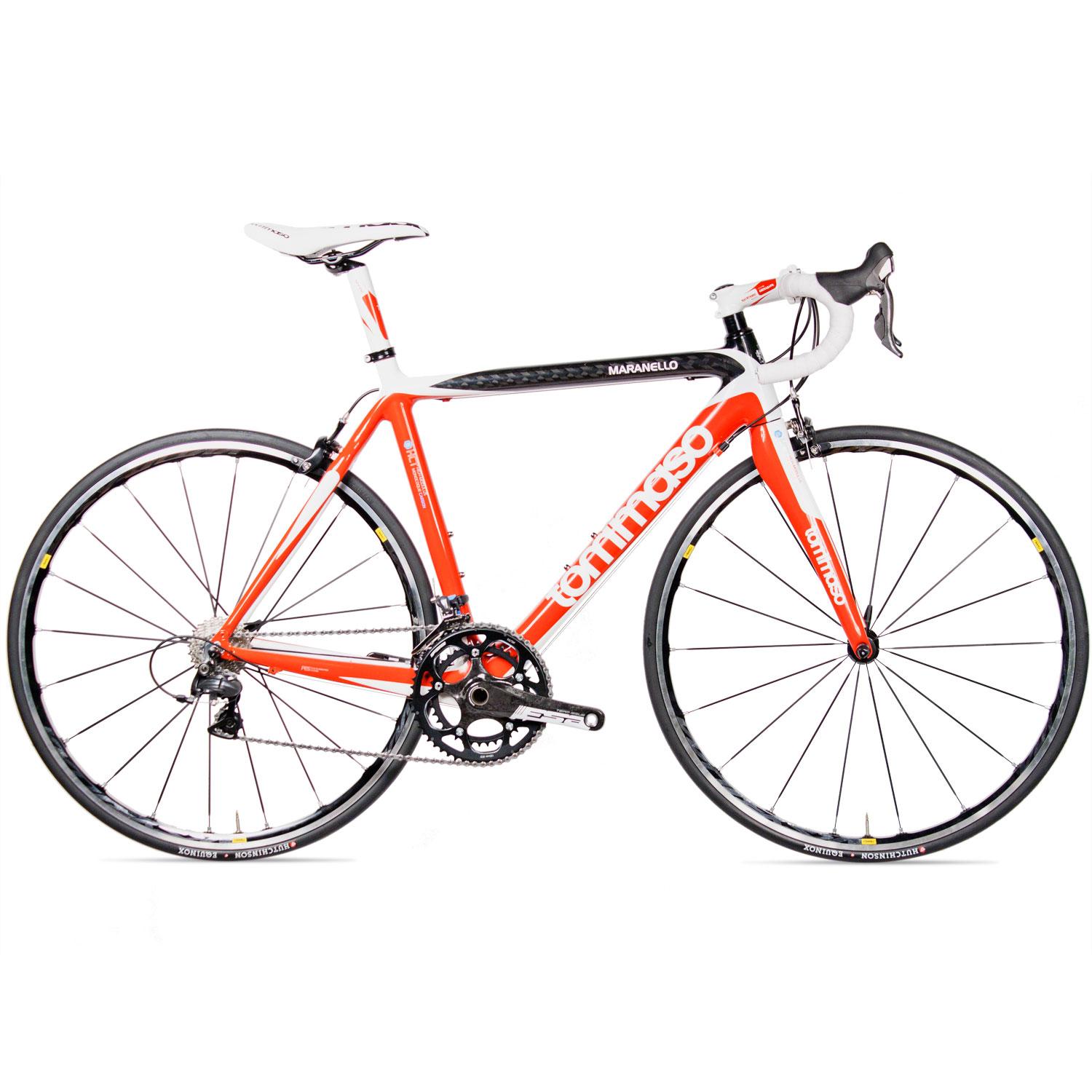 Cycling is becoming a popular hobby for individuals of all ages. Since many children learn how to ride a bike before the age of 10, cycling provides a low-impact workout that is great for individuals of all ages and fitness levels. Individuals who are thinking about buying a bike should consider a road bike, especially if they are fans of spinning at the gym or wish to start cycling long distances on paved surfaces.
Prospective buyers of road bikes do well to learn how these bikes differ from bikes in other categories before making a purchasing decision. When shopping for a road bike, it is useful to determine which features are must-haves on the bike as well as the ideal size of road bike. With its large inventory of products, eBay is a great place where one can expect to find a great deal on the road bike one is looking for.
A Brief History of the Bicycle
The modern bicycle traces its roots to a device called the Draisienne, or hobby horse. Invented in 1817, this walking machine featured two wheels and a seat arranged on a wooden frame. The front wheel was steerable, but there were no pedals.
The next incarnation of the bicycle, the Velocipede, was introduced in 1865 and featured pedals and an all-wooden frame. Because of this bicycle's hard wheels, the ride was quite rough. The first device to be known as the bicycle was introduced in 1870. It had a larger front wheel and a smaller back wheel. This early bicycle was quite expensive, so it could only be afforded by affluent individuals.
Over the years, the front and rear tyres became the same size, and gears and other features were added. Today, there are several types of bikes, such as road bikes, mountain bikes, and cruiser bikes.
Features of the Road Bike
Because there are many types of bicycles on the market, buyers should take some time to learn which bikes are better suited to specific riding situations as well as determine the type of riding they plan to do often. For example, individuals who want to be able to ride their bikes on mountain trails and other types of uneven surfaces may want to consider a mountain bike for the best handling. Road bikes, on the other hand, are perfect for individuals who plan to ride on sidewalks, roads, or other paved surfaces and want speed.
Handlebars
Many road bikes feature drop bar-style handlebars, which curve under so that the cyclist leans forward while riding. This position reduces wind resistance, making the rider more aerodynamic, which in turn allows him or her to achieve higher speeds. Some road bikes also offer flat-bar handlebars. This style allows the cyclist to be in a more upright position but may cause slightly more wind resistance.
Gears
Many of the bikes for adults and teens include multiple gears, though road bikes tend to offer more gear combinations than other types of bikes, including BMX and recumbent bikes. The purpose of the various gears on a bike is to allow the cyclist to keep up the same pedalling speed and rhythm, whether travelling up or down a hill. Because the gears are more complex, individuals who have never used a road bike are well advised to learn what all the gears do and how to use them before attempting to change gears.
Tyres
The tyres on a road bike are narrower than those found on other types of bikes. In addition, they are smooth, to reduce friction on the road, which is why they are unsuitable for off-road riding. The smoother tyre surface allows cyclists to gain more speed with less effort. Road bike tyres are also high-pressure tyres. This means the air inside the tyres is compressed, which allows for a smoother ride.
How to Choose the Right Size Road Bike
One of the important factors to consider when shopping for a road bike on eBay is to determine the size that is right for the user. Road bikes are manufactured in a variety of heights so people of all heights can enjoy them. To determine the right size of road bike, the prospective buyer should know his height and the measurement of his inseam, which is the length of the inside of the leg. While both measurements can be helpful in determining the correct road bike size, individuals whose inseam and height do not fall into one size category should base their decision on their inseam measurement.
The reason that finding the correct road bike size is important is because if the bike is too tall, individuals with shorter inseams are not able to stand up comfortably when the bike is stopped. Purchasing a bike that is too short for a specific inseam and height may make it more difficult for the user to pedal because he is too tall to reach the pedals while seated.
| | | |
| --- | --- | --- |
| Bike Size (centimetres) | Inseam (centimetres) | Height (metres) |
| 49 cm | less than 69 cm | less than 1.6 m |
| 52 cm | 69 cm to 74 cm | 1.6 m to 1.7 m |
| 54 cm | 74 cm to 79 cm | 1.7 m |
| 56 cm | 79 cm to 84 cm | 1.7 m to 1.8 m |
| 58 cm | 84 cm to 89 cm | 1.8 m to 1.9 m |
| 61 cm | greater than 89 cm | greater than 1.9 m |
The heights for each size of road bike overlap, so individuals who are at the lower end of the height range for a specific bike may opt for the next size down. This is especially useful if they have a shorter inseam as well.
Shopping for a Road Bike on eBay
Thanks to the thousands of sellers on eBay, the site offers fantastic prices and a large selection of road bikes to choose from. After a prospective buyer has determined the desired features on a road bike, the next step is to determine the right size. Having a set budget is useful; as one peruses the numerous listings for road bikes on eBay, the budget helps narrow down the applicable choices.
Before making a purchasing decision, it is recommended that the shopper takes the time to compare the prices for specific models and sizes of road bikes on sellers' listings. This helps ensure that one is getting a great deal on a road bike in consideration.
Buying a Road Bike on eBay
If you are ready to take a look at the listings available on eBay, go to the site's home page and type "road bikes" into the search box. You could also search on the word "bikes" alone, however, you may have to sift through many listings for other types of bikes included in the results. Once the search results load, you can narrow down the results based on bike brand and price. Individuals who know which brand of road bike they want to purchase could also add that information to the search box for a more refined search. For example, buyers interested in a Shimano bike can search on Shimano road bikes to only see listings for that brand. Be sure to also search the eBay Deals section to find bikes that are being offered at promotional pricing.
Before making a purchasing decision, prospective buyers should read through each listing carefully to determine the details of the road bike. This is especially important if the listing is a used bike. Prospective buyers should also determine the seller's return policy in the event they change their mind and wish to return a bike.
Conclusion
A cyclist can get years of enjoyment out of a road bike, especially if it is the correct size and taken care of properly. This includes lubricating the bike chain regularly and replacing the tyres as needed. Knowing the features that are common on a road bike as well as how to determine the correct bike size can help prospective buyers find the perfect road bike by shopping on eBay. The website has many useful tools that allow a shopper to look for a bike and find one that incorporates the necessary features. In addition, by using the website's functionalities and leveraging the large seller network, it is possible to find the road bike one is looking for at the right price.