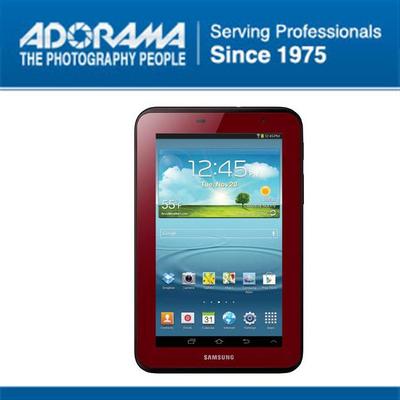 Android tablets are very popular and the latest Samsung Galaxy Tab 2 makes use of the latest platform upgrade. This device is centred on its smaller screen size, at only 7" it is almost 3" smaller than its closest competition. This pocket sized device comes with a 1GHz dual-core processor and the latest Android 4.0 Ice Cream Sandwich software. eBay is the ideal place to begin searching for a Galaxy Tab 2.
Buying Considerations of a Samsung Galaxy Tab 2
Before purchasing a tablet, the consumer must take into account many factors. Initially the cost is important coupled with the look of the device. In addition, internal memory, camera and video capability, processor power, wifi capability among others must be researched. eBay can provide the user with all the specification information needed to purchase a Samsung Galaxy Tab 2 as well as the option of buying pre-owned devices for those who have a smaller budget. It is important for the user to make use of all the filtering functions on eBay as this can narrow down the results page to only the devices relevant to the user requirement.
Design and Build Quality
This device is focused around its small nature and ease of access. The 7" screen is much smaller than many of its rivals. The device also only weighs 345grams and is almost half the weight of an iPad. The screen takes up the whole front of the device and thus there isn't much room for additional aesthetically pleasing features. It is plastic backed and it's externally equipped with all of the features a tablet user would expect; volume rocker, a power button, a 3.5mm headphone jack, the power connector and an SD card slot. In some ways the most important feature is the SD slot as this allows the user to bolster the memory from 16GB to 64GB. This is perfect for those hoping to store a lot of information on the device.
Screen
The 7 inch screen resolution offers 1,024x600 pixels. The screen is designed to provide sharp and distinct colours, naturally due to the smaller screen size there are limitations; however for a portable tablet this is a great starting point.
Android 4.0 Ice Cream Sandwich
The Tab 2 7-inch comes with the latest version of Android, known as Ice Cream Sandwich. The various features held within include unlocking the phone through face recognition, Chrome browser and widget previews, among others. There are many pieces of Samsung's own software held within such as reading, music and games hubs, as well as extra additions such as having a dedicated button for taking screen shots. Moreover the user has full access to hundreds of apps available in the Google Play store.
Performance
Internally there is a 1GHz dual-core processor with 1GB of RAM, this isn't especially powerful but for its size it is perfectly effective. Limiting the number of tabs open at once is advisable in order to keep the performance levels high. Samsung promises 10 hours of battery life from the tablet which is extremely long.
Camera
On the back of the tablet is a 3-megapixel camera however there is no flash so photography is limited to well lit areas and it also shoots video at 720p resolution though.
How to Buy a Samsung Galaxy Tab 2 on eBay
When looking to buy a Galaxy Tab 2 on eBay, the user must take into account several specification details as well as the price, condition and colour of the device. To begin, the user should type the keywords into the search bar " Samsung Galaxy Tab 2" and eBay will generate a results page. From this results page the user can make use of the category system on eBay that will help filter the results.
There are many filtering categories such as price, condition and colour; it is down to the user to decide what is most important when filtering. A popular choice is condition for those looking to buy a second hand tablet. eBay also offers a rating system that orders their sellers and this is something that users can take into account before purchasing. This website is a great place to begin searching and can offer something for those looking for a new or a pre owned device.
Conclusion
This guide has provided information regarding the inner and outer workings of the Samsung Galaxy Tab 2. There are many things such as memory size, camera quality, cost and condition that all need to be researched for purchase. eBay is the ideal place to provide information about all of these criteria options.