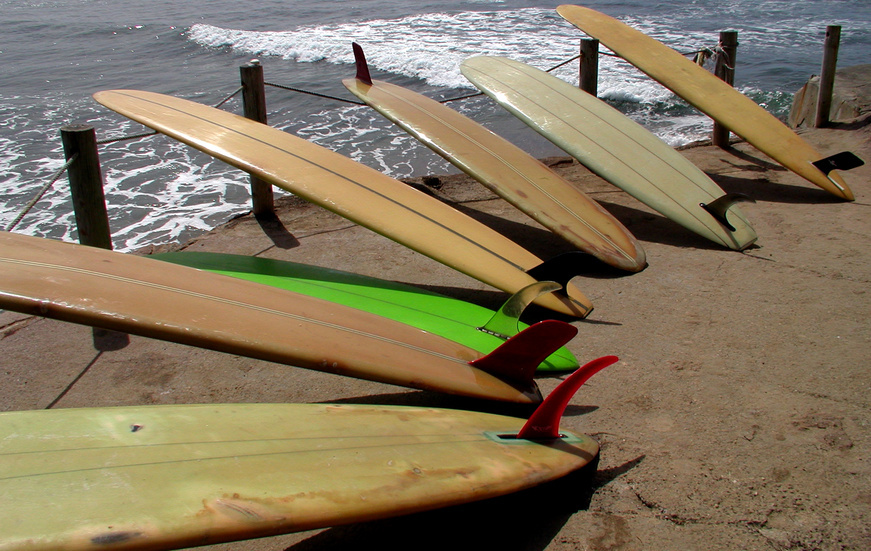 Choosing the right surfboard can be a steep learning curve, particularly for those new to the world of surfing, and it is important to find the right type of board to suit both your style and your abilities. Surfboards come in many different sizes and shapes according to the height, weight and surfing style of the individual.
By shopping online on websites such as eBay, it is easy to browse or search for the perfect surfboard, whether that is an Al Merrick board or an FCS longboard. eBay has something to suit everyone and at affordable prices compared to buying in a specialist store.
What is a Shortboard?
Shortboards are one of the most popular types of surfboards, although they are not recommended for beginners as they are built for speed and performing complex maneuvers. Some of the characteristics of a shortboard include:
Between 5'10"– 6'6" in length
Narrow or pointy nose
The wide point is in the centre
Usually 18-20" wide and 1-2" thick
When choosing a shortboard, it is important for the individual to ensure that they are a skilled enough surfer to handle the board and always choose a board that is between 1.75 and 2 inches in width, as this will make the board float better. By shopping online on websites such as eBay, it is easy to search for the perfect shortboard size and style to suit.
What is a Longboard?
Longboards are designed for speed and are easy to paddle, making catching waves a breeze. Whilst longboards are commonly around 9-10ft long, they can be even longer, with some measuring in at over 12ft. The following characteristics are typical of longboards:
Over 8ft long
Rounded nose
Usually more than 20" wide
Crucial things to think about when choosing a longboard include the length, width and weight of the board as well as the material it is made from. Longboards are usually constructed from polyurethane, which is coated with fiberglass, but can also be made from Balsa wood or epoxy.
How to Decide Which Type of Board is Best for You?
When deciding which type of board to buy, there are a number of factors to take into consideration. The below chart will explain why these factors are so important.
| | |
| --- | --- |
| Factors | Why to Consider |
| Budget | Budget will affect what type and brand of board is purchased and will also help the buyer to decide whether a new board is affordable or whether a used board should be purchased. |
| Level of Skill | Novice and intermediate surfers attending classes should spend as little money on a surfboard as possible, as during the first year it will suffer bumps and scratches. There is no point in beginners investing hundreds or thousands of dollars in a top of the range shortboard. eBay has a wide range of surfboards for all budgets, including used surfboards that are a great choice for beginners. |
| Preferred Style of Surfing | How the individual likes to surf will play a part in their choice of board. Those who need a board that makes paddling and catching waves easy should opt for a longboard, whereas if speed and maneuvers are more important, a shortboard would be more suitable. |
| Height | The height of the individual will affect their choice of board. Very short people may struggle to control a longboard and might be better with a shortboard. |
| Weight | Weight influences the type and size of board chosen and both weight and height are contributing factors when selecting the right size of board. |
A shortboard is definitely not for beginners, and for those just starting out a longboard or funboard is essential. A board that is short, sleek and fast requires skill to control. Whilst shortboards are fun to ride, they take practice to master and will make learning the basics much harder.
How to Choose the Right Shortboard for You
For buyers who have decided that a shortboard is right for them, now the difficult part begins – choosing the right shortboard. There are a number of things to bear in mind when shopping for a shortboard. Every surfer is an individual, so it is important to remember this and make sure to buy a board that suits the user's individual needs. It is easy to find a range of shortboards for sale on eBay at affordable prices.
There are a number of options to choose from when selecting the perfect shortboard. Shortboards come with a range of different tail designs, from square and round tails to swallow tails. Remember that the tail of the shortboard has a significant effect on its handling. There are also a number of different types of contours used on the bottom of the surfboard, and these affect the way it travel and floats on the water.
Some of the most common types of bottom contour are convex, flat or concave, and each will affect the board differently. As well as all this, the buyer needs to consider what material the board is constructed from, the level of rocker on the board (which affects the turning and maneuverability), and the flex and weight of the board. It really can be tricky trying to find the perfect shortboard, which is why it could be an expensive mistake for beginners to invest in a shortboard before they have figured out their unique surfing style.
How to Choose the Right Longboard for You
Longboards are a great choice for beginners as they make standing and riding easy and are not as fast as shortboards. Here are some things that need to be considered when shopping for the perfect longboard on eBay:
Materials – whilst most longboards are made from polyurethane foam with a fiberglass coating, it is also possible to find boards made from epoxy, which is light and strong (these are often some of the cheapest boards available), or balsa wood, which is popular with purists or those looking for an environmentally friendly surfboard
It is essential to find the right thickness and width of longboard. It is important that the board is thick enough to catch waves, but not so thick that it fails to turn properly. Smaller framed individuals should stick to boards of around 2.5" thick, whilst those with larger frames can opt for thicker boards of 3" or more. Bear in mind that a narrower board is best for steep waves, whilst a wider board holds its own in mushy waves
When choosing the right length of longboard, the buyer needs to think about what they want. A longer board requires more space to turn, so for those looking to embrace cross-stepping and nose-riding, a board of longer than 10ft is recommended. For surfers who enjoy floaters and cutbacks, stick to a board that is somewhere between 8 and 10ft in length. eBay has a great selection of longboards to choose from in varying lengths and widths.
Should you Buy a Used or New Surfboard?
Whether to buy a used or new surfboard is a personal decision that will depend entirely upon the buyer's preferences and available budget. For those just beginning to learn to surf, spending hundreds of dollars on a new board is not recommended. It is far better to invest in a used surfboard that may already have some dings and scratches and can be used for the first year of learning. After this, the surfer may wish to spend more money on a new board. After a year or so, the style of surfing preferred and skill level of the individual will be evident, so choosing a new surfboard should be easier.
It is easy to find a wide range of used surfboards in excellent condition for sale on websites such as eBay, and as many surfers have a collection of boards, adding to this collection by purchasing a used board is a great way to save money.
How Buy a Shortboard or Longboard on eBay
Whether looking for a shortboard or a longboard, eBay is the best place to begin browsing. Just click on the drop-down menu 'Shop by Category' at the top left of the home page. A category list will open up - click on Sports & Recreation. This will then list all the available categories, so scroll down to Sporting Goods and click on 'more'. From here select Surfing. From the left-hand menu select Boards and then Surfboards.
It is easy for buyers to narrow their search using a certain term, if looking for something specific. By typing the words related to the search, such as 'FCS Longboard' into the search bar, a list of available items will appear.
Conclusion
Shortboards or longboards are both excellent choices for any surfer, and the type of board chosen is a personal decision that depends on various factors including style of surfing, level of experience and budget. With so many different brands, styles and types of surfboard available to choose from, it is easy to find a great deal on surfboards on eBay.
eBay has a wide range of shortboards and longboards to choose from, often at affordable prices compared to buying in a specialist store. Whether shopping for a used Channel Islands board or a new Malibu board, there is something available to suit all tastes and budgets.
Websites used:
http://surfing.about.com/od/thesurfboard/a/shortboard.htm
http://surfing.about.com/od/thesurfboard/a/How-To-Choose-A-Longboard-Surfboard.htm