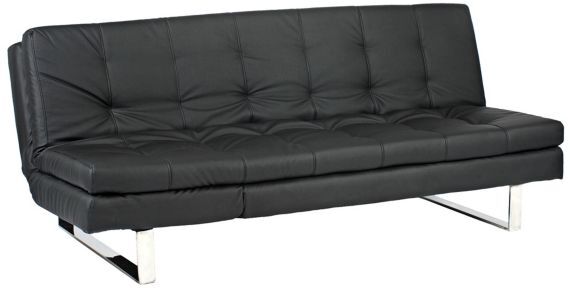 One of the best things about sofa beds is that they are ideal for areas where there is not much interior room for both a bed and a sofa. This element of sofa beds alone makes buying one an affordable choice. They are also great for studio apartments that do not have a separate bedroom.
People look for sofa beds in furniture stores and online at eBay. There are a variety of styles of sofa beds to choose from that fit a wide range of needs. Prices for sofa beds vary also depending on the size of the sofa beds and what materials are in their construction. Affordable choices are available for almost all types of sofa beds when buyers know what to look for.
What to Look for in a Sofa Bed
Before choosing a sofa bed based solely on its looks and size, it is always a good idea to dig into it deeper and find out more about the construction and the materials used in various styles. The type of mechanism used is important, the weight of the unit, as well as the durability of the materials involved in the design of the model. Ideally, the sofa bed should be just as comfortable when placed in the bed mode as it is in the sofa mode. Knowing what to look for, buyers on a tight budget are able to find the right sofa bed.
Decide on the Sofa Bed Type
One of the first steps that people need to take before making a random sofa bed selection is to become familiar with some of the various styles of sofa beds available. Sofa beds, also commonly referred to as sleeper sofas in some regions, vary in size and styles, and manufacturers typically price them according to these factors. No matter whether the space available that needs filling is a large one or even a small one, it is easy to find a suitable option for almost any size requirement needed.
Futon Sofas
Futon sofas are an ideal style of sleeper that many people enjoy because they fold down into a bed very easily, typically by releasing mechanisms on the sides of the frame which allow it to lie flat. This style of sofa sleeper includes a one-piece style futon mattress that also acts as the bottom and top cushion of the sofa. This single mattress layer slides over the frame to make up the mattress of the bed. Futon mattresses are often heavy to lift and some of these mattresses are not as comfortable as their sofa cushioned cousins. They are lighter to move than other types of sofa sleepers and allow the owners to create a queen-sized bed with ease.
Futon models of sofa sleepers are relatively inexpensive; however, many used futons are also more affordable choices for those on a budget. Before buying a futon sleeper, it is important to check out the unit to make sure that the locking mechanisms on the frame open and close easily. Inspect the frame of the sofa bed to ensure the sofa does not sway when pushing on it and all screws are in place tightly.
Pull-Out Sofa Beds
Pull-out sofa sleepers are among the most common type of sofa bed available. This style of sofa bed often uses a handle that is on the bed frame; typically a person locates it underneath the area that the cushions rest on. Inspect the bed by pulling the handle up and out, releasing the bed which folds inward upon itself. Metal legs come attached to the frame and extend to rest on the floor giving the frame support. This style of sofa bed also typically uses a mattress that sits on the frame and folds back down into the sofa when people finish with the bed version.
This type of sofa bed offers the benefit of giving people who have small living spaces a decent sized bed. Not uncommon, many pull-out sofa sleepers are as large as a queen or king-sized beds, and of course the sofa length determines the bed size. One downside to this type of sofa bed is that it is usually extremely heavy, so it is important to have an extra set or two of hands to lift it when it needs moving.
Used pull-out sofa sleepers are exceptional values for people who live in studios or efficiency apartments, as are sofa beds that seller have refurbished. Make sure to pull the bed out and check the frame to see that all springs are there. Test the legs to ensure that they hold the bed sturdily in place so no one sleeps in the bed and later lands on the floor without warning.
Chair Sleepers
Chair sleepers are an ideal style of sofa bed for people who do not have a lot of extra room for a bed, or who want to have a small spare bed for guests. They are probably one of the smallest sizes of sofa beds available since the largest size most chair sleepers fold down to is a twin size bed. This type of sofa sleeper is typically less expensive than other models due to its compact size.
Chair sleepers do not require much work to set up into a bed. Many models conform into a bed shape by simply reclining into a backward position. This type of sleeper is also much lighter than many of its counterparts, which makes moving it less strenuous. There are a variety of used chair sleepers or models that sellers refurbish, which also are often affordable choices for those on a budget.
How to Buy
Finding a sofa bed that is inexpensive is easy when people shop on eBay. This website has a large number of items to choose from which means that there is a wide selection of prices available as well. Simply enter keywords into the search query box located on any eBay web page to find a great deal on the perfect sofa bed.
There are affordable sofa bed choices for people who need to conserve space or who want an extra bed for guest use. Pull-out sofa beds typically offer larger size beds than other models like chair sleepers. Futon beds are also great choices, as they are generally more budget friendly than other models due to their simple construction.