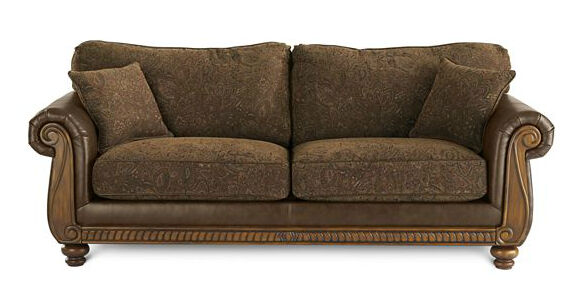 Planning a sofa purchase carefully is important for potential buyers. They are one of the most prominent furniture items in a living room, meaning that the size and style are crucial to get right. If deliberated properly, the purchase should also be an investment that will stretch over a number of years.
This guide will demonstrate a few simple considerations needed for a sofa purchase and do so in respect to buying on eBay, a shopping website with plenty of sofa models to choose between. The options available to shoppers will be looked at along with how to search efficiently on the site.
A Quick Look at Sofas
Primarily used for use in a living room, a sofa is defined as a bench-like piece of furniture on which two or more people can sit. They are also often referred to as couches; this is useful to know in case of shopping on eBay as more results can be revealed using different search terms.
Sofas are manufactured in a variety of styles and from a range of materials. They can also be constructed into different sizes and shapes, meaning they can fit into a number of areas in a room.
Types of Sofa
There are different types of sofa available on the market. The table below highlights these further:
| | |
| --- | --- |
| Type of Sofa | Description |
| Chesterfield | A traditional style of sofa, the Chesterfield was created in England and became fashionable in the Victorian era. They are made from leather and upholstered with high density foam. 2 or 3 seater Chesterfields are the most common. |
| Corner Sofa | Some rooms may be of a small or awkward shape, meaning traditional sofas may not be a conceivable option. Corner sofas are useful to look into as they can free up more space. They can hug the wall, providing a snug feel to a room. |
| Divan | Divans are long sofas that do not incorporate backs or arms into their design. They are often placed next to a wall because of this. They are commonly found in larger hallways as well as living rooms. |
| Love Seat | Loveseats are named as such because of their design – they were originally manufactured for two people to sit on in an intimate manner. They are great for position in limited space or as a way to complement existing furniture. |
| Sofa Bed | As a way to increase the usefulness of a sofa, buying sleeper versions are popular. They can be used as a seating area during the day and fold-up to create a place to sleep at night. If entertaining, they will provide more space to accommodate guests. |
Materials of Sofas
Sofas can be upholstered from a variety of materials. They will each have their own advantages that make them suitable for a certain room or budget. The following list looks at some of the most popular materials used to construct sofas in more detail:
· Leather – Leather sofas are a very common form of material found in furniture items. They create a stylish yet comfortable appearance. Real leather sofas can be more expensive than other types, whilst artificial or faux leather attempts to replicate the real version but at a lower cost.
· Cotton – For a softer and more original sofa exterior, cotton can be used as the upholstery material. They are generally affordable for the average buyer and are easy to maintain due to their natural, durable qualities.
· Suede –Suede sofas are generally harder to clean than other materials, but do provide an elegant appearance to a room. One downside to them is that they show signs of fading over a short space of time and can also stain easily. Faux suede versions are less authentic but are more resistant to water and staining.
· Synthetic Fibres – Many sofas will come in the form of synthetic fibres such as nylon and polyester. These are usually low-cost sofas due to their lower manufacturing costs. Synthetic materials are durable and easy to clean although heat and strong sunlight can affect their appearance.
Buying Considerations for Sofas
Before coming to make a purchase of a sofa on eBay, there are some simple aspects to think about before parting with money. This section will look at these in more detail:
Size
The most important consideration is the size specifications, primarily in terms of width and length but also in terms of height. Measure out where the sofa is going to be placed by using a tape measure, double-checking results and then writing them down. When buying on eBay, check the individual details of the sofa to see if it will be of a suitable size.
Colour
As well as the different styles of sofa available, there is no real restriction in what colour it can appear in. Many sofas will appear in traditional blacks, whites, and browns – especially leather types – although beiges, blues and greys are also common. Shopping on eBay allows shoppers to bring up sofas of a certain colour, useful if trying to tie in the purchase with an existing colour scheme.
Brand
Narrowing the listings by a particular brand can also be achieved on eBay. Buying a sofa made by a certain manufacturer can guarantee a sense of quality and also help if trying to coordinate furniture. For example, if a Freedom chair is already owned and positioned in a living room, buying the same brand of sofa will match. Other popular brands include Parker, Eames, and Moran.
eBay Deals
If on a budget and looking to find a sofa for as little as possible, looking in the eBay Deals section of the site is advisable. This is where items are offered by the eBay company at reduced rates for a limited amount of time. For sofas, click on the Home & Lifestyle link and then select the Living Room tab from the Furniture section.
Using eBay to Purchase a Sofa
Once a registered eBay member, shopping on the site is relatively simple. The points below will run through how to find and buy a sofa efficiently.
- Enter the most relevant category before narrowing down the results. From the eBay home page, select Home & Garden followed by Furniture. From the left-hand side of the page, select Sofas, Couches and then Sofas.
- Within this category, search by keyword or by using the refinements menu. Bring up the listings available via an Auction or instantly as a Buy It Now item. The sofas listed as a Best Offer item can also be useful for shoppers.
- Examine which sofa appeals the most by examining the pictures closely. The more the better, especially with shots close up of the sofa from different angles. Read the description of the item carefully, taking into account the size dimensions in particular. Ask the seller a question to make sure the transaction runs smoothly.
Conclusion
The sofa is one of the most fundamental pieces of furniture found in the home, primarily used for seating in the living room. They will seat 2-3 people most commonly, although larger versions can often be found to fill bigger spaces. The different types and colours of sofa can be purchased to tie in with personal style preferences or an existing room layout.
Using eBay to review all the different sofas available is advised as the many types can be reviewed next to each other in the same place. Use the advice in this guide to reveal the most desirable models and take into consideration how the delivery service and payment method can affect the transaction.