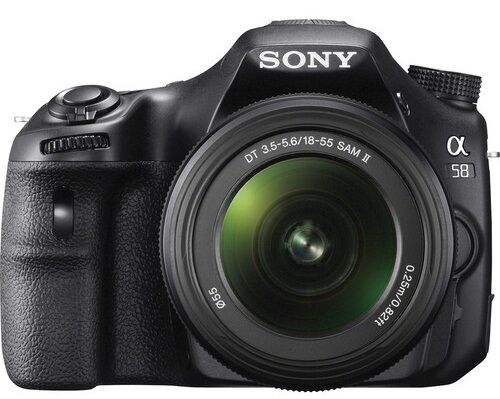 Introduced in 2013, the Sony Alpha A58 is an interchangeable lens camera that features Sony's patented translucent mirror technology. It allows for high-speed shooting at a 20.1-megapixel resolution. The Sony Alpha A58 qualifies as a mid-range DSLR camera and comes loaded with features. When looking to acquire a new DSLR camera, it's hard to argue against Sony's offering, while eBay is sure to have the A58 model and more available in their dedicated photography section.
Image Quality
The Sony Alpha A58 has an extensive ISO range of 100 to 1600, meaning that it can consistently produce images of the highest quality. Photographers can expect their work to come out noise-free, even when shooting at high speeds, as the Sony Alpha A58 is more than capable of handling burst photography. The camera has an above average amount of processing power, which mean it can be loud when processing pictures into a standard JPEG format.
Build
Outwardly it would appear that little has changed in appearance, as when put up against the Sony Alpha A57 it's hard to tell the difference between the two. However, the A58 sticks to what has made the Sony camera range so popular with photographers, that being durability and control. It has a large grip that makes it possible to shoot one-handed comfortably. The camera also features a dial that allows for instantaneous switching between capture modes, such as automatic, semi-automatic and manual. Photographers can also apply image affects on the fly via the dial, which is a feature not currently seen on any other models in the Sony Alpha range.
Performance
Sony have been producing DSLR cameras ever since they acquired Minolta back in 2006, and they are no longer novices when it comes to developing camera technology. Photographers can rightly have expectations when it comes to Sony DSLR offerings, and the A58 utilises all that Sony has to offer.
The Sony Alpha A58 is the first Alpha model to feature Sony's unique Eye-Start AF autofocussing system, which can be switched on from the camera's settings menu. This feature means that autofocussing is an immediate process whenever the camera is raised to shoot. Performance in low light scenarios is something that Sony has attempted to improve upon in the A58. At high sensitivities (i.e. ISO 2500 and ISO 3200) the Sony Alpha A58 maintains detail and keeps noise under control.
Features
The options on the Sony Alpha A58 aren't just limited to the Eye-Start AF autofocus system. There are a range of interesting features that can further a photographers performance with the camera. Settings such as auto object framing, clear zoom and picture effects will help photographers improve their final product.
All these features are accessed via the 2.7" LCD screen. A dedicated button for digital zoom is located at the top of the camera, meaning that zooming can be done without having to pull away from a shot. It is worth noting that such settings aren't applicable when taking pictures in a RAW file format.
Lenses
The Sony Alpha A58 doesn't just start and end with what comes in the box. There is a wealth of lenses available from Sony that are compatible with the A58. Photographers can now expand their photographic presence by using lenses from the A-mount range. There are over forty to choose from, so whether it's telephoto, wide-angle, zoom, macro, normal or prime, there is a sure to be a lens available to expand your photographic style.
Warranty
Sony DSLR cameras are hardwearing and built to last, but in the event that damage or a fault occurs there is a warranty system in place. Each Sony Alpha A58 unit comes with a standard twelve-month warranty. This means that shoppers can shop with ease of mind knowing that the product is covered.
How to Buy a Sony Alpha A58
If the Sony Alpha A58 seems like the perfect camera for your photography needs, it will be time to find one for the right price. Start by visiting eBay's homepage and selecting the Cameras and Photography section, and then select the Digital Cameras subcategory.
From this page shoppers can view all main digital camera related listings. Narrow down the listing results by using the search modifiers to the left, this will make finding a Sony Alpha A58 easier. Shoppers may also get success from using the keyword and advanced search options. To use them simply enter a keyword or phrase (i.e. Sony Alpha A58) and hit search.
Sony DSLR cameras can be an expensive investment depending on a shopper's budget. It is up to the shopper to make sure such investment is protected, do this by always opting for an insured courier delivery service whenever possible. Pay for items withPayPal to ensure that the buyer protection program is in place should an order encounter any problems.
Conclusion
Introduced to replace the well received A37 and A57 models, the
Sony Alpha A58
brings high-performance to the mid-range
DSLR camera
market. Its specifications are impressive for a camera of its size, and will be a model that many photographers will look to pick up. eBay has become a reputable retailer in the world of photography, and is the perfect place to get a great deal on a Sony Alpha A58 camera