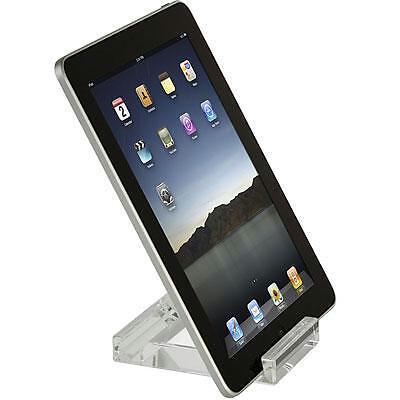 Buyers looking for an iPad Mini stand should be aware that eBay has plenty of different types available within its listings. For the multiple number of ways an iPad stand can be used, eBay will most likely stock the appropriate model.
This guide will look at the various types of stands designed to hold an iPad in respect to searching and buying on eBay.
Why Purchase an iPad Stand?
Despite being reduced in size, the iPad Mini can still be tricky to hold in a suitable position over extended periods. Some people simply prefer to prop their iPad so they can feel more relaxed when surfing the internet or watching media. Stand's that are specifically designed by a number of company's can reduce this potential stress.
If thinking of purchasing one, then first it is advisable to consider how the iPad is commonly used. For example, is it used on public transport or at home more often? In addition, is there a certain design or colour scheme for the stand that will suit the currently owned iPad?
Main Types of iPad Stand
This section will look at the main types of iPad stand and the most common reasons they are purchased.
Charging Stand – As a competent way to both store and charge an iPad Mini, a regular dock-type charging stand can be purchased. Linked via a data cable to a PC or laptop, the iPad can also sync files. These types of stand can be inexpensive, and suitable for overnight charging.
Kitchen Stand – One of the most common uses of a stand is in the kitchen, where the iPad can be propped up for easier viewing. For those who spend a fair amount of time in the kitchen cleaning or preparing meals, having a stable position for the iPad on a work surface can provide entertainment over the daily routine.
Speaker Stand – Another useful feature of some iPad Mini stands comes with the build-in loudspeaker. The range of sound for audio and videos can be played at a higher level, making it perfect for social occasions.
Vehicle Mount – A windshield mount will allow users to enjoy their iPad Mini whilst driving. A suction facility will attach the iPad to the windshield where the connector will be 360° rotatable for the best viewing angle. Also available are stands that attach to the back of car seats.
Keyboard Station – Some users of the iPad Mini prefer to use a regular keyboard rather than the touch-screen format. Special keyboard stands have been manufactured that prop up the iPad itself, whilst also integrating the keyboard feature.
Fold Up Stands – Smaller fold-up stands are useful for travelling. They can be folded away for easier storage and then used on public transport seat trays.
iPad Stand Cases – Folding cases are smartly designed stands that elevate the iPad and wrap it up when folded. Plastic or more professional leather versions can be purchased.
Modern Designs – Look out for contemporary, stylish types of Apple iPod stands that give a professional and modernistic look. The FrameShift, WingStand, and numerous Fridge Mounts are all attractive examples of modern iPad Mini stand designs.
Buying an iPad Mini Stand on eBay
One of the most resourceful ways to find an iPad Mini stand is to use eBay, a site where thousands of different designs will be listed from both Australian and worldwide sellers. Her are a few buying tips:
· From the eBay home page, type in "iPad Mini stand" and seek to enter the most relevant category from the left-hand side of the page, notablyiPad & Tablet Accessories and Mounts Stands & Holders, and then look to narrow down the plentiful results.
· After deciding which type of iPad Mini stand is most suitable, think also in terms of its appearance and design. A range of colours can be selected, such as blacks, whites, greens, and pinks, as long as the preferred brand and material.
· One of the most important considerations when shopping on eBay is to ensure the stand is the right size for the iPad Mini (7.87 inches x 5.3 inches) and not any other tablet. Use the 'Compatible Product Line' section of the refinements menu for this.
· Read the description left by the seller after clicking on the item, checking the stand's compatibility with the iPad Mini as well as any other important information. Ask the seller any questions if it feels necessary.
eBay Deals
For a chance to purchase less expensive iPad stands look within the eBay Deals area of the website. Although finding a particular item here is not guaranteed, the reduction in prices means it is an option worth regularly checking back for.
From the eBay Deals home page, go through the Electronics > Computers > Tablet Accessories route to unearth any potential deals on iPad Mini stands.
Conclusion
For most iPad Mini users, buying a stand can enhance the experience of using it, be it for playing music in the kitchen, using the keyboard on a desk, or watching media on public transport. Various designs are available on the market, notably on offer on eBay, which range from simple flat surface stands to car windscreen mounts.