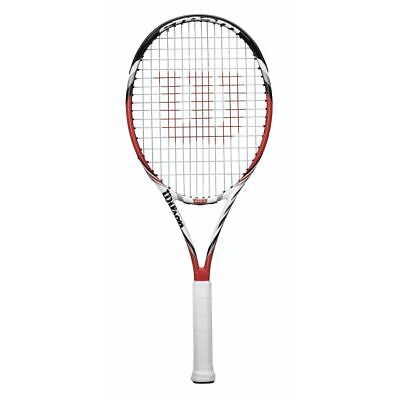 Playing tennis is a fantastic way to stay in shape and have fun. The sport can be enjoyed by individuals of all ages, from young children to older adults, and does not require a lot of sports equipment to play. The biggest investment is the tennis racquet itself, but even that does not have to cost a fortune, especially for individuals who do not plan to play tennis professionally. Tennis balls are also required to play the game and, as they tend to go flat over time, should be replaced when they lose their bounce.
When shopping for tennis racquets, it helps to be aware of how serious one is about the sport. Those who are just learning how to play may want to opt for less expensive racquets. If they become serious about the sport later, they can trade up to a better model. Prospective buyers can find plenty of excellent tennis racquets in all price ranges on eBay. With the website's easy-to-use features, it should be easy to find the tennis racquets one is looking for.
A Brief History of the Tennis Racquet
The game of tennis got its start as handball in France sometime in the 11th or 12th century. Because hitting a hard ball with one's hand was somewhat uncomfortable, enthusiasts of the game began experimenting with other ways to propel the ball. First, players used leather gloves, which were sometimes webbed. Later, they tried wooden paddles before finally settling on the tennis racquet in the 14th century. These early racquets were comprised of wooden frames, with animal gut serving as the strings.
A patent for outdoor lawn tennis was filed in 1874 by Major Walter C. Wingfield, which marks the birth of modern tennis. Through the years, various materials have been used for both the frame and the strings, and the shape and size of the racquet head have also evolved. Today, tennis racquets used by adults have a smaller head than those used by children.
Types of Tennis Racquets
Before a prospective buyer can begin the search for the perfect tennis racquet on eBay, he or she must first determine which type of racquet best suits the needs. Although a beginner may decide to play with whatever racquet that is available, the correct racquet can really make a big difference in a player's performance.
Game Improving/Power Racquets
Game improvement racquets are ideal for beginning tennis players as well as those who do not generate much power when they swing the racquet. These racquets typically have larger heads than other racquets, which makes it easier to hit the ball. The racquets also have a stiffer frame and are lighter and longer than other racquet types. Game improving racquets also help players out with a larger sweet spot to help those off-centre shots experienced by beginners. Once can find a large selection of game improving racquets on eBay.
Tweener Racquets
These racquets are great for intermediate to advanced players, although professional players, or those seeking to become professional, may not want to use them. The racquet offers the longer length that the power racquet provides, but with a smaller head. The frames of these racquets are heavier than game improvement racquets, and the weight is shifted towards the centre of the frame for a smoother swing.
Player's Racquets
Player's racquets are for advanced players and professionals. They offer the smallest head, shortest length, and lightest frame of all three categories. The decreased weight increases swing speed, which allows players to hit the ball more forcefully. These racquets are also more flexible than other racquets, another trait professionals find desirable.
Tennis Racquet Features to Consider
In addition to determining which type of tennis racquet is suitable for their needs, prospective buyers should consider the various features in a tennis racquet. This helps the decision about the must-have features and the ones the user can do without.
| | |
| --- | --- |
| Feature | Recommendations |
| Head Size | Larger for beginners; smaller for more experienced players |
| Length | Longer for beginners; shorter for more experienced players |
| Weight | Lighter for experienced players; some beginners may prefer a heavier frame |
| Frame Stiffness | Beginners may prefer the control provided by a stiffer racquet; experienced players often prefer a more flexible racquet |
| String Pattern | Dense pattern for beginners and hard hitters; open string pattern for advanced players and those who want spin |
| Grip Style | Shock-absorbing grips are preferred by many players |
Specifications and tennis racquet features vary from racquet to racquet, even within a specific category. It is for this reason that prospective buyers should familiarise themselves with the features so they know which ones to look for. While some beginners may choose to play with more advanced racquets, those who are not playing competitively may enjoy the game more with a racquet designed for beginners.
Shopping for a Tennis Racquet on eBay
Individuals looking to purchase tennis racquets should be sure to consider the selection offered by eBay before deciding on a purchase. The website offers listings from numerous sellers so that tennis players of all skill levels, from beginner to pro, can find a variety of suitable tennis racquets for sale on the site.
Although it is not necessary to have an exact length in mind for a tennis racquet, the buyer should have an idea of the type of tennis racquet that suits his or her skill level. It is also helpful to know the features that one wants in the racquet.
Buying a Tennis Racquet on eBay
If you are ready to take a look at the listings on eBay, go to the site's home page and type" tennis racquets" into the search box. Once the search results load, you can narrow them using the various options on the search results page, including brand and price. Buyers who know the brand or type of racquet they want could start with a more specific search. For example, searching on Wilson tennis racquets only provides listings that are for Wilson brand tennis racquets. Buyers can also search for deals on other tennis-related equipment on eBay, including tennis balls, replacement racquet strings, and even nets, for those who own tennis courts.
Before making a purchasing decision, prospective buyers should read through each listing carefully to determine the brand and the racquet's specifications, including length, head size, and grip style. This is particularly useful for first-time buyers, when they are looking for racquets that are suitable for beginners.
Conclusion
Beginning tennis players realise how much fun the game can be as well as the workout a tennis match can provide. To keep the gear in tip-top shape so it lasts for years to come, one should purchase a racket cover to store the racquet so that it does not incur damage. A tennis bag, which can hold the racquet, balls, a towel, water, and whatever else the player may need, is another good investment. In addition to proper storage, the racquet should be inspected regularly and have the strings and the grip replaced as needed.
While a tennis racquet does not have to cost a fortune, there is no need to waste money on a racquet that does not work well with one's playing style. Knowing which features to look for as well as the differences amongst the various types can help prospective buyers find the ideal tennis racquets on eBay.