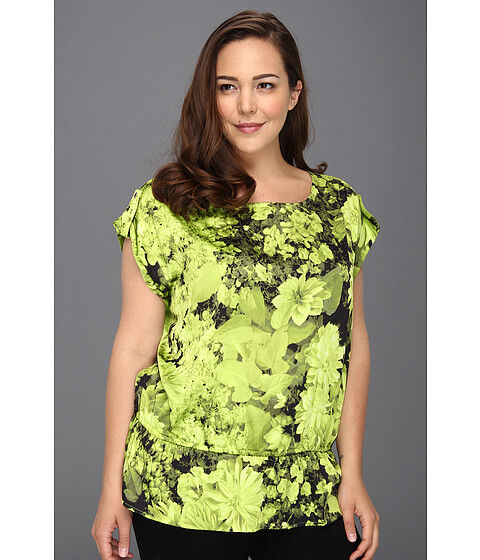 The apple figure is characterised by slim legs and thighs, with a large abdomen and chest that looks out of proportion with the rest of the body. As a consequence, apple figures often have little waist definition. Some people also have full, wide hips and buttocks. This body shape is often seen in older women when they start to experience the symptoms of menopause. An apple figure can be tricky to dress. It requires knowing how to create the illusion of a waist and silhouette, while highlighting the cleavage and creating vertical lines. Once this is understood, it makes finding the perfect top easy. Learn how to buy tops that flatter the apple figure from boutiques, clothing and department stores, and online, from eBay.
Start with a Good Bra
Before shopping for tops, apple-shaped women should be fitted for bras; the most important part of a great outfit is a good bra. The majority of women wear ill-fitting bras that are often uncomfortable and unflattering. A bra that fits well does not pinch in uncomfortable places, does not create bulges and lumps under clothing, and does not have dimpled or wrinkled cups. Most lingerie departments offer a bra fitting free of charge. A fitting involves more than being measured for the right size; it also involves finding the right type and style of undergarment. Women need different kinds of support in different places. Wearing the perfect type of bra can make a world difference to how a woman feels and looks.
A bra that fits properly is especially important for women with apple figures. The right amount of lift and support makes an apple shape look slimmer, improves the silhouette, and adds the illusion of a defined waist. A nip or tuck in the right place can completely change the look. Always try new bras on with a favourite blouse or top to see what it looks like with clothing. Women should get fitted at least once a year and after weight is lost or gained.
Select the Right Top for an Apple Figure
One of the most important aspects of dressing an apple figure is defining the waist. Lifting the bust line with a good bra is the first step in this process. Several additional factors should be taken into account. The table below lists these factors and provides details for each of them.
Factor

Description

Type of Top

Neckline

Keep fairly low for a long, lean line

Open shirt collars

Embellishments

Styles

Use folds to create curves

Front or side ruching

Front knot details

Sleeves

Focus attention on slim arms

Slits and cut-outs

Gathers

Shoulder details and embellishments

Patterns and textures

Use to camouflage

Form fitting textures skim the body for an improved silhouette

Thicker texture is less clingy

Choose patterns over solids

Woven materials

Cotton, viscose, or wool blends

Length

Use to create length in the silhouette

End just below the hipbone

Waistline

Draw attention away from the midriff

Create curves

Structured and tailored tops and jackets

Cardigans

Ties in the middle to highlight the waist, but hide the stomach

Fit

Highlight the body at the slimmest point, just below the bust

Enough space for stomach, but not too wide
Choose tops that are loose in the waist, but structured at the shoulder and hem. This includes empire, banded, and swing tops. Similarly, a structured jacket can be worn over a looser top for the best of both worlds.
Tops Apple Figures Should Avoid
Women with apple figures should avoid several styles and types of clothing. Big, bulky jackets can add padding in the wrong places and should be treated with caution. Similarly, large, shapeless garments tend to create a tent effect where the wearer's shape becomes undefined. Instead of being slimming, these tops make wearers look larger than they are. High necklines and tight clingy tops should also be avoided. Where possible, avoid solid colours. It is better to wear patterns, and combine colours and textures.
Accessorise a Top for an Apple Figure
Accessories can be used to create specific effects and balance an apple-shaped woman's figure. However, they can also detract from the effect created by the perfect top. When it comes to accessories, the most important thing to remember is that the eye is drawn to accents. Avoid accenting the stomach, paying close attention to where hemlines sit and where dangly jewellery or handbags end. Women with apple figures should aim for longer vertical lines, drawing attention away from the midriff, and balancing the shoulders with the hips.
Jewellery
When it comes to jewellery, apple-shaped women are fortunate as they can wear just about anything. Statement pieces, such as big necklaces and dangly earrings, can be used to draw attention to the face and neck. A long textured scarf can be worn instead of a necklace; knotted or loose. Bracelets and bangles are perfect for calling attention to the arms. Avoid long necklaces that end below the bust as these draw attention to the stomach.
Handbags
Be careful when choosing handbags. Bulky bags that sit under the arm should be avoided. Instead, choose a bag with a long shoulder strap. It should sit at bust level or above, or below the hip.
Belts
It is generally recommended that those with an apple figure not wear belts. However, choosing the right waist-defining belt is a great way to accentuate the slimmest part of the body. Avoid chunky belts that add bulk to the waist and stomach. Choose wide, dark coloured belts in a stretch material, which is best for fuller waists. A corset-style belt can be used to cinch the waist, making the wearer look instantly slimmer. Alternatively, wear a belt around the ribcage, over a flared top. The ribcage is usually one of an apple shape's smaller points. Those that are not comfortable with drawing attention to the waistline can experiment with accentuating other parts of the body.
Buying a Top for an Apple Figure on eBay
eBay is the perfect place to shop for tops for an apple figure. To find what you are looking for, type a phrase, such as "cotton women ' s top" into the search field, which can be accessed from every page. This shows all the items tagged with your chosen keywords. Refine your search by choosing the most suitable category and item features. For even more bargains, check eBay Deals for tops.
Before Buying on eBay
Before buying on eBay, learn about the item and the seller. View the item listing page by clicking on an individual listing. Check here for the full item description and details about how to buy. Get to know the seller by checking his or her feedback information before you buy.
Conclusion
Finding the perfect top for an apple figure depends on knowing how to make the most of the features of that body shape and how to create a balanced look. Avoid bulky, shapeless tops that hide the body, as these are rarely flattering. Start with a quality, well-fitting bra. Choose tops with detailed shoulders and necklines to draw the eye up. The bottom hem of the top should sit below the hip bone to add length to the torso. Choose tailored, but not clingy, tops to create curves. Choose a top with interesting sleeves to accentuate slender arms. Use textures, colours, and clothing styles to create curves and mask problem areas. Accessorise tops with necklaces, earrings, and bracelets, taking care not draw attention to the stomach area.