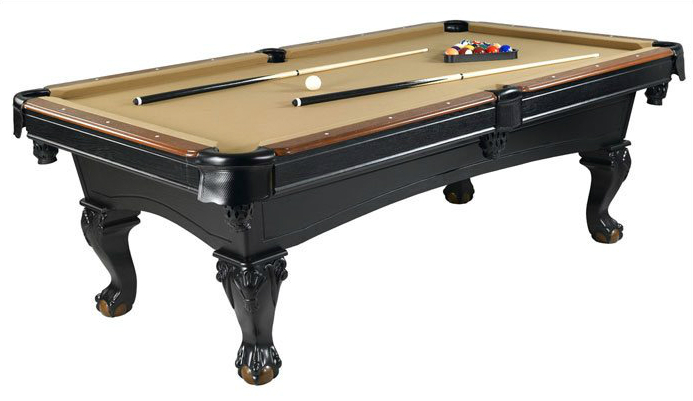 Billiards tables, also known as pool tables, are a great addition to any home and the ideal way for pool enthusiasts to practice at home or invite friends over for a game. With such a wide range of billiards tables available in various styles from traditional to modern and a range of sizes, it can be difficult to know where to start when shopping for the perfect billiards table.
By shopping online on websites such as eBay, the process of hunting for the best used billiards table becomes somewhat easier. eBay has a huge range of used billiards tables to choose from, many of which are in excellent condition and can save the buyer money compared to purchasing a new table.
What is a Billiards Table?
A billiards table is also known as a pool table. They come in a variety of different styles, from traditional tables with carved hardwood legs to contemporary styles, and can usually be found in three sizes: 7ft, 8ft and 9ft. The size of table chosen will depend upon the buyer's available space. It is important to bear in mind that 2-3ft of clearance is needed on each side of the table to allow players enough room to take shots. eBay has a huge range of billiards tables, cues, balls and accessories such as chalk and cue tips to choose from, all at affordable prices.
Why Buy a Used Billiards Table?
There are a number of reasons to purchase a used billiards table rather than buying a new table. Budget is probably the main reason why most people who choose to buy a used table do so. For those investing in a table for occasional games of billiards with friends, or to teach their partner or children to play billiards, a used table offers great value for money.
New billiards tables can be very expensive, particularly if looking for a traditional style table made of hardwood. These often have intricate carving and make a great addition to a traditional, period home. By purchasing these tables in used condition, it is possible for them to fall within most people's budgets.
What Condition is the Billiards Table In?
When buying a used billiards table, it is important to know exactly what condition it is in. eBay listings will usually detail the condition under the item description, and any faults or damage to the table will be listed here. If in doubt, here are some questions it may be helpful to ask the seller, when purchasing a used billiards table:
Is there any damage to the cloth or slate?
Are all the pockets intact?
Does the billiards table have a centre beam and two cross beams? This will ensure that the table has adequate support
Does the table come with any accessories such as balls or cues, and what condition are these in?
Are there any chips, scratches or marks to the wooden frame or legs of the table?
These are just a few things to ask and think about when considering buying a used table. It is always best to contact the seller if the condition of the table is not clear from the description and photographs.
Accessories for Your Billiards Table
There are many billiards accessories available to buy online, and eBay has a wide range available. It is sometimes possible to find used tables sold with accessories such as cues, pool balls and chalk, but if not, the buyer will probably need to invest some extra money in separate accessories. Here are some of the most popular accessories available on eBay:
Most of these accessories can be found in new or used condition on eBay for a very reasonable price compared to buying from a specialist shop. Some of them are extras that may not be needed straight away, but all players will require a cue, balls and chalk as a bare minimum.
Consider the Quality of the Billiards Table
Billiards tables vary in quality, and it is possible to find tables for a few hundred dollars right through to those costing thousands of dollars. Bear in mind when buying a used table that a more expensive, higher quality table will be more durable and last longer. A billiards table made from solid wood, such as oak, will not only look beautiful but also stand the test of time, so it is a good investment when shopping for a used table on eBay. A table made from cheap components will age badly and may not be in as good condition when purchased, or last as long. Always check the materials the table is made from before deciding to buy a used billiards table.
How to Choose the Best Used Billiards Table for You
When it comes to choosing the best used billiards table, there are a number of things the buyer should consider. There is no such thing as 'best' as everyone will have their own personal preferences. Here are some factors to consider when shopping for a used billiards table:
| | |
| --- | --- |
| Factors to Consider | Why Consider Them |
| Available budget | This is the most important thing to think about and will affect the type and size of table chosen |
| Shipping and insurance | How much does shipping cost and will the billiards table be insured during transport or does this cost extra? |
| Style of table | Is a contemporary or traditional style table preferred? |
| Size of table | What size of table is best for the buyer – 7ft, 8ft or 9ft? |
| Condition of table | What condition is the used table in? |
It is important to consider all of the above when shopping for a used billiards table and always ensure that the eBay seller has positive feedback from other members before deciding to purchase.
How Buy a Used Billiards Table on eBay
It is easy to shop for a used billiards table on eBay, where a wide range of styles and sizes of table are available at great prices. Go to the main home page and click on the drop-down menu 'Shop by Category' at the top left next to the main logo. Click on Sports & Recreation to bring up a list of all the available categories. Then, scroll down to Sporting Goods and click on 'more'. From here select Snooker, Pool. Billiards. From the menu, click on Tables then select Used under condition to bring up a list of all the available used billiards tables.
A search can easily be narrowed if looking for a specific brand or item - just type the words related to the search, such as 'Traditional Billiards Table' into the search bar, and a list of available items will appear.
Conclusion
Billiards tables are more popular nowadays than ever before and are a great way to enjoy a game of pool at home with family and friends. With their increase in popularity, more used tables have become available to buy, and a huge range of used billiards tables can be found on eBay, whether looking for a traditional style 8ft table or a smaller 7ft table. It has never been easier to find a great deal on billiards tables and other sports equipment on eBay.
eBay has a huge range of billiards tables in various styles and sizes to suit all tastes, and shopping for a used table on eBay is simple, with plenty of used tables available at affordable prices to suit most budgets.