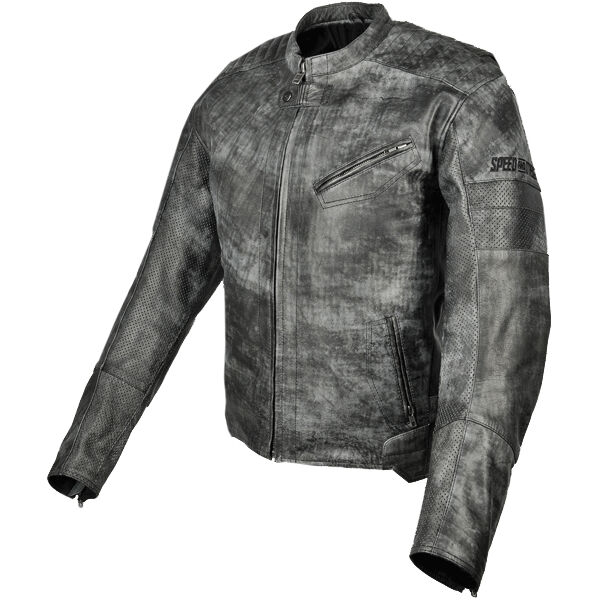 Leather jackets are a must have in every male wardrobe. With the ability to dress it up or down, a leather jacket is suitable for any occasion. However, the cost of a leather jacket can often be a deterrent. Leather jackets needn't be a costly expense. With eBay it is possible to purchase an affordable quality used men's leather jacket. In addition, it is a safe and secure way to shop from the comfort of your own home.
Given that leather jackets are durable and a long lasting garment, they are the perfect item of clothing for re-sale. This guide will offer suggestions on how to buy a used men's leather jacket.
How to Buy a Used Leather Jacket
Alongside deciding on a particular style, there are a number of other factors to take into consideration before buying. These are outlined below:
Style
Perhaps the first decision to make when looking for a leather jacket is the style wanted. To do this, it is important to know what styles are available on the market.
| | |
| --- | --- |
| Bomber Leather Jacket | A bomber leather jacket was originally designed for pilots sitting in cockpits of planes over extended periods of time. As a result, the jacket was designed to be warm (double lined), practical and easy to move around in. They often have ribbed sleeves and waistline. |
| Pea Coat Leather Jacket | A pea coat leather jacket is a dressier jacket. Pea coat jackets are generally made out of wool. A leather version is an adaptation of this particular style. |
| Varsity or Baseball Leather Jacket | Varsity or baseball leather jackets are often made out of a mix of leather and other materials. If they are made entirely out of suede it makes them a more affordable option. They are considered to be a more casual jacket. |
| Fencing Leather Jacket | A fencing leather jacket, as the name suggests has a similar style to a fencing jacket. |
| Double Rider Leather Jacket | A double rider leather jacket is a motorcycle jacket. Associated with Hollywood movies, it is an iconic jacket often worn by leading males. It has asymmetrical front zippers and large snap lapels. |
| Moto Leather Jacket | A moto leather jacket is a minimalistic version of a double rider leather jacket. It is often a slimmer, stylish version and is often made out of mixed materials. |
| Trench Coat Leather Jacket | A trench coat leather jacket is a long jacket (often knee length) that is great for cooler weather. |
Type of Leather
The type of leather the jacket is made out of will have a big impact on the quality of the jacket. Generally speaking there is no hard and fast rule about what is the best type of leather, but rather the type of jacket will determine the best leather for its uses. Both factors will need to be taken into consideration.
The main thing that differentiates the type of leather from one another is the animal that it was made from. The most common are:
· Cow
· Buffalo
· Sheep
· Pig
· Lamb
Each has its own pros and cons that deserve adequate research. Be sure to check that the jacket is real leather and not synthetic.
Leather Finish
When a style and type of leather have been chosen, it is important to investigate how the leather has been finished. Different finishes will produce different results. Knowing the type of finish will help to find the perfect leather jacket for your purposes, as well as your desired look.
The different finishes include:
· Nappa: This is applied mainly to sheep and lamb leather and is a lengthy process that offers a supple and soft finish.
· Aniline: An aniline finish is leather treated with the chemical 'aniline'. This allows for a soft finish without losing the natural look of the hide.
· Nubuck: This is a finish that replicates a suede look. The top layer of the leather is polished to produce a velvet finish.
· Suede: This is when the underside of the leather is used. It has a mat finish.
· Split: This is when the leather is split in two. This will produce a weaker leather product, as it is only half strength.
What to Look for in a Leather Jacket


There are a few factors that will indicate towards a quality leather jacket. Here are the main areas to look at:
· The Zips: Do the zips look durable and are they of a high quality?
· Does the Leather Match? This will show whether the jacket has been made out of the same piece or if it has been cobbled together from bits of scrap leather.
· Overall Quality of the Jacket: Look to see if there are any threads hanging loose, torn leather or bald patches.
· Be Sure to Check the Internal Pockets: Are there enough for what you want? Are they in good condition?
How to Buy a Used Men's Leather Jacket on eBay
Buying a used men's leather jacket on eBay has never been easier. With the sheer volume of products available and the varying reasons for re-sale, it is possible to find the perfect bargain. Not only that, but eBay is a safe and secure site, with additional support.
· Searching: The first step is to find the product required on the site. Conducting a search does this. Conveniently there are 3 main ways of searching. These include: A keyword search using the search bar located on every page, advance search and searching via categories. Each will offer a collection of products for browsing specific to the search request.
· Vetting the Product: Once the jacket is found, it is extremely important to ensure that it is the right product for you. Reading the description of the product that should include its history and cross referencing this with the photograph provided can do this. If you require more information, contact the seller using the ask the seller facility.
· Exchange and Refund: Be sure to check out the sellers exchange and refund policy before purchase just in case. This policy will be upfront about the seller's expectations and offer a procedure to follow in the unlikely event that you are not happy with the purchase.
· Making the Purchase: This can be done by using a credit card, a debit card or using PayPal. PayPal is a partner company of eBay who provide additional support when exchanging money for goods. eBay also offer a buyer protection policy - do check this out if you have any concerns.
· eBay Deals: Often there are additional deals not found when searching in through the categories. Check the site out daily for new deals on used men's leather jackets. eBay deals also provide free packaging and postage. This is a great incentive to see what is available.
Conclusion
A leather jacket can be worn in almost all every day outings, as well as special social occasions. It can be dressed up or down as well as keeping you warm. Because of this, it is one of a few staple items that should be found in every man's wardrobe.
No longer does owning a leather jacket mean you have to fork out hundreds of dollars. A used leather jacket is affordable and environmentally friendly. eBay's sheer range of different styles and designs of leather jackets means it will be easy to find what you are looking for from the comfort of your own home.