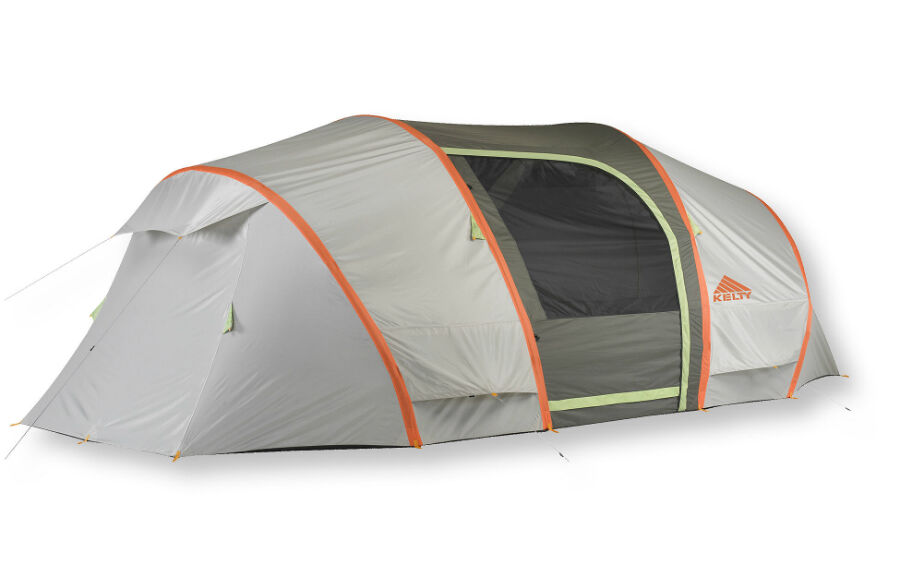 Camping is an enjoyable family activity that has endured in popularity, and tent camping is an inexpensive way to enjoy the fun. Open-sided tents that provide cover to a picnic table or offer shade for lounging outside can be the perfect accessory for a day at the park, the beach, or the backyard.
Tents can be a pricey purchase, depending on the size of the tent and the accessories included. Purchasing a used tent can help to reduce the cost and still provide years of dependable shelter for buyers looking for portable outdoor accommodations. Used tents can be purchased at garage sales, and some campgrounds may occasionally offer a used unit no longer wanted by a camper. However, one can also find many sellers on eBay offering a large selection of used tents at affordable prices.
Types of Tents
A wide variety of different types of tents is available in the market. Many consumers are familiar with tents for camping, portable or fixed shade tents, screened tents, and event tents. Finding the right tent depends on how the buyer intends to use the temporary structure.
Camping Tents
Designs of camping tents vary from small single-person tents to large multi-room family campsite tents. When purchasing a tent, one of the significant considerations should be the weather where the tent is to be used. Warm weather campers need a well-ventilated tent with large screen windows constructed out of light airy nylon fabric. Cold weather campers may opt for a double-walled tent or a canvas tent to provide shelter from frigid temperatures and biting winds. The following chart lists some of the popular options for camping tents along with descriptions of the designs and features.
| | |
| --- | --- |
| Tent Type | Design and Features |
| | Popular tent; flex poles support arched ceilings; tent is free-standing, usually held down with corner stakes |
| A-Frame Tent | Simple tarp style with centre horizontal support from a rope or pole attached to vertical support poles or trees; may be open-floored or include tarp floor |
| Modified A-Frame Tent | Expanded area from a simple A-frame; may contain more than one room; usually supported with a series of straight metal or fibre poles with rigid elbow attachments |
| Wedge Tent | Wedge-shaped tents work well in high wind areas by setting the wedge to deflect gusts |
Double-walled tents have an air pocket between the walls that can help retain heat. Simple A-frame tents can be erected between trees instead of using tent poles. Domed tents are generally one of the easier styles of tents to erect.
Portable Shade Tents
Pop ups are one of the more popular styles of portable shade tents or canopies. A pop up ten t provides coverage with a folding metal frame that expands from carry pouch size to the area of the structure. A canopy is placed over the top of the metal frame and attached with straps. The canopy is raised by sliding collapsible legs housed in the lower supports of each corner post to their upright position and clipping in place. Buyers of used pop up tents should make sure the support legs and expanding canopy supports extend smoothly without bends or kinks.
Another type of portable shade tent is the fixed leg design where rigid leg pieces are fit together to support a pyramid-style canopy covering. Legs and canopy supports are generally fit together with plastic elbow pieces which add to the rigid support structure. Both the pop up and fixed leg styles can be purchased with screen attachments to keep out insects and other flying pests. Many portable shade tents offer closed sides to block sun completely or provide a windbreak on cool breezy days. Portable shade tents are frequently used as picnic table covers in open parks without other types of shelters.
Fixed Canopy Tents
Canopy tents come in a large variety of shapes and sizes, such as the 180-degree hoops that form a tunnel canopy for storing boats and cars or act as a storage area similar to a garage; some canopy tents even have closure on the ends and a small entrance door. Fixed canopy tents are not very portable and usually stay firmly anchored in one place to provide maximum protection regardless of weather elements. Buyers of used fixed canopy tents should inquire if an anchoring system is included with the purchase.
Large Event Tents
Event tents use multiple poles of varying lengths to provide support to the steeple peaks in the centre of the tent and around the outside perimeter of the tent edges. Edge poles are supported by ropes attached to stakes driven at a specific distances from the poles; the ropes are looped around a stud on the top of the pole that protrudes through eyelets in the tent canopy. The ropes are pulled tight and tied off, and the tension holds the support poles in place. Some event tents come with windows in side panels, while others have solid drop-down sides.
Tips for Buying a Used Tent
Consumers can benefit from knowing what to look for when considering the purchase of used tents. Rips or tears are a key defect to avoid. Even though the rip may look minor, under the stress of stretching the tent or the beating of wind and rain, even a small rip can turn into a big problem. Buyers should check seams for splitting or loose-sewn threads.
Seams also take abuse when erecting the tent and during extreme weather. Seams are one of the first parts of the tent to begin to deteriorate. Repair kits are available for tent repairs, but one may not be able to repair a key support seam on specific styles of tents. Screens should also be checked for rips; however, screen repair kits are readily available, and screens are not as critical to the integrity of the tent as stitched seams.
Buying a Used Tent on eBay
You can find a wide selection of used tents on eBay's online marketplace. Sellers eager for your business offer competitive prices on various types of used tents. You can start by entering a relevant keyword such as "tent" in the eBay search bar, and then select 'Used' from the option list to see just the listings for used tents. You can narrow search results by using more specific keywords such as "dome tent" to see only listings that match the keywords.
Buyers who want to find out specifics about a listing can use the seller's contact information provided on the listing to communicate directly with the seller. Review seller feedback ratings to read comments from previous buyers and how they rated their satisfaction in dealing with the seller. Once you have verified the seller's background, you can buy with confidence using eBay's safe methods to transfer funds on the Internet.
Conclusion
Tents for camping can provide years of family fun outdoors. With so many options to choose from, deciding on the type of tent that can meet one's needs is a top priority. Portable shade tents can make any outdoor event more comfortable, with a place to escape direct sunlight. Large canopy tents are the perfect setting for graduation parties, family reunions, or wedding receptions. Fixed canopy tents provide an inexpensive alternative to storing items in garages or sheds.
Great deals are available on used tents if buyers know what to look for when making the purchase. Selecting a used tent that is in good condition without rips or seam damage provides the buyer with a tent that can last a long time and provide shelter from the elements. The many tools on eBay make it easy for outdoor enthusiasts to find used tents that meet their requirements, without the hefty price tag.