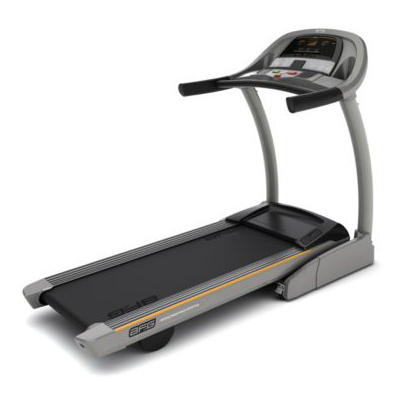 Home exercise equipment allows fitness enthusiasts to work out without having to travel to a gym or exercise centre. Working out at home is not only convenient but there is also little competition for the use of specific pieces of equipment.
Treadmills are fitness equipment that are often found in home exercise rooms. Frequent use of a treadmill can add a great cardio exercise to an at-home workout routine. Purchasing a treadmill can be expensive; however, used treadmill buyers can save a significant amount of money on pre-owned units. Used treadmills can be found at garage sales and are occasionally advertised in classified ads. Buyers shopping for used treadmills should consider searching eBay for a large selection of used exercise equipment.
Types of Treadmills
With different types of treadmills in the market, it may be difficult to decide what style of treadmill can work best for one's circumstances. Selecting a treadmill that has the features one is looking for is important, and so is having a treadmill that fits in the space available and also stores easily.
Manual Treadmills
As the name suggests, manual treadmills are powered by the user. As the walker or runner moves her feet, the friction of the steps pulls the belt over the rollers of the tread platform. Some units have a means to adjust the resistance of the rollers to intensify the workout. Certain types of manual treadmills can be elevated to simulate hill-climbing conditions. Manual treadmills are some of the less expensive models on the market. Without motors, hydraulics, or electrical control units, manual treadmills have fewer parts that can fail. However, when considering a used manual treadmill, the buyer should make sure the belt is not excessively worn from foot traffic.
Motorised Treadmills
With motorised treadmills, the tread belt of the unit is moved by the use of an electric motor. Premium units often have an additional motor to vary the incline of the platform, which simulates the different terrains that might be encountered if the user were walking or running outdoors. The motorised treadmill has some form of a control panel that allows the user to adjust the speed and intensity of the workout. Motorised treadmills are some of the more expensive models of walking and running exercise equipment. When purchasing a used motorised treadmill, it is important to make sure all of the electronics work as the manufacturer intended.
Folding Treadmills
A popular choice for home treadmills, folding units have vertical support arms that can be unlocked and folded down on top of or beside the tread platform. Some folding units are designed to be stored upright in a closet or corner of the room; a low-profile folding unit can be stored under a bed. When purchasing a used folding treadmill, one should be certain the support arms lock into place when the unit is set up for use.
Dual Track Treadmills
Often called treadles, dual track treadmills have been gaining in popularity. A dual track treadmill has the benefit of also acting as a stair climber. The tracks rise and fall at the same time as the tread belts move independent of each other. So the user experiences the benefit of walking, combined with a climbing movement that is generally more intensive than the workout provided by an incline to the treadmill.
Features in a Treadmill
Treadmills come with a number of added features, depending on the model and configuration of the exercise unit. Additional features can affect the price of the treadmill and are important considerations for some buyers. The following chart lists some common and popular features that can be found on treadmills and the value the features present to buyers.
| | |
| --- | --- |
| Treadmill Feature | Added Value to User |
| Pulse/Heart Rate Monitor | Generally consisting of a finder clip or wristband, the user's pulse is displayed while exercising; some models have grips that register pulse when grasped by the user |
| Calorie Monitor | An estimate of the calories burned is calculated, based on the parameters of the workout, and displayed on a digital readout panel |
| Timers | Timers that are set by the user count up or count down based on an input setting |
| Distance | The total amount of distance covered during a workout is calculated based on rotations of the tread belt and usually displayed in kilometres or miles |
| Speed | The speed of the treadmill is displayed as kilometres or miles per hour, based on the pace of the user or the preset speed programmed into a motorised treadmill |
| Grade | For treadmills that elevate, the grade is displayed as a percentage of incline |
Most treadmill display units are light emitting diodes, also called LEDs, or liquid crystal displays, known as LCDs, for easy viewing while exercising. Motorised treadmills generally have user controls incorporated into the display units for easy access by users.
Popular Brands of Treadmills
Different manufacturers of treadmills exist, and some of them offer designs and features that appeal to a broad range of buyers. Some of the popular treadmills, along with their descriptions, are listed below.
York Treadmills
York produces a line of home treadmill units with motorised belts and hydraulic inclines. York treadmills fold up for easy storage, provide comfortable handlebars, a number of monitoring features, large LCD displays, and easily accessible controls.
NordicTrack Treadmills
NordicTrack is one of the more recognisable names in the exercise equipment industry, making both commercial and home model treadmills. NordicTrack treadmills offer steep incline tracks for aggressive workouts, ergonomically designed handlebars, and built-in tablets that can provide scenery graphics for a true outdoor feel while exercising. Not all models are foldable for easy storage, so buyers should be certain to ask if the feature is included in a unit being considered.
LifeSpan Treadmills
LifeSpan offers a broad selection of exercise treadmills, from foldable easy-to-store home units to commercial machines with all of the popular features. LifeSpan produces an interesting take on commercial treadmills with treadmill desks that allow workers to exercise and work at the same time.
Confidence Treadmills
Lightweight and low cost is the market segment that Confidence treadmills have chosen to focus on. No frills, basic controls, lightweight handlebars, and easy to fold for convenient storage are some of the features found on Confidence treadmills.
Buying a Used Treadmill on eBay
Sellers on eBay offer popular models of used treadmills and are eager to have their listings viewed by prospective buyers. For a large selection of used treadmills at competitive prices, buyers should consider shopping on this website. When you add in the convenience of shopping from home, making your purchase with the click of a mouse and having your treadmill delivered directly to your doorstep eBay is a smart choice for today's busy consumers.
Finding deals on a used treadmill or other exercise equipment on eBay is convenient, easy, and safe. Search through product listings just by entering a keyword such as "treadmill" into any eBay search bar. Click on the 'Used' condition option to display only previously owned treadmills. Buy with confidence from sellers on eBay by reviewing their feedback ratings to see how previous buyers rate their satisfaction in dealing with the particular seller.
Conclusion
Treadmills can add a strong element to a workout routine with cardio exercise. Whether walking, jogging, or running, users can select the type of machine that fits their workout preferences. Selecting the right design of treadmill for one's situation is the key to ultimate satisfaction with the unit purchased. Making sure the machine performs the way the buyer wants and has the features that provide important workout details are all factors to consider. Knowing the popular brands can help buyers in the process of selecting used treadmills that fit their budgets and expectations for performance. Finding just the right model of used treadmill for sale can save buyers a significant amount of money compared to making a new purchase, and eBay can help in the process.