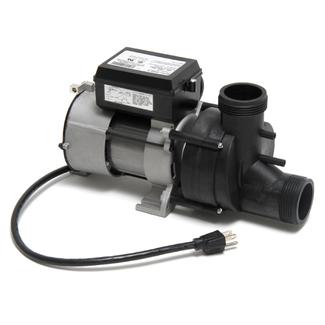 There are a number of different types of water pumps available, and they can be highly useful for a range of different purposes. Some pumps are used for the purpose of rapidly removing or filling in a large amount of water, and can be useful for filling large paddling pools, water beds or for even draining a flooded area. Others may be used to help keep pool water clean or heated. Water pumps can also offer a number of different features, for example submersible pumps are available which can continue to work even if fully submerged. All kinds of water pumps can be found on eBay.
Types of Water Pump
Different types of water pump are used for different purposes, and can have very different designs.
| | |
| --- | --- |
| Utility Pump | A utility pump is a basic kind of pump, often used to remove water from flooded areas, or to fill a pond or pool with water. Utility pumps can vary greatly in power and size, and the amount of water which needs to be moved will determine the specifications of the pump that is required. |
| Well Water Pump | Well water pumps are used to draw water from below the ground, and can vary from small, hand operated devices which might be useful for use in the garden, to larger powered pumps which can provide water to the home. These pumps may require professional installation. |
| Pressure Tank Pump | Pressure tank pumps may be used in a variety of situations, such as in a pool or to help increase the pressure of water in the home. These pumps are used to control the water pressure in a system, controlling the water flow which reaches different locations. A range of different designs are available. |
| Heater | Also available are water pumps which additionally function as heaters, or are designed to work with heaters. These are often found in hot tubs and spas, though may also sometimes be used in heated pools. |
| Spa Pump | Often much smaller than other types of pumps, spa pumps are often found in leisure items such as hot tubs, and are used to generate water pressure in jets, which is used to create a relaxing, massaging sensation. This kind of pump will typically be connected to a number of jets within the bath, pool or hot tub. |
| Filter Pump | Filter pumps are another popular kind of water pump. These pumps are often designed to filter out small items and debris from the water that is being pumped, keeping it clear. The filters within these pumps will frequently have to be changed. |
| Pool Cleaning Pump | Pool cleaning pumps are water pumps which are designed for use with pool cleaners. Pool cleaners can vary greatly in size and design, and are used to clear any dirt or debris from the pool itself. Some robotic models are available which can clean the pool automatically, though these are often more expensive. |
| Submersible Pump | While most pumps are designed to be waterproof, many water pumps are also available which are designed to be submersible. Often used in ponds, pools and aquariums these pumps can continue to function properly when fully submerged under the water. |
| Vehicle Pump | A range of water pumps designed for use in vehicles are also available. Often found in cars, vans and trucks, these pumps are generally used in cooling systems, to regulate the flow of water throughout the vehicle. If the seal on this kind of pump fails, the whole pump will have to be replaced. |
| Mini Pump | Mini pumps are smaller, less powerful pumps that can be useful for less intensive applications. |
Water Pump Power Sources
The majority of water pumps make use of one of two kinds of power source, electricity or petrol.
· Many of the more commonly used water pumps are electric. These water pumps simply require a connection to the electrical grid to function, with many compatible with an ordinary power outlet. Electric water pumps are also easier to maintain as they do not require oil changes or refuelling.
· The more powerful, heavy duty water pumps make use of petrol engines. These are used to move very large amounts of water, and can be used in any location as it does not need an electrical outlet. However, they are often more expensive to buy and maintain than electric pumps.
· Some pumps are available which are powered by hand. These pumps are simple to use and more affordable, though are not as powerful as electric or petrol powered pumps. They should be used only with smaller amounts of water.
Water Pump Features
Water pumps can offer a number of different features which can make them more suited for different purposes.
· Non-return valves can be used to prevent water flowing back down the pipe, should the pump be switched off or stop working during use.
· A float switch can make the pump switch off once it hits a preset limit.
· Some pumps feature an anti-silt design, which can help to prevent the build up of silt, and prevent blockages.
· Self priming pumps, meanwhile, can be switched on without being filled with water first.
· Many water pumps also include a filter, which can help to prevent blockages. Filters will have to be regularly replaced.
How to Buy a Water Pump on eBay
A wide range of water pumps offering a variety of different features and designs can be found on eBay.
· The full listing of available water pumps can be found through the Home & Garden portal, under the Pumps section of the Pool, Spa, Beach category.
· The listings can be narrowed down by categories such as brand, product type, condition and price.
· Key information about a water pump, such as the type of pump or any features it offers, are typically prominently displayed in the item listing. This makes it easy to quickly establish if a specific pump meets any needs or requirements.
· Further, more detailed information about an item can be found on the item page. This also includes information about the seller, such as item reviews and feedback ratings. This helps to ensure that a purchase can be made with confidence.
· If a particular pump is needed, it may be easier and more effective to make use of the search function, which is available at the top of every page. Entering a keyword into the search bar will return relevant results from across the site, or from within a specified category.
· Don't forget to look out for any deals on water pumps which may be available under the Outdoor & Travel category.
Conclusion
Water pumps can be useful for a wide variety of tasks, from heating water in a pool or hot tub, to regulating the water pressure within a household. There are many different types of water pump available, and each is suited to meet different needs.
The power source of a water pump is also a key factor to consider. The majority of water pumps are electrically powered, while the most powerful, heavy duty water pumps make use of petrol engines, while the smallest and most affordable water pumps are used by hand. A wide variety of water pumps is available on eBay.