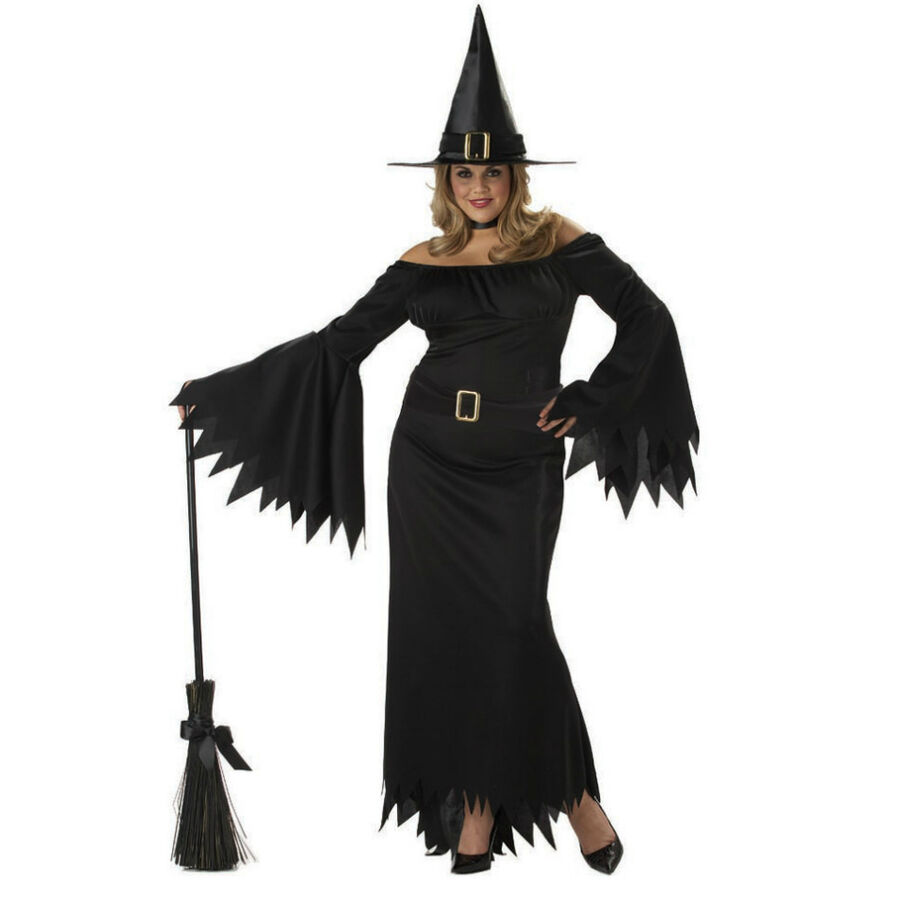 One may be looking for a witch costume for a few reasons, the big one being Halloween. Witch costumes may also be worn at special parties or even at plays, if a character demands this type of costume. When shopping for a witch costume, one should be aware of the types of costumes available on the market. In addition to the traditional witch costume, it is possible to find witch costumes of characters from famous movies as well as variations on the theme.
When looking for a witch costume, the buyer should think about all the different pieces including the hat, shoes, and other accessories that can complete the outfit. It is also important for the buyer to think about size, the material the costume is made of, and whether it should be matched with someone else's costume. Witch costumes are widely available eBay, thanks to the website's wide network of sellers who carry unique products.
Types of Witch Costumes
When shopping for a witch costume on eBay, a buyer may not know that she can find a variety of costumes. From different themes, shapes, and colours to a variety of fabrics and accessories, the witch costumes available on eBay can meet different preferences and tastes. With the variety available, a buyer can make things more interesting by creating a unique witch costume.
Movie Witch Costume
It is possible to find costumes for a number of famous movie witches. This includes the Wicked Witch of the West or Glinda the Good Witch from "The Wizard of Oz". One can also find witch costumes from Disney movies, such as "Enchanted". These are just a few of the interesting witch costumes based on characters from popular movies. Such costumes are not hard to find on eBay, as the name of the movie is typically provided on the listing.
Classic Witch Costume
The classic witch costume is always a popular choice, and one cannot go wrong with this choice. This costume is intended to capture the image of the witch as it exists in popular lore. It generally includes a long black dress with a pointed hat and a broom as accessories. A long wig adds to the whole effect, as do gloves and other black accessories.
Unique Witch Costumes
A buyer might want to deviate from the prevailing concept of the witch and instead create a completely unique look for a witch costume. This might include using costumes that are a combination of different genres, such as a punk witch or a fairy witch. The imaginative use of accessories, such as coloured hair, comes into play in this case. A buyer may also choose to wear a costume that is more colourful instead of the traditional black.
Parts of a Witch Costume
One can use different components to create a witch costume. To be truly unique, one should go beyond the typical use of a dress and a pointed hat. A long wig adds to the effect, along with a variety of other accessories. When selecting a costume and accessories, the buyer should consider how the outfit looks as a whole.
Dress
The dress is the basis of a witch costume, and it makes up the major aspect around which the rest of the costume should be built. People typically go for a fairly simple long black dress, but there are many variations on this theme. When searching for appropriate dresses on eBay, a potential buyer can find shorter dresses or costumes with frills or poofy skirts.
Hat
A witch's hat is supposed to be pointed and black, but many variations are available. Some of them may be other colours or textures that offer a more interesting look. The hat can be the most distinctive element of a witch costume, if one puts in the effort to find just the right hat to complete the outfit. In some cases, the use of a hat can transform a basic dress into a costume at the last minute.
Wig
Some women may already have the long dark hair to create a perfect witch look, but one may want to mix things up with a colourful wig. Purple and green are popular choices, and a woman can also choose the wig to coordinate with other accessories.
Accessories
The buyer should also consider other accessories to complete the outfit. This may include shoes and capes, which could be black, deep purple, red, or green. Long ballroom gloves are a great option, as are fingerless gloves that can go with a punk witch costume. Black or coloured tights can complement a shorter costume. A broom is another traditional accessory that goes with a witch costume, and wands are also popular. When it comes to accessories, the opportunities are endless, and one is only limited by one's imagination. eBay makes it easy to complete an outfit with a variety of accessories available through the website.
Matching Accessories with a Costume
Different styles of witch costumes can be created just by matching the dress with right accessories. Listed below are popular themes.
| | |
| --- | --- |
| Costume | Accessories |
| Punk Witch | Short skirt, tights, fingerless gloves, and witch hat |
| Evil Witch | Green makeup, long dress, witch hat, broom |
| Modern Witch | Black pants and top, witch hat, and wand |
Accessories add interest and uniqueness to a costume. Coming up with variations on the traditional or popular themes is easy with all the accessories available on the market.
Makeup
In addition to using accessories, one can choose makeup to add interest to a costume. Although one might think of using makeup when dressing up as a green-skinned witch, the makeup does not have to be that dramatic. A good witch costume may be accompanied by sparkling glitter makeup, while an evil witch costume may incorporate dramatic and dark eye makeup.
Other Considerations When Buying a Witch Costume on eBay
Other factors come into consideration when purchasing a witch costume. It is important to check the sizing, especially when purchasing a costume online. It is also a good idea to consider how often the costume may be worn when selecting the fabric.
Size
When buying a costume on eBay, it is important to look for the right size. The last thing one wants is to order a costume and not have it fit correctly. Some costumes may fit a wide variety of sizes, so it is always advisable to check the description on the listing and even ask the seller, if need be. One may also want to verify if costumes from a specific manufacturer tend to run small or large.
Material
It is a good idea to give some thought to fabric material when looking for a witch costume. Cheaper costumes tend to be made of flimsy fabric, but they do not look as realistic. However, if one plans to use a costume only for a few hours during a party, then the quality may not matter as much.
Couple's Costumes
Although witch costumes are usually bought separately, a buyer may be able to find another costume to complement the purchase and create a couple's costume. For example, one might pair a movie witch costume with another character from the movie. This can be easily accomplished on eBay, where one can compare the features and pricing for different costumes at the same website.
Buying a Witch Costume on eBay
One of the first things you can do to find a witch costume on eBay is run a keyword search by typing relevant keywords into the search box. When you are looking for witch costumes on eBay, you may find such a large array of costumes that you may need to narrow down your options using the search tools available. For example, you can filter the listings by size, condition of the product, theme, and pricing. You can also use eBay to purchase the accessories and makeup you need to complete the costume.
Another tool you should take advantage of is the feature that allows you ask the seller questions about a costume you want to buy. This is helpful if you want more information about the size of a costume or the type of material used.
Conclusion
One can find a large selection of witch costumes on eBay. The costumes come in different styles, including the classic black costume, one's based on movies, as well as those that utilise modern styles. When shopping for a witch costume, the buyer needs to think about what she really wants. In addition to the basic dress, she needs to decide if she wants to accessorise the costume with a hat, a wig, or even interesting makeup. Other factors to consider include verifying the size of costume when purchasing online.
eBay has a number of products that cater to varying preferences. With the wide network of sellers and the many useful functionalities available on eBay, one can expect to find the right dress and accessories to create that one-of-a-kind witch costume.