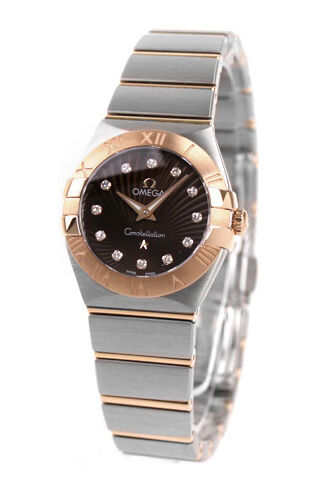 Anyone looking for a quality women's watch can consider investing into a high-quality Omega watch. Omega is one of the most prestigious brands out there. The Swiss watch company has been selling watches since 1848, with celebrities including George Clooney, Michael Phelps, and Cindy Crawford advertising the brand. Despite the wide popularity of Omega men's watches, Omega also caters to women with the beautiful and luxurious Constellation line, which features female, male, and couple's watches, as well as unisex designs. Women looking to purchase an Omega Constellation watch for themselves can consider the age of the watch, its condition, whether or not it is authentic, and of course, colour, style, and appearance.
Choosing an Omega Watch
The first step to purchasing a women's Omega Constellation watch is to choose a style. The Constellation is one of Omega's most feminine lines so there are several styles suitable for women that buyers can choose from. However, Omega has a variety of bands, faces, dials, and clasp styles that buyers have to choose from when picking a watch. While these considerations are purely personal decisions, most buyers should put thought into their decision.
Watch Style
There is a range of different watch styles in the Constellation line and Omega sometimes issues new styles each year. Styles mostly include different types of bands, different ornamentation, and different types of faces. For example, some watches have a diamond ring around the watch face, others have a square face, and others are rectangular or round. Buyers can look through old and new styles on Omega's website and on eBay, where it is possible to buy even older styles that might not be available elsewhere.
Watch Colour
Omega Constellation watches usually feature a couple of different colours including pink, silver, white, black, and gold. Sometimes the watch face can feature a black or blue backdrop, but is most commonly silver. Similar to choosing the watch style, buyers can use their colour and material preference to choose their watch colour.
Watch Size
The size of the watch is not usually a consideration although women with a very large wrist should consider looking for a band extension. Extra links for a watch band are available on a variety of sites including eBay, where there are new and used options. Many buyers do not need extra links for the watch band, but might have to take the watch to the jeweller to take off some links and make the watch fit properly.
Watch Face
Watch faces come in a number of different sizes. Usually Omega offers watches with faces varying from 24 to 44 millimetres in size. Usually, smaller faces look better on women with slimmer wrists. Watches that are 27 millimetres in diameter or less are good sizes for women. However, some buyers prefer watches with a wider face.
Watch Type
Omega sells multiple types of watches and choosing one is part of the buying process. While this is not the most important aspect of buying a watch, it is worth considering. The following chart outlines several types of watches in the Omega Constellation collection.
Watch Type

Features

Purpose

Rubber or water resistant band

Water resistant or waterproof casing usually up to 10 bars

Specifically for sports

Luxury

Precision movement

Perfectly crafted down to the last detail

A high-end watch made for the connoisseur looking for a perfect watch

Chronograph

Stopwatch and sub-dials for hours, minutes and seconds

For the time-conscious buyers
The exact features or functions of each Omega watch can vary depending on the model. For example, most diamond-faced watches are luxury, as are most gold and rose gold watches. Chronograph watches can actually be luxury or sport, but they still represent a specific style because the chronograph is an extra feature of a watch.
Winding Style
Omega sells both automatic winding and manual winding watches in the Omega Constellation collection. While the majority of the watches available are automatic winding, it is important to consider the difference between automatic and manual winding watches when buying a watch. Most people prefer automatic winding because it requires less time and attention. However, some people still like the old-fashioned manual winding style.
Buying Second-Hand Omega Constellation Watches
Anyone on a budget who would like to purchase an Omega Constellation watch can consider going for second-hand options. While it is possible to get deals on Omega watches, buyers can also look for great prices on second-hand Omega watches. Important considerations for buying a used Omega Constellation watch include the condition, any scratches, the age of the watch, and whether or not it still has a certification of authenticity.
How to Buy a Women's Omega Constellation Watch on eBay
Buying a women's Omega Constellation watch requires a little bit of research and a lot of attention. Women making a purchase have to consider the style, colour, and metal they prefer, as well as the type of watch. It is also important to pay attention to specifics such as the condition of the watch, any damage, and whether or not the watch is a genuine Omega. Buyers should consider whether they want a new or used watch, any specific sizes or colours, and then search for it on eBay. From there, it is easy to narrow down the available options, or look for special offers in the eBay Deals section, to find the perfect watch.