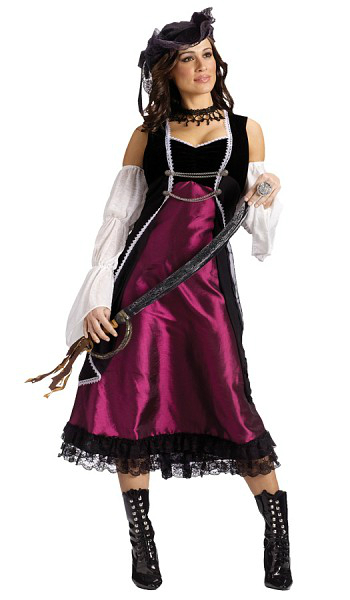 One of the most popular Halloween costumes for women in Australia and around the world is the pirate costume. This costume choice introduces adventure and fun into a Halloween celebration and gives a woman a variety of ways in which to put together a look. A woman's pirate costume can be sassy and revealing or as realistic and frightening as a woman prefers. Putting together one of these looks is a simple matter of understanding the components that go into constructing a pirate costume for a woman.
Women can also leverage pre-assembled costume choices, which they can sometimes find through traditional vendors. By and large, however, the online retail space of a site such as eBay can be a much more productive resource. Learning how to navigate eBay can aid a woman in putting together her ideal pirate look in time for Halloween or her next masquerade party.
Components of Women's Pirate Costumes
Before beginning the purchasing process for a pirate costume, a woman may want to get to know the different components of these costumes. Understanding the options that are available can help her focus her search and compile an ensemble that really works.
Pirate Headwear
Pirates wear a range of hats and scarves on their heads. Women who are putting together costumes can leverage any one of several options to put together looks that work best with their hair, comfort level and sense of style.
Bicorn Hats
A bicorn hat has two points that slope down slightly from the centre of the hat. These hats can be worn with the tips over the ears or with one tip over the nose. The tips can also extend straight out from the hat or curve downward towards the ground. Bicorn hats can be made from leather, felt, or even plastic in some costumes. They can be plain brown or black or feature extensive decorations, such as gold braid trim, feathers, and insignia.
Tricorn Hats
Tricorn hats are wide brim hats that have been folded into three points. One point is worn over the face with the other two points extending to either side of the head over the ears. Like a bicorn, the tricorn can be as simple or as ornate as a woman wants. They are most often found in brown or black with gold trim and white feather accents.
Pirate Scarves
A great way for a woman to maintain a bit of femininity while wearing a pirate costume is to wear a headscarf instead of a pirate hat. Pirate scarves are usually long and made of silk or rayon blends. They feature bright and ornate pattern at times, or they can be monochromatic. Popular colours include black and red. A pirate scarf is typically worn on the forehead and wrapped tightly around the head and tied at the back.
Capitano and Cavalier Hats
Capitano hats and cavalier hats have a bit more flow and whimsy than bicorns and tricorns. They are wide-brimmed hats, but instead of folding in sharply to points, a capitano's brim sweeps up on two sides. On a cavalier hat, just one side of the brim sweeps up while the other lies flat. Capitanos and cavaliers typically have large feathers affixed that stream up and back from the hat. Cavalier hats are similar to what one might picture characters from the Three Musketeers wearing.
Mini Hats
A popular variation on traditional pirate hats for women's costumes is the mini hat. The mini pirate hat is typically a small tricorn that a woman can wear pinned at an angle on her head. This alternative creates a cuter, albeit less realistic, look for a lady pirate.
Pirate Clothing
Women who want to wear pirate costumes have a variety of options before them when it comes to clothing. They can choose items that are revealing and sultry or go for a more traditional, authentic look.
Pirate Shirts and Blouses
A traditional pirate shirt is made from white cotton. It has long, puffy sleeves with frilled cuffs. The neckline of a pirate shirt is also often frilled, although uncollared options may have just a series of thin ties. In women's costumes, the pirate shirt is often given a more feminine flair. Options may include an off-the-shoulder look, similar to a peasant blouse.
Pirate Skirts
Pirate skirts for women are usually pleated and full. They can be worn with layered pinafores underneath. Lengths run from the very short and sassy to just above the ankles. Popular colours and motifs include red, black, white, and black and white stripes.
Vests and Corsets
A woman may also want to wear either a vest or a corset with her pirate costume. A vest option is usually a simple black vest that fits somewhat closely to the torso. It can be made from leather, felt, cotton, or a rayon blend. Corsets create a sexier look. These items are worn over pirate shirts or peasant blouses. They are usually waist corsets that fit just below the bustline and stop several centimetres below the natural waist, but some women do prefer to wear full corsets that cover the chest. Popular fabrics include satin and leather.
Pirate Accessories
Accessories for a pirate costume include the famous black eyepatch, which a woman can wear over one eye. Women may also want to carry costume swords when they are dressed as pirates. A stuffed parrot perched on the shoulder can add a humourous touch, as well. In terms of footwear, most women like to wear black boots. Knee-high boots are popular with mini-skirted versions of women's pirate costumes.
Buying Pre-Assembled Women's Pirate Costumes
Women may be interested in purchasing one of the pre-assembled varieties of pirate costumes that are available at a variety of venues. These options usually come with full outfits and some accessories. When purchasing one of these pre-assembled costumes, consumers should confirm which items are included. Costumes are sometimes advertised with fully-accessorised images that contain items that are not actually included with the costumes. Pre-assembled costumes are not likely to include items like boots and swords. Proactive communication with a seller can guarantee that consumers get what they need out of one of these pre-assembled costumes.
Getting the Size Right
With pre-assembled costumes, the sizing is typically done on a scale from small to extra-large. The following table illustrates some of the measurements for these size categories, along with their corresponding Australian clothing sizes.
| | | | | |
| --- | --- | --- | --- | --- |
| Label Size | Aus Size | Bust | Waist | Hips |
| Small | 6-8 | 32-34" | 24-26" | 34-36" |
| Medium | 8-10 | 34-36" | 26-28" | 36-38" |
| Large | 10-12 | 36-38" | 28-32" | 38-40" |
| XL | 12-14 | 38-40" | 30-32" | 40-42" |
| 2XL | 14-16 | 40-42" | 32-34" | 42-44" |
These are general guidelines for the sizing of pre-assembled women's pirate costumes. Consumers should confirm sizing directly with a seller during the purchasing process.
Buying Women's Pirate Costumes on eBay
The online retail site eBay has a large catalogue of Halloween costume items, including women's pirate costumes. For those who want to go the pre-assembled route, running a search with the term 'women's pirate costume' using the search bar found on any page on the site can pull up multiple options. For those who want to put together their own looks, they can search for individual items for costumes, all of which are typically available on eBay. The site also offers a large catalogue of used clothing items that can be a good way to supplement a costume.
Evaluating Sellers on eBay
When shopping on eBay, you can streamline the process if you take a moment to evaluate your seller. Do this by visiting the seller's page by clicking on the seller's highlighted name in a listing. From there, you can review feedback, look through a seller's past listings, and communicate with the seller.
Conclusion
Dressing up as a pirate for Halloween or a masquerade party is a fun and sassy way for a woman to approach this fun holiday. Putting together one of these looks only requires a bit of imagination and learning the components that go into a pirate costume for a woman. Women can also leverage the option of wearing pre-assembled costumes, with the understanding that these options may need supplementation with additional accessories.
Whichever route she takes, a woman in the market for a pirate costume can find almost any item she needs for her costume on eBay. With its search interface and seller evaluation tools, eBay provides an easy purchasing process along with the advantage of being a one-stop-shop for all Halloween items. Some local retail outlets may offer a variety of costumes and accessories on a seasonal or full-time basis, as well.